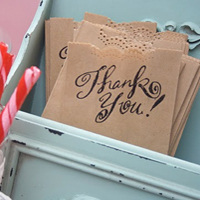 DIY Favour Bags
I swear this DIY stuff has me head over heels in lurve with arts and crafts. Prior to becoming engaged over two years ago, never would I have thought that I'd want to be so heavily involved in personally creating so many elements of my wedding day. But after many many crafting days – the latest project being these cute favour bags – I feel like a little kid in a candy store. And these bags are just perfect for candy as a matter of fact. I am very excited for our wedding guests to fill them up with cake pops and truffles and macarons and cookies and donuts and Maltesers and jelly beans and this list goes on and on and on….
I started with medium sized brown Kraft bags from Michaels. They come in packs of 16 and with a 50 percent off coupon ends up being $2.81 (I refuse to pay full price at Michaels; it's so pricey there!) Then I  picked a stamp that reads Thank You so guests would understand that the bags and the treats to go in them, are Andrew and I's way of thanking them for sharing in our celebration. Martha Stewart makes a really rad (and expensive) line of paper punches so I picked up a doily pattern edge cutter that is just to die for. And I made sure to get a dark black ink pad so the stamp imprint would show up clearly on the brown paper. Pretty simple list of supplies for such cutey patooty bags!
You can see in this picture below how the ink would well up inside the curl of the letter Y. I ended up throwing out about three bags since this made a really big blob of a mess. Try stamping your stamp on a scrap piece of paper a few times to make sure it's fairly clean after completing five or six bags. This will keep the ink out of places it shouldn't be and avoids unnecessary build up.
Not the snazziest DIY projects but one of the cutest and cheapest I have done to date. And unlike some of the others I really think our guests will notice the extra bit of effort put into something homemade like these! What do you think you could use these bags for aside from a wedding? Happy Crafting everyone!  P.S. That doily pattern punched into the tops of the bags will be seen in other areas of our wedding decor so stay tuned; I just cannot wait to share it all with you :) xo