Pep Talk Tuesday {Shake Off That Pinterest Panic, Brides!}
June 12, 2012
I love Pinterest just as much as the next person. Seriously, I've even overheard middle aged women in the grocery store dishing about the latest recipes they've found on Pinterest. It's a fantastically addicting resource on so many fronts and really has added a new dimension to the industry for vendors, and brides and grooms alike. Except here comes the tricky part. If you dig wedding-related stuff on Pinterest you're likely to run into really rad ideas sort of like these ones here. And this here. Oh this is a good one. And I can only imagine how you brides out there must feel about this one here. Talk about PRESSURE.
Here's what I want to tell you though. Before Pinterest lots of people got married. And before Pinterest lots of people had really beautiful, memorable, personalized, special and dare I even say, trendy weddings. Pinterest is a double edged sword. Never before have so many ideas been at our fingertips. But never before has the bar been raised so high making it increasingly difficult for many brides to feel like their wedding too, will be wonderful in all of its single day glory. So for all of you brides out there and even you grooms who may happen to feel overwhelmed or frustrated by the detail-frenzy on Pinterest, read this.
It's OK if you don't send off your guests into the night with customized bottles of Merlot or embroidered Pashminas. It's OK if your bouquet isn't made up of blush pink peonies, big garden roses, and ranunculus bigger than your fiance's fist. It's OK if the soles of your shoes aren't red, the tag in you gown doesn't read Vera and your ring didn't come in a pretty little blue box. It's OK not to be able to afford a dessert bar, a photo booth, a videographer and a late night snack taco and fajita food truck. It's absolutely OK to shy away from any and all DIY projects. Some things are just not worth the effort or the time (and cost). It's OK to skip the first look, to skip the long wavy hair extensions, and to skip the stripey straws at the bar.
And it's absolutely OK to forget about all of those details on the big day. Chances are you'll be this happy, anyway.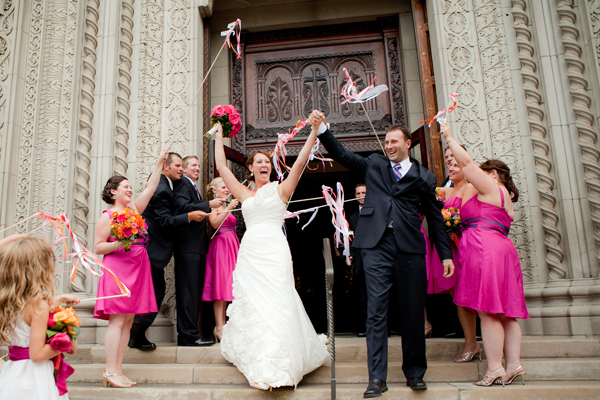 Photo by the amazing Jen Lynne Photography. This wedding was planned pre-Pinterest and turned out just as darling as ever. To see more from Kelli and Brandon's big day head over here and here. And I'd love to hear from any of you brides who are in the midst of planning your wedding day. Do you ever feel overwhelmed with the pressure of having to make your big day Pinterest worthy? Or have you found a healthy way to use Pinterest to your advantage? I'd love to hear your thoughts below :)
Happy Tuesday, bloggies xoxo