FAQs: An Average Wedding as a Wedding Planner
September 17, 2012
Happiest of mornings to you, my lovely bloggies! A few weeks ago I wrote about an average day in the Girl Cave. And it's easy to tell from just the lengtth of this post here that my days in the office prepping for an event pale in comparison to a day out in the field bringing all of that hard work to fruition. If there's one thing I could tell aspiring planners to be what to truly prepare for, it would be the amount of effort and time you need to give on the big day. So if you're a bride or groom to be looking for a sample timeline read this. But if you're an aspiring wedding planner or really just want to know what I do to stay busy on the weekends check out more below. Sit down too, while you're at it :) This is kind of a long one. A really long one.
. . . . .
6:30 am – It really depends on the circumstances but typically I start my work on an event day as early as 6:30 am. This may be the time I get my wake up call in a hotel or the time I need to be on the road by but the earlier the better is always a safe bet when you're always working against the clock. Weddings are obviously a one shot deal. Time is money. Money is time. Yeah!
8:00 am – I try my best to grab my fave Starbucks latte or some breakfast before I get to my first destination so I can feel fueled up and awake. I'm an excellent example of how hangry someone can really get (hangry = hungry + angry) so an empty belly is never good. I also run through my timeline real quick, check my item list, and make any first calls (like to the bride!)
9:00 – 12:00 pm – If there was absolutely one thing I could have control of on a wedding day (other than the weather of course!) it would be the times that venues allow myself and other vendors access to the property/premises. With every single wedding I do, my timeline solely depends on when I can gain access to begin setting up. 9:00 am entry? Good. 3:00 pm entry? Terrible. Either way, I make it work and the middle chunk of any event day is based purely on adrenaline and good planning.
Noon – By noon, if I have already been setting up for some time, I'm most likely neck deep in seating card arranging, table runner ironing, chair sign tying, napkin folding, sweets table arranging, banner hanging, or some other form of set up. I'm usually watching the clock closely at this point, making calls with the band or DJ, checking in on the groom, making sure everyone is on schedule and feeling good. I'll change out of my set up clothes and get into my day of clothing, making sure to fix my hair and make up so I can still be comfortable but fit it nicely with the other guests. If I'm lucky, I get some lunch.
2:00 – 4:00 pm – It's wedding ceremony time! About 30 minutes before the ceremony I check in with the wedding party and important family members (parents, siblings, grandparents, etc) and the officiant or pastor, to make sure everyone is clear on where they need to be, and also to make sure everyone is relaxed and comfortable! I make sure the girls know how to carry their bouquets, the guys know how to pin their bouts, that the MOB has a tissue or two to keep within her reach, and that the FOB knows how to fix his daughter's train and veil so she looks her best right before she starts that trek down the aisle. Once everyone gets into place for the ceremony, I stick back with the bridal party, bride and bride's escort, to whisper some last words of encouragement before she's off on probably the biggest walk of her life (insert a few happy tears on my part here).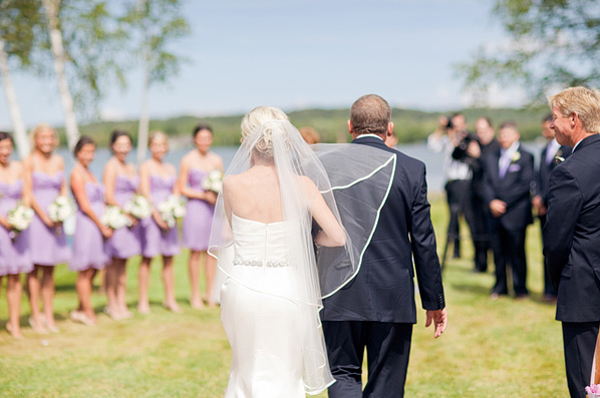 4:00 pm – Time to gather rose petals for the toss, to fasten the Just Married banner to the getaway car, to take a short breather and get ready to help round up family members and guests needed for photos. If I can I check back in with the venue here, too.
4:30 pm – Depending on the ceremony conclusion time and what needs to be done at the church/ceremony locaction spot, I head to the cocktail hour/reception space and make sure all is according to expectations. Candles need to be lit, waters poured, lights dimmed, entertainment set up and musicians on set, sound checking, ready to do. I make sure the venue coordinator and I are on the same page on the order of events and I also grab a drink for the bride and groom to make sure they are greeted with a drink of choice when they arrive. I do a quick look over of the room, and then maybe Instagram a few details for you guys :)
5:00 pm – I love to do a first look with my bride and groom of the final reception set up before guests arrive (see below for more). This is another favorite part of my gig and is hands down one of the most rewarding. Once they have seen everything and are happy with things, I send them off for photos or to enjoy their cocktail hour with their guests. I also start to welcome early guests, direct them to the guest book, offer to take their card or gift and put it in the designated spot and I'll check in with the photographers to see if things on their end are going well (along with myself, the photographer and videographer are the other vendors that also work extremely long days so I try to make sure they are looked after as much as possible). Team work!
6:15 pm – I now have 15 minutes to politely ask 150 guests to head into the main reception room where dinner will be served. It often takes up to three or four rounds to each group of guests to convince them that yes, dinner will be served now just over here, but eventually with the help of my assistant and the venue coordinator we get it done. I also make sure the bridal party and the emcee or DJ/band, are all in order and up to speed on how the grand entrances, if there are any, will be unfolding.
6:30 pm – The bride and groom are announced. They might cut their cake, do their first dance, say a few words or just head over to their seats, but these next 10 minutes typically flow nicely into dinner being placed in front of each guest. I check in with the bride and groom to make sure their meal is adequate, their drinks cold and replenished and everything perfect. Then I also check in with both sets of parents so I know they too are comfortable and happy. I make sure the photographers are fed and that any guests needing anything, are assisted (any extra chair, a clean knife, more napkins, a bandaid, you name it!)
7:00 – I get to eat! For the first time since my morning latte! One word: happy.
7:15 pm – And I'm back at it. I do things like make sure dinner music volume is key, the bride is comfortable, the groom is happy, cards and gifts get locked up in an appropriate vehicle. Any cocktail hour or ceremony decor that was left behind is usually picked up at this point if it's within the same establishment. I make sure speeches are cued in on time. Kind of like so:
8:30 pm – The party then begins. Sometimes I sew bustles, or bandaid up brides (and my own!) poor toes. I make sure the top tier of the cake is saved, that the bride's Kate Spade flutes are carefully washed and placed back in the proper box, that the patio candles are lit, and sweets table opened to guests. I clean up the bridal suite, make sure the washrooms are good on toilet paper, and call to check on the transportation due to come back at the end of the evening. Sometimes we need to move tables around.
10:00 pm – I get the bouquet for the bouquet toss. Or I have the bride and groom sneak away for some final photos.
11:00 pm – I ask the DJ to announce the late night snack is being served. I also check on Grandma and Grandpa.
11:30 pm – I make sure the bride and groom are having fun. I drink another coke. Sometimes a father of the bride will try and pull me on the dance floor against my will. I start gathering centerpieces for guests to take home, I put away the guest book and other personal decor items in a predetermined vehicle, and I make sure the venue staff knows who is responsible for what.
11:55 pm – The last song plays. I find the bride and groom afterwards and bid them farewell as they head off into the night. I get lots of happy, sweaty, hugs. I love that. I also fill them in real quick on any important details and make sure they get some cake, pie, candy, sweets, whatever, to bring home with them to snack on. We hug again. And I probably grab another coke.
12:00 or 1:00 am – Depending on the end of the event, once the majoirty of guests leave, the lights come up and each individual vendors does their thing. The florist will return for vases and centerpieces, the band or Dj will start to tear down their equipment, the waitstaff will pick up napkins, linens, glasswear and plates, the rental company will tear down chairs, tables, pipe and drapes and other special items. I'll continue to tear down signage, buntings, special touches, candles, any trash, leftover favors, menus, programs, wrappers, straws, and the list goes on and on. I may change back into my set up clothes.
1:15 am – With my car loaded up, I head back home or to my hotel. Feet are a throbbin'. But heart is full.
1:45 am – Time for a quick snack perhaps and a bath. My feet are swollen, dirty and blistered. I'm sleepy!
2:00 am – Climb into bed, read any happy texts from the bride and groom, and drift into Zzzzzz…..
Phew. Are YOU tired yet? :)
Now for some fun Rhi Without Makeup visuals to enjoy, this was a wedding I did in August with one of my fave couples of all time. Mary Beth and Tom's wedding had a TON of details. We're talking nearly 8 hours the day before the wedding and then the entire morning and afternoon on the day of, to get it all in place. This was one of the few events this year where I did their tent reveal before I had the chance to change out of my hard core set up clothes into my ceremony gear. Excuse my summer heat wave appearance and brace yourselves, guys! But in other news how cute is my couple? I just loved this moment and how their reactions made all of the craziness that weekend absolutely worth it! Hey Tom, can I get a Go Green perhaps?
All photos above by Harrison Studio. Love love love them. Happy Monday, friends xoxo