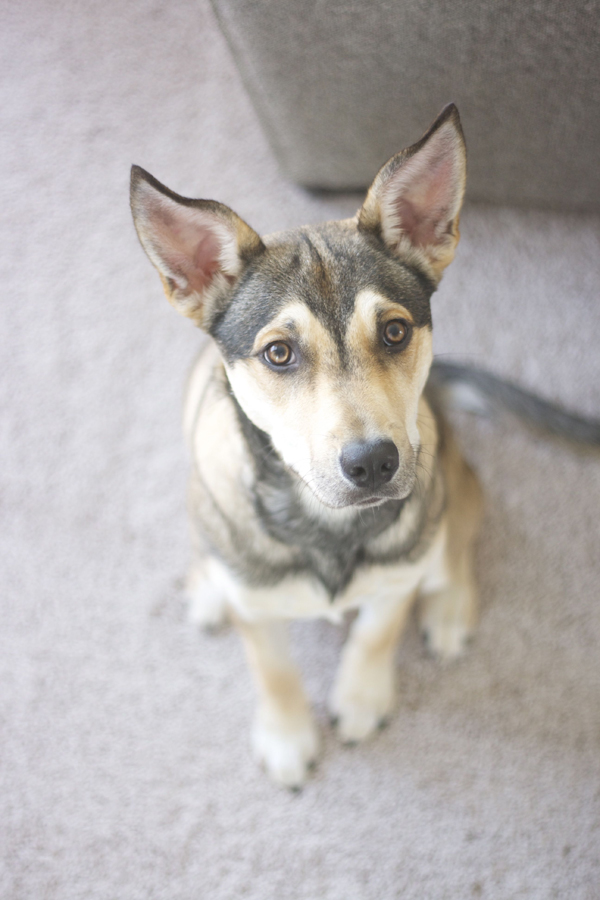 FAQs: Zoe
I was thinking yesterday. It's been six months and I haven't properly introduced sweet Zoe to you!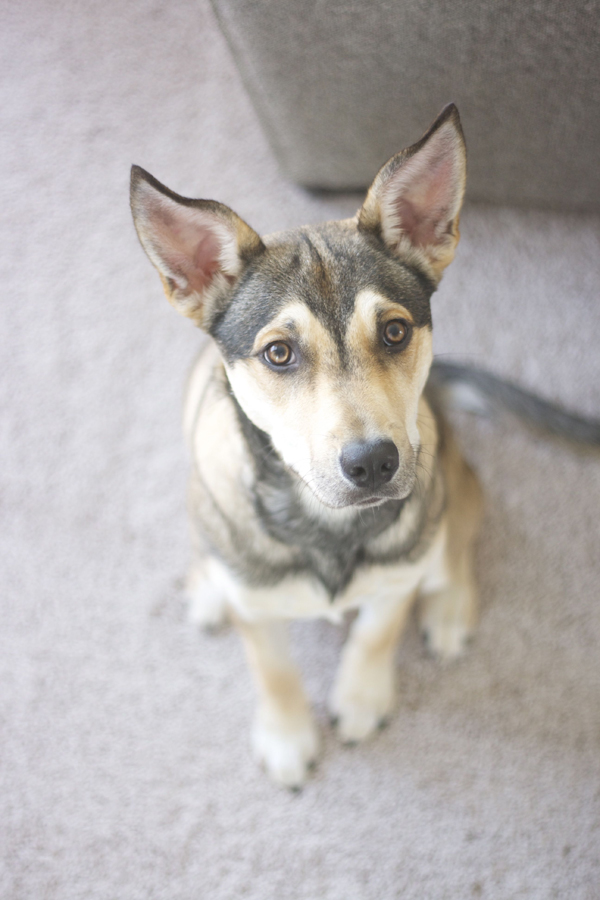 Basically, Zoe is the cutest thing I've ever seen on four legs. I'm a little biased of course but those ears get me every time! Earlier this summer, Andrew and I headed off for a Saturday trip to the Holland Farmer's Market when I asked him to stop at Pet Smart so we could peruse the new puppy section (let it be known that in my head I was fully planning on selecting a pup that day, poor Andrew). Immediately the second they pulled Zoe out of her cage I was smitten. If you remember from my every time that day, she had the cutest little puppy face and floppy little ears. She was clearly overwhelmed with all of the attention she was getting and immediately fell asleep in my arms after I begged the woman to let me hold her. I was a goner.
I feel so embarrassed to say this now, but the morning after our first night with her, I was sure we had made a mistake. Andrew and I both love our sleep and we spent that entire night checking on Zoe, cleaning up accidents in her crate, on the carpet, on the floor, on what felt like everything in our home, and listening to soft whimpers and cries. Andrew asked me what we should do and I thought maybe we weren't ready for a dog. This was a lot of work! How would we ever have kids? What should we do? But I'd be damned if we ended up being the couple who couldn't handle the demands of a puppy and I surely wasn't going to quit on a sweet little pup that was originally found in a box on the side of the road. So with that we figured out a routine and as Zoe got used to us, we began to get used to her. And very quickly we fell head over heels in love with her.
Many of you have asked about Zoe and what kind of dog she is so I thought she'd be the perfect topic for today's post! We were told from Pet Smart that she has Aussie Cattle Dog or Blue Healer in her, but I'm convinced there's German Shepard and Australian Shepherd in there too. She has hit a stand still in her growth (she's currently about 32 lbs) so she's rather small for a German Shep but she is incredible fast, agile and smart so we're convinced the Aussie Cattle Dog theory rings true. She loves to herd other pups together and can out run anything but she's also the sweetest and mot snuggly pup I know. She also loves whipped cream so on Mondays we go through the drive through together at Starbucks so we can both get treats.
Zoe says it's nice to finally meet you blog readers!
For puppy parents out there, what's the hardest thing you've had to deal with? What kind of dog do you have? xoxo