Stop For a Minute
November 29, 2012
And think back to when it all began for you. Maybe it was 25 years ago, maybe it was two. Maybe it was just last week when you started. Think of the day you decided to start your business, start your own journey, quit your day job, quit your night job, or do whatever it was to ideally be happier and more free. Think of the minute when you realized what your next move had to be, and when you decided you'd finally make it happen. I remember that day in my own life so clearly like it was yesterday.
Can you remember that exact day?
Now try to remember what made you feel that way. Maybe you were miserable working for someone else. Maybe you were miserable working for yourself! You might have been uninspired. Maybe you wanted to work more from home. Maybe you wanted a challenge. Think hard. Maybe you thought it would be fun, or wonderful, or lovely to work in a new field. Perhaps there was something specific about this new route that was enticing to you, something you couldn't stop dreaming about.
Can you remember why you decided to do what you're doing?
Let me explain a little with where I'm taking this. And that this comes from a genuine place. I love a damn peony as much as the next person out there. And I've used a suitcase or two in my career as a place for my client's guests to put their cards. I can appreciate lace, soft photography, sparkler send offs and that gorgeous sequin linen that everyone seems to go gaga over. But that's not what this is about. Not once, have I ever lost sight of the core goals and values behind what I do. My three goals in business? To make beautiful things, to make others happy and to make money doing it all. And for the purpose of discussion and clarification here, we'll call my life long goal of a Martha Stewart Weddings feature the fourth bonus goal on the big list.
I started the business end of Hey Gorgeous Events as an extension to this blog, when I realized I had a lot to give. I'm not that good at a lot of things (as I learned today when I was near tears sitting with my bookkeeper; it's namely numbers and my times tables that cause me serious grief :) but I will admit that I'm really good at using my personal experiences to allow my clients an experience they'll never forget. I can also make things look really lovely. And gorgeous. I'm an all or nothing kind of girl. I was going to start a business and I made a promise to myself to make it work. It could have failed but I'm thankful it didn't. The instagram followers, blog features, comments, and whatever else people may view as my successes or even a stroke of luck, are great don't get me wrong, but strip those things away from me, and leave me with my core goals and values, and I'd still be left with my passion for my JOB. And the same amount of excitement I felt when I first purchased my domain name.
Stop for a minute. And think about why you do what you do within this industry. Write it down.
And read it every single day when you start your work day.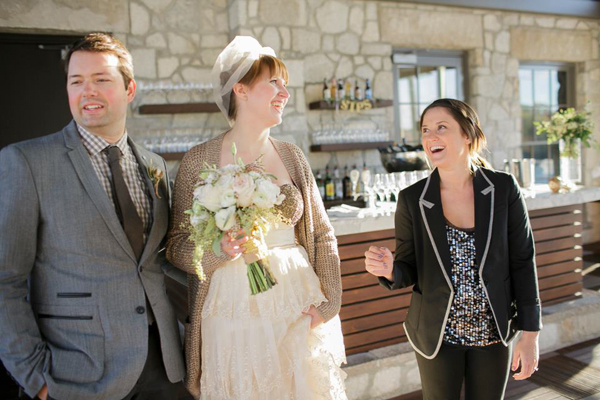 I've already shared this photo on my business facebook page (which got a little facelift yesterday! I hope you love it), my personal page and my instagram feed so you've probably seen it already but to me, it really embraces all of the things I dreamt about for my business, before I even booked my first client. I dreamt of happy moments between people who came into my life as strangers, immediately became clients and simply remained thankful for giving them a sort of happiness like that. That's what I crave more than the perfect bouquet or the most meticulous timeline. Thanks so very much to my sweet friend Elizabeth in Love who always remembers to snap a few shots for me like this when we work together. It really means so much xoxo