The New and Improved Hey Gorgeous Events!
December 18, 2012
I've started and restarted this post for months now. It's so hard to express all I'm feeling in this moment. Could you imagine trying to write a speech to win an Oscar or an Emmy? I mean that's a little more serious than this I'm sure but either way, I'm just sitting here completely speechless today after all that's happened throughout this process. The support and encouragement and love from family, friends, followers, strangers, clients both past and present, has been remarkable. I feel like I've changed for the better. Hey Gorgeous has changed for the better. And I get to share it all here with you! So let's start with this: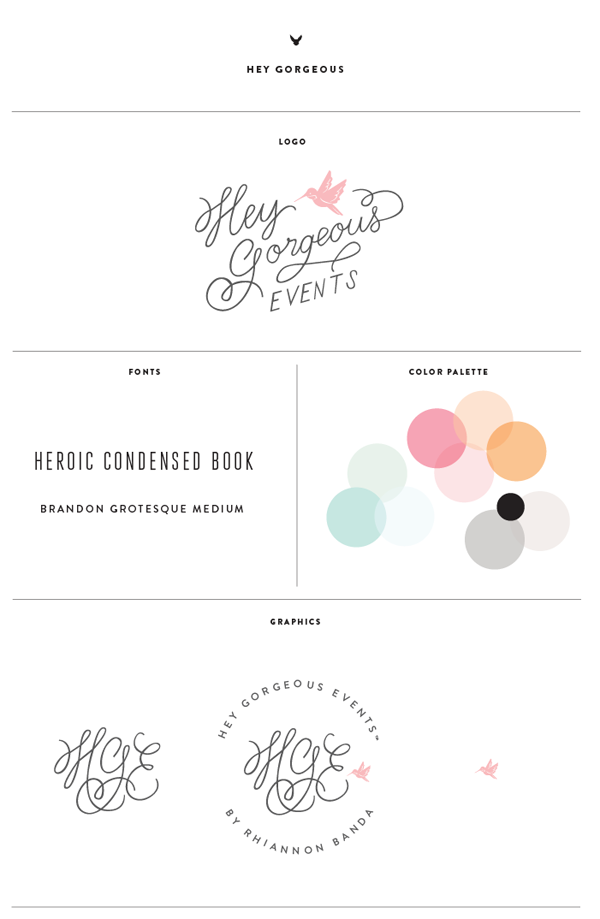 I have a logo. Oh lawdy it's a lovely thing to have isn't it? I owe serious props to the incredible Molly Jacques for drawing up both the hand lettering and Bevy after so many of my picky requests for revisions. I've been putting that logo everywhere from cell phone cases to client bags and buttons. It's so wonderful and gorgeous. And the color palette and selected fonts infused into my brand board were put together (in combination with my gorgeous new collateral which you can read about over here!) by Emily Ley through Making Brands Happen. It's so truly me. It's just gorgeous and wonderful and lovely.
How about a little before and after shall we? Here's my old BluDoman website. Let me mention that this site served its purpose for two years and really was quite functional, user-friendly and affordable when I first started out. But it lacked the little bit of spunk I was looking for and din't properly portray who I am. And my clients need to know who I am because we spend an impressive amount of time together. So I told Lara and Emily, and of course Cathy Olson of Love Inspired to throw Kate Spade and Jose Villa in a blender and make me a Hey Gorg milkshake. Ha! No really though. That's what I was craving.
And I got this.
Guys, I shrieked. This is just incredible. I have a place that's all ME now. My heart, my passions, my quirky side, my genuine side, ALL sides. Isn't she pretty?
I owe so much to so many people.
To Lara and Emily and Cathy and Molly. You have all been so honest and patient with me. You've been encouraging and supportive and have said the right things at the right time. I've been inspired and am hopeful and excited for what's ahead of me and Hey Gorgeous. I read a quote through the Making Things Happen Tumblr last year, you know the one that says, 'A year from now you will have wished you had started today?' I never want to regret going after what fire me up in life. Life's too short to play small. You've epitomized this little piece of logic for me. Thank you giving me so many valuable tools to succeed. For being friends. I love you guys.
To everyone who came to the relaunch party last night, I'm such a lucky girl. Your cards and words of encouragement are so special. I loved watching everyone mingle and laugh amongst one another. I loved still having people in my house at 11:45 pm when I was sure everyone would leave at 8:30 pm. I love how many bottles of wine you brought as gifts. No, really. Thank you.
To the friends I have made in the industry and through blogging, who have taken photos of me, my work, my home, my husband and I, to the friends who live in different time zones than me but still take my calls at 6:00 am because I need an opinion on something trivial. To Kelly, Beth, Paul and Vanessa, Leah, Naomi, Shalyn, Michaela, Nicole, Tonya, Kristen, Elise, Alex, Victoria, Cyn oh and the list goes on. I can't even begin to describe how much you all mean to me. It can get lonely when all of your friends seemingly live so far away. But you've all managed to make me feel like you're close by. I'm thankful for you and all you do for me.
To everyone who reads this blog, who sends me tweets no matter how irrelevant the ones I tweet are, who comments on my facebook posts and photos, who tuned in via Ustream last night and left notes, who have sent letters, emails, texts, presents, and the list goes on. I am so humbled. I'm not sure what I did to deserve this but I feel so lucky. Thank you for taking time out of your busy day to let me know you care.
To my sweet Mom, my Mother in Law, Pat, my husband and family. I love you guys so stinkin' much. Through this I've really understood the value of focusing on what truly matters. You guys matter. You don't care what kind of desserts I served last night, you definitely thought the old website was good enough and you probably are still confused on what this rebrand really entailed. But that's exactly what I needed from you. I just needed pure love and support of the unknown. Andrew you've been such a rock. You've been so loving to me regardless of my behaviour. Mom, I miss you so much and wish you could have been here last night. Your sweet emails have kept me going. They've kept me feeling proud. Pat, you're like the energizer bunny. Thank you for driving me around yesterday with oversized mylar balloons stuffed in your SUV, and then cleaning up everything last night while I sat back and put my feet up. I don't deserve such love from you all.
Have you ever had a happy cry? I totally just had one. Welcome to the new Hey Gorgeous.
Photo by the amazing Kelly Braman. Oh and go watch this little video of yours truly :) xoxo