The BIG Relaunch Giveaway Contents!
January 4, 2013
Guys, this post honestly doesn't need many words from Yours Truly. But in good ole' Rhi fashion I'm going to give them to you because I have so much to say about the incredible vendors who all contributed to the relaunch giveaway that went live right before Christmas. I'm still so blown away not only by all of the contributors talent and hard work to make their small businesses successful, but by each person's generosity and heart of gold. Below are some photos taken by the amazing Leah Mullett that show all the items up for grabs, along with a little information on why I too love each specific goodie going into the bag. It's like Christmas in January here at Hey Gorg! And I am so so excited!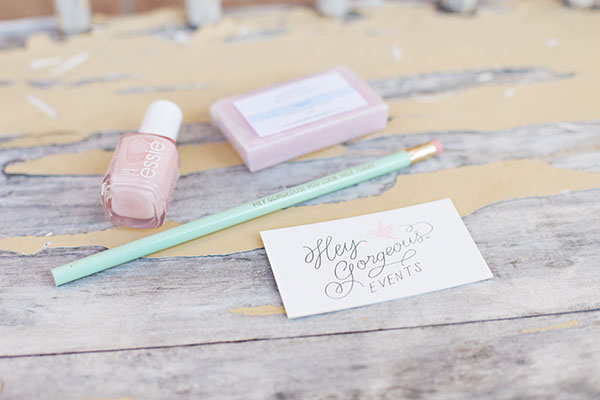 So it wouldn't be right if I didn't throw a few of my own favorite things in there so included is a bottle of my most loved pink Essie nail polish hue, a mini bar of the most amazing scented handmade peony soap, and a mint hued "Hey Gorgeous, You Look Nice Today" pencil. Oh and I'm throwing in a Hey Gorgeous Events business card. I'm sort of in love with those letter-pressed beauties so I hope whoever gets to hold that in their hands feels the same way!
Neallie from Vatne Designs has been a sponsor of the Hey Gorg blog for well over a year now and I absolutely love everything she carefully crafts together. I actually wore a bracelet of hers in our anniversary session here and an HGE bride, Ashley gifted her bridesmaids with the same bracelets at this wedding. Included in the giveaway is the stunning earrings shown above with the most perfect pop of soft blue in the center. I wish I would had known about Neallie when I got hitched because her pieces transition perfectly from wedding to everyday wear. Visit Vatne Designs here.
I absolutely love anything personalized and am a huge fan of Emily Ley's so what's better than an Emily Ley personalized cell phone case? Not much, blogettes. Not much! And for all of you monogram loving chicks this is just perfect! The above cell phone case is simply to show you what yours could look like but the winner of the giveaway will be able to work closely with Emily to carefully craft your ideal cell phone case. And for more goodies from the Emily Ley brand click here. Emily's a genius when it comes to brainstorming products that stylishly simplify life.
Have you ever held an Anastasia Marie card in your hands? If so you know what I'm talking about here and if not you need to stat. Each card is literally oozing with detail. From the carefully cut out designs and tiniest details that only the most able of hands could craft these cards are literally works of art. In that craft box above sits five gorgeous cards ready for one lucky reader to lovingly fill out and seal. To see more of Stacey's designs you can visit her here!
I never got to wear a Plum Pretty Sugar robe on my wedding day. Sad face, I know. But thankfully I got my hands on one this year, and sometimes just sometimes I wear it to work everyday (I work from home, don't you worry your pretty little head!) For those of you that have one of your own already you'll know what I mean when I say these robes are the things dreams are made of. It's impossible not to feel like a goddess when you slip into one. So to whoever wins this let me know when you plan on wearing yours and we can have a robe party together. Oh and see more pretties here!
This was one of the items that was hard not to keep for myself. Honestly this necklace is so my style and so fabulous! That Leah from The Way We Are is amazing. I actually received a mint and gold bracelet from Andrew for Christmas that he purchased from her. It was one of the few things on my Christmas list and I was so excited to open it! Anyway that gold and champagne pink pretty above will get to adorn some lucky chick's neck stat. And if you too want to score yourself a gorgeous statement piece you can shop to your heart's content over here.
Let me first tell you all how much I love and use my Paloma's Nest ring bowl. I take my rings off quite a few times a day to either clean, cook or get my make up on and take them off every night when I go to sleep (I sleep on my hands a lot and the rings are uncomfortable to lay on!) so my bowl on my bedside table is perfect as a catch all. Thank you to these two for the thoughtful gift last Christmas. I hope whoever wins this bowl, appropriately stamped with the phrase, 'To Have and To Hold' loves it as much as I love all of my Paloma's Nest creations. True works of art.
Ashley from Lemon and Lavender is one of my dearest friends and certainly one of my most courageous. She's not only an incredible Mom to two sweet children but she manages to run an incredible business as a graphic designer all while figuring out life as an expat in Africa. If there's one thing her move has taught me about friendship over the last year it's that a simple hello via snail mail can brighten someone's day. That's what these sweet Hello cards are intended for. And if you need any other graphic design or stationery needs you have to see more here.
I'm not going to play favorites here but I do have to say I squealed a little when I came across the INSIDE of this custom Oatmeal Lace Design clutch. Black and white stripes?! Oh my goodness how totally perfect for the new HGE brand! And that perfect pink hue fabric on the outside combined with the gold hardware; it's all too fabulous for words! McKay puts so much love and attention to detail in her pieces. Plus she offers custom design and can find fabric you only dream of! To see more of her clutch creations and custom baby products in her store you can visit here.
Last but not least is the Hey Gorgeous tote bag everything will go in, complete with two Big Yellow Dog Designs buttons. Ashli created these pink and blue buttons for my relaunch party and I was so thrilled with how incredible they turned out. I'm a big fan of buttons (we had Team Bride and Team Groom ones at our own wedding in 2010) and can't wait to add these to all of my client's bags and gifts this year. Check out her shop here for more fun designs!
And if you haven't entered the giveaway yet go here. Contest closes on Monday night :)
xoxo