FAQs: Tackling The Inbox
March 18, 2013
If you're anything like me and work within the wedding industry, a good chunk of your job is done through email. I'd actually say that 90% of my day to day work and duties involve using my email in some sort of way, so you can imagine staying on top of things can be difficult especially when you throw in out of the office and day of wedding work. If you follow along over on Instagram you'll know that last week I finally got back down to the highly coveted inbox zero (the best feeling ever) and I wanted to share a few of the ways I'm try my very best to keep things streamlined nicely.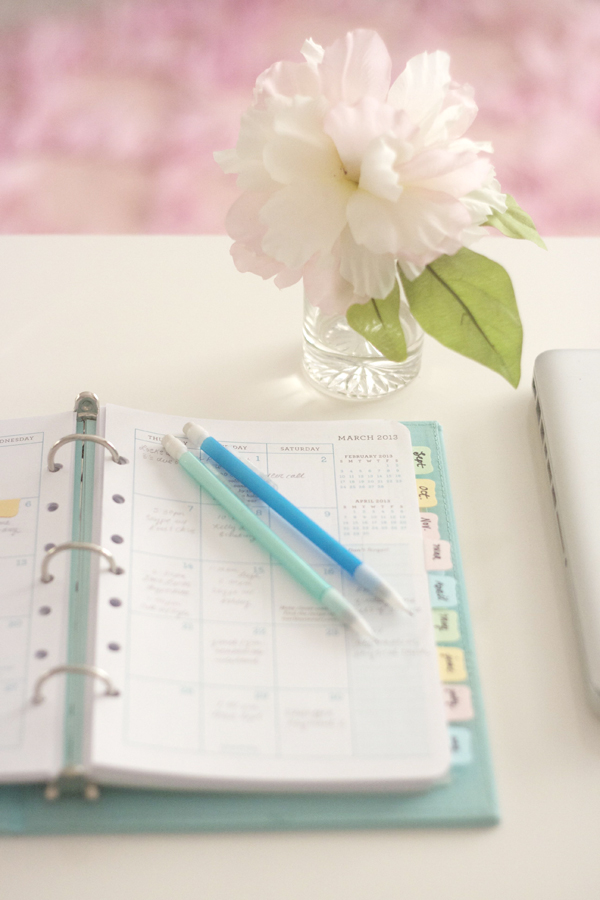 Don't Bury Yourself. Does this sound at all familiar? You get an email, read it, know the follow up action needed but for some reason, click back to your inbox and tell yourself you'll deal with it later. And later usually means days or even weeks later when said message is buried below 20 to 30 other new and equally as important emails. Then you get annoyed and overwhelmed. This used to be my weakness when it came to controlling the messages in my email. So now when I get something in my inbox I have to really make a decision on what action I need to take. I can RESPOND right away with a necessary response (sometimes a call needs to be made on my behalf), I can FILE the message into a necessary folder (if it's a shipping notification for something like linens or something about a client's event) or I can DELETE the message if it's not important or relevant. I think it was Lara who said emails are just a bunch of decisions. Some decisions are easier than others but ultimately you have control over everything that pops into your inbox.
Keep Things Organized. Is your physical desk space cluttered and messy? Can you find what you need? Do you feel inspired looking at stuff all day? I know I don't when my physical space is cluttered, and the same holds true for my email inbox. Just like you have desk drawers, filing cabinets, folders in your cabinets and storage cubes to keep your office things organized you have access to email folders which is a tool you should be taking full advantage of. I have three primary folder types in my account: the folders given to my clients (each couple gets their own), a Business folder with specific sub folders underneath and a Personal folder, also with more specific sub folders underneath. When I respond to an email or know I need to keep an email for future reference it goes into a folder. Here's a little peek!
Create a System. It may seem complicated to others but I've really created a system here that makes sense for me and allows me to not only feel but be productive. Together with my Martha Stewart planner, colored labels, trusty pencils (I never use pens) and color coded email folders, I have a system that allows me to keep track of client related emails, important information like receipts, vendor communications, and digital files, all while remaining clutter free and simplified (I also have a big binder with dividers and colored tabls for my events by year which holds floor plans, floral recipes, timelines and sketches but that's another story). If I get an email about an appointment, I track it in my planner, respond to the email with my RSVP and then I DELETE it. The colored tabs on my planner are similar to the color folders in my email and visually keep me in line by reminding me everything has a pretty little place to go!
A few other things that help keep me on track?
If I can't see negative space below my bottom most message, I get antsy so as a general rule of thumb I usually try to fluctuate around 10 to 15 messages on any day where I can't give all of my time to managing my emails. If something is in my inbox, it means I have to still make a decision on it. Nothing gets filed, or deleted until I have done an ACTION to get the email anywhere but in my main inbox. I try to keep things as specific as possible with my folder names so that I can keep track of all threads within my business. In the middle screen shot above you'll see there's 13 sub folders within my Business branch. Seems like a lot huh? Well let me tell you when I need to find an email that has to do with an upcoming editorial, a former wedding of mine, a business that advertises here on the blog or a receipt my bookkeeper needs, I know exactly where to go. Oh and last year I unsubscribed from every single website I've ever registered with, with the exception of Kate Spade, Staples, and BHLDN. If I need something from J. Crew, I'll go get it at my leisure.
A clean inbox is like a clean house. A consistent effort yields impressive results. And deserve a glass of wine :)