The HGE Studio Part I
May 9, 2013
Let me tell you a little secret. I'm an extremely decisive person and 99% of the time have my mind made up before I can even believe it myself. I'm not sure if this is a quality I've had most of my life but in addition to my decisiveness I'm very good at listening to my gut and making decisions based on intuition. Case in point, about two months ago I really started to feel the effects (both positive and challenging) of a growing business and I decided to start looking into an outside office space and studio. With little knowledge on commercial real estate but a gut feeling that starting this search would be a good idea, I set out and toured what felt like all of Grand Rapids, calling in circles, visiting almost seven potential spaces that fit my needs and price point and then boom I found one! I was ready to sign on the dotted line, get my keys and make magic happen. Here's that diamond in the rough everyone, myself included, seemed to love.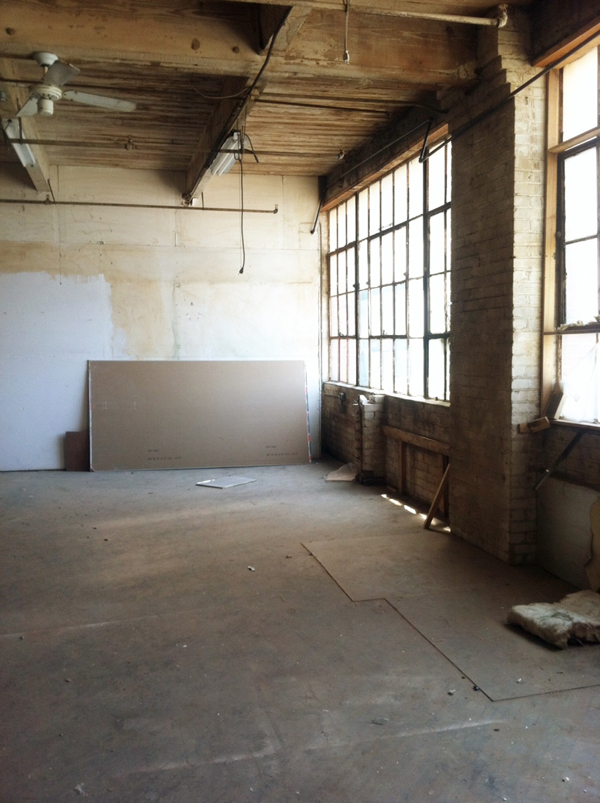 But something didn't feel right. And I don't just mean that iPhone photo above. Ick sorry!
I forgot to mention that sometimes in addition to being very decisive, if I'm on the fence about something (which hardly happens) I tend to lean on others to gauge their opinions and ultimately what they would do if they were Rhi. Such was the case a few weeks ago when almost every single person in my circle had an opinion to share; and let me point out I am so grateful for my smart, wise, courageous and smart friends. I value their opinions and trust their judgement. But then I thought I should call my Dad. You know, the one who started his construction business alone with a young entrepreneurial business loan 25 years ago. The one who worked his tail off over the past 25 years to go from a small business that served small construction needs to an Incorporated business with a fleet of vehicles, 80 plus employees and a roster of business across the country and internationally. And most notably he's the one that move after move, would make his office work in a spare room or the basement of our home. Here's a man selling multimillion dollar building contracts from the comfort of his small, cozy, home office, and one who continued to do so until he absolutely had to move to an outside space that could accommodate his needs. Surely my Dad would have advice for me.
The thing I love about my Dad, and my Mom, is they tell me things I don't want to hear. I used to hate that but as I get older and wiser (ha!) I learn to secretly love learning from and taking their advice and opinions to heart. My Dad's initial advice on the space, before I could even tell him about those beautiful windows and that yummy light and the cheap rent, was 'Don't do it.' Then this weekend he had a chance to see the studio, the building, the surrounding area, the whole nine yards. And and Sunday before him, my Mom and my Grandpa left he told me, 'Remember Rhi, increase your revenue, decrease your overhead. And don't do it.' Wow. Talk about getting the opposite of what you really wanted.
I have a sweet friend and together we have accountability dates once a week. We talk about our goals, challenges and one thing we did well from the week prior. My one thing I did well from last week was taking my Dad's advice and more notably my Mom's points to heart as I continue to sit on the fence with this studio space. In the heat of my excitement I didn't think about the things I should have like the lack of running water, at all, in the studio. My flowers wouldn't jive well with that. I didn't think it would be a big deal that our Michigan winters will absolutely freeze my tail off and probably drive me to crank the heat resulting in a ridiculous heating bill; when a big, grown man who leases the space next to your potential one tells you Michigan winters are miserable in said building, that's gotta count for something.
These next few weeks will mark the start of my 2013 wedding season. My first wedding this year is my unicorn themed wedding and ironically enough the first event under my new brand. I'm. So. Excited. I'm also trying not to make a decision on a space (which I've decided I do absolutely need whether it be separate from my home or a revamped basement space) just because it's exciting and fun. I want this to be a smart move and something that feels so good in the end because I did it the right way. In the meantime, I'll be spray painting more cones for the unicorn inspired garlands you'll see at June 2nd's event and reviewing some pricing and plans to redo our entire unfinished basement. The smart biz move here would be to review all of my options before making my final move right? Right.
If you're a business owner with a studio of your own I'd love to hear about your experiences! Obviously there are variables in every business wedding industry related or not (how much you make, how often you meet clients, what your inventory is like, what market you're in, what your future business plans entail) but I'd still love to hear different perspectives and stories :) Happy Thursday, friends! Soak up that gorgeous sunshine out there xoxo