FAQs: Studying To Become A Wedding Planner
November 18, 2013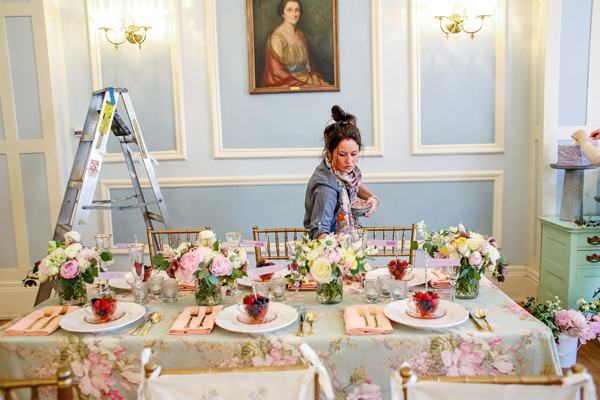 One of the questions I've been getting a lot over the past year, is from young women in college (and some in high school too!) who are curious as to what they should be focusing on in their studies to become a wedding planner. Or if said person asking the question is out of college, they are interested to know what I myself studied. I love this question because it's an opportunity for me to give an unexpected answer! I have an undergraduate degree in broadcast and print journalism and a post-graduate diploma in new media journalism. For what then felt like a very long six years, I studied and interned and learned and dreamed of becoming a news reporter. I went back and forth between wanting to tell the news on television and wanting to write, style and photograph entertainment stories for any well known magazine. Funny enough, during my mandatory post graduate summer internship at Canadian Family Magazine, I knew my goals and interests had shifted enough towards the event industry and that Hey Gorgeous Events would sooner than later become a reality. My train rides into Toronto that summer went from commuter nap time to dreamer download time; notes, pricing brainstorms, package inclusions, business ideas, dreams and goals; so many of those hours spent on the Go Train were filled with hope and excitement, and for me were crucial in the beginning stages of HGE.
I still sometimes cringe or feel like I lose a little credibility when someone asks where I learned to 'be a wedding planner'. It's usually guests at events or new vendors I'm meeting for the first time, that ask this question. And it's a reasonable question, really. I admittedly jumped — actually scratch that, I cannonballed — head first into not only business ownership but my craft; the actual planning, coordinating and designing of my client's events, without much direction. I never even reached out to any other planners in the industry because I figured I would learn it all on my own and discover my way as I went (this part still boggles my mind because I know first hand how many people do the opposite and ask lots of questions first :) Mastering my craft came a little quicker than understanding the back end of my business but either way, I'm blessed to have had the journey I've had and wouldn't change much about it all.
So what's that mean for aspiring planners, designers and floral designers, either in school or out? Take a business centered degree, or in the very least, a few business classes to get a sense for the back end of your business, where 85% of your work will happen. I wish I would have studied the basics of business in college! A degree in interior design, graphic design or tourism and event management would all be appropriate fields to look into too. I'd also venture as far to say that while journalism didn't exactly help build a skill-set I use on a day to day basis, it gave me the confidence I now use when it comes to communicating with vendors, expressing things in specific ways to my clients and investigating any given situation to get a sought-after answer (in both of my school programs, we did a fair share of class and field work on investigative journalism which truly heightened my research and critical thinking skills).
Even better, I also have a blog post scheduled for tomorrow that touches a bit on intuition and acting on gut instincts, which I feel so strongly about because it's one of the things I feel I owe a lot of my success to. But rest assured for the calculated decision maker in all of us, there are a ton of resources, classes and programs out there to prepare you to become a well rounded and skilled wedding planner. You can take design courses and floral classes for the creative side of this craft, you can intern with any of the dozens of preexisting companies in your area (just give them a heads up you're hoping to one day do your own thing out of respect!) and lastly, you can reach out to those who share similar values as you. And remember everyone's journey and preferred method of learning is extremely personal and different from yours so try not to compare your current stance to anyone else's. It truly takes away from the joy of the journey.
I'd love to know, whether you're a veteran or a newcomer to the industry, where did you first begin learning to perfect your craft and business knowledge? Feel free to share below. I'd love to generate some good conversation here so others can feel encouraged and inspired! Have a happy Monday, friends. I'm off today catching up on things I missed while I was away in Texas with clients! Photo above by the amazing Kelly Braman from this little project here.