The Hey Gorgeous Events Office
December 16, 2013
Welcome to my tiny, girly, lovely, inspiring, imperfectly perfect office aka my Girl Cave. Come in won't you?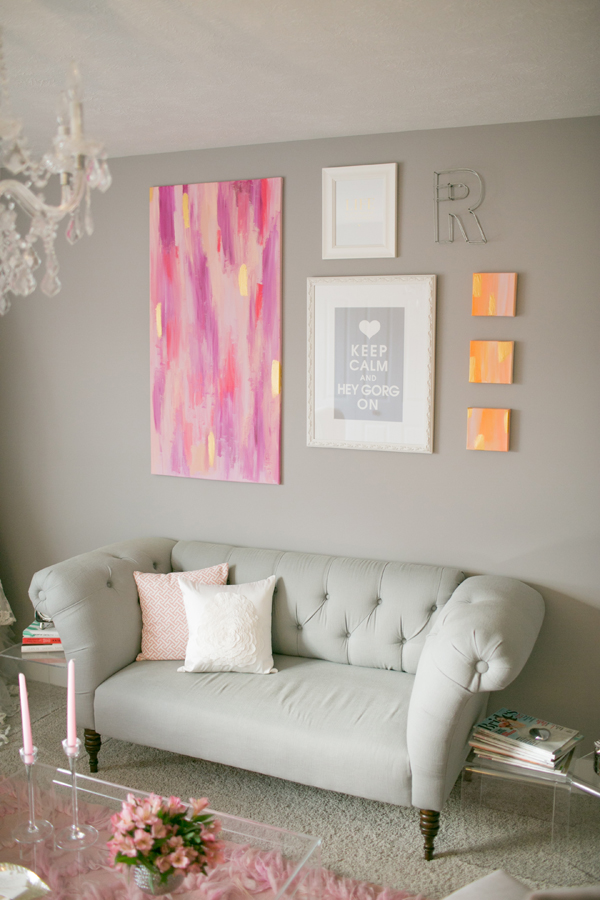 When we built our home, I knew this space would be perfect for my office. From about noon until sunset, this space just fills with natural light, making it nearly impossible to feel uninspired and unmotivated during the workday. There's a big window that overlooks the front yard and the rest of the neighborhood which is great for when Zoe is outside or when packages arrive via UPS or Fedex (which is all the time). Most of the things in my office have been slowly curated over the years or gifted to me from my family, friends or wonderful companies. More on sources at the bottom of this post.
My ghost coffee table is another fave detail of mine. My Mom is known for her sixth sense to find incredibly expensive and name brand goods for dirt cheap prices at second hand stores. It's become a little side business for her and as you would imagine, I often get things she may think I want. So last time I was home my Ma told me about this amazing $50.00 coffee table she found. It was clear acrylic and she thought I might like it. As we were loading it into the Uhaul to bring back to Michigan, we noticed the logo on the side of the table;  Kartel! Oh my word. These things retail at nearly $1,000. I'm thankful for my Mom's thrift skills and for how perfect the table works in my little space!
The lovely pink rug is from Lulu and Georgia. They have some incredible resources for gorgeous home decor.
I keep my Oatmeal and Lace apron on display most days since I love it. And you'll notice Chenks, our siamese cat, makes a couple cameos here in this post. Some of you asked on Instagram what happened to this guy! Nothing actually, he's just usually sleeping during the day (and truthfully through the night too) but for a 15 year old cat he's pretty snuggly and affectionate. Sometimes near the end of the day he'll hop up on my lap or the couch to take a nap.
My acrylic chandelier was a score from Home Depot three years ago. It was $49.99! Deal right?
We had our painter paint the inside of the closet in a pink hue. I wanted pink in the office somewhere, since it's such a big part of my brand, but wanted it in places where I wouldn't get sick of it. So in the closet it went! Its perfect there and always surprises me a little when I slide open those doors! In my closet is where I keep a lot of my stuff. Stuff like stationery. business cards, binders, linen swatches and what not. As we get ready to make progress on the basement remodel (where my studio space for florals and crafts AND desk and consult space will be) I will be happy to share more on my storage system and way to keep all of my STUFF in line – and believe me I have a lot of stuff like inventory, vases, candles, ribbons, oasis, clippers, buckets, props, throw pillows, small furniture pieces and the list goes on and on!)
My bulletin board is reserved for things that keep me inspired and happy! Notes from this girl, this one and this one.
I bought a wire hanging system from Ikea which usually houses cards from clients and colleagues.
Time and time again, I notice that without a clean and clear desk, I cannot focus on my to do list. The more clutter on my desk, the more I sit around staring at it and twiddling my thumbs. Usually I have a few key things on my desk on any given day: a notepad for thoughts, notes and random things to go on throughout the day, my cup of pencils, pens and Sharpies for different needs (pencil in my planner, Le Pen's for stationery, pens for receipts and other business items), fresh florals if I am lucky that week to have leftovers, my planner, my journal, and of course my laptop. I'm also a big advocate of candles. I buy way too many candles but will say they make a big difference on how I feel when I work.
I also love keeping out magazines for inspiration. I love to support my fave publications like MSW and Brides.
That huge gold heart decal was gifted to me from Urban Walls; I love their selection of wall decals and feel lucky to have a heart of gold stuck up on my wall. In the middle of my office is a small sitting area which I actually use the most with Andrew. Sometimes when he works from home, he'll come upstairs and work from my gray settee. Or sometimes if I have an idea or a question I want help with, he'll come join me in my office for a little chat! While I don't bring clients up into my space (hence a move to the basement) it does serve well for coffee dates with colleagues and friends.
The watercolor paintings were done by yours truly. A shop to get your own is in the works :)
Zoe is one of my favorite parts of my day. That pup gives me so much joy!
And lastly, I was recently featured in the Toronto based Xquisit Magazine which is the reason for these photos. My sweet friends Laura and Ben from Harrison Studio, came in and snapped some headshots and office photos for the occasion. Thank you both for being incredible as always! And thank you to the editors for the fun interview on my business and me. As promised, below is a list of sources for everything in my office. If you have questions on anything I missed leave them in the comment section. Happy shopping, friends! And have a great Monday xoxo
. . . . . . . . .
Paint color: Benjamin Moore's Stormy Monday / Desk chair and desk: World Market / Planner: Martha Stewart for Staples / Coffee table: Kartell / Side Lucite tables: Overstock / Pink rug: Lulu and Georgia / Tufted chairs: Home Goods / Chandelier: Home Depot / Curtains, curtain rod, closet organizer, boxes, and lamp: IKEA / Wedding gown: Enzoani / Gray settee: Urban Outfitters / Hustlin' pillow: Michelle Dwight / Chair throw: Pottery Barn / Mint dresser and silver frame: vintage / Wired R and pink closet knobs: Anthropologie / Watercolor paintings: Yours truly / Small print: Lara Casey / Keep calm print: Keep Calm Shop / Gold heart decal: Urban Walls / Sweater: Francescas / Vendor apron: Oatmeal Lace Design