The Year of Content Week 1
Friends! Happy 2015. I know we're about a week into January already but I feel like I haven't done a proper introduction to the new year. If you're the kind of person who isn't into goals, resolutions, making changes or reading about other people who get pumped up about the above mentioned, this post won't interest you! But if you are, then welcome! I'm so happy you're here today and I'm honored to share what's been on my heart.
But first a confession: I've bought Lara Casey's PowerSheets on three separate occasions since they became a product in her shop. And guess what? I haven't used them once. Ha! Lara, I love you! On one occasion I had gotten as far as filling out the first few sheets of the goal prep process but quickly became bored and distracted, and finally determined my goals didn't need this sort of work. Oh my I can't believe I just typed that out. I figured since I really know what I want in life I'm going to just do it! Really reflecting over actionable steps to make it all happen seemed silly and wasteful to me. I'll never get that time back, I thought! Oh and this comes from a girl whose life has changed considerably thanks to Lara's work and my involvement with Making Things Happen so please know this is me being honest and me sharing with you that I'm very imperfect.
I would actually cringe a little every time sometime mentioned or posted about their PowerSheets. Because my PowerSheets happened to only look pretty in the Target binder I assigned them to, collecting dust in my closet.
Oh sweet Rhi, I tell myself, please know this: pretty doesn't do. Pretty just looks good. Pretty isn't actionable.
Pretty is safe.
So I bought some PowerSheets again this past December. I told Amber I bought them again in one of our phone calls and she laughed with me. Maybe a little at me and that's ok too. But last month when I finally had some time to just THINK to myself after the craziest year yet, I felt like an animal hungry, thirsty for ANYTHING that I could get my hands on to help me prepare for the new year (hi new year!). Andrew and I planned a semi-surprise trip to go home to Canada for five days, and so I brought along my pretty binder and unused, new fourth set of Powersheets with me. And a pencil. And a promise. That's it.
This year next month will mark my sixth year blogging. And I really love this old thing. But I'm always hesitant to share, fearful of sharing too much, nervous about not sharing enough. frustrated I don't always have visuals to match my words that often feel so powerful and real. Visuals that aren't 'pretty'. Ugh that word again. Why does everything need to be measured by the pretty? Pretty makes me feel inadequate and unworthy and tired.
Chances are you may feel the same if you've read this far.
I went to bed at 10:00 pm on New Years Eve. I chose to do that. And I woke up at 7:00 am January 1st with that hunger, that thirst, to make some changes. Not to make this year the best year yet because I'm a big believer that every year has highs and lows, but to really enforce some changes that are near and dear to my heart. For seven hours my Dad and I sat at the kitchen table and I set goals while he worked on his business and prepared a presentation for his 150 employees on goal setting. Ironic? Maybe a little. But he even set a few goals too. And guess what? I filled out all of the pre goal setting pages this time. Fourth time is a charm I guess.
My word for this year is content. It's a goal to live a life full of joy and content. That feels really powerful when I reread that sentence to myself. That's sort of the overarching goal for the year which may seem pretty easy to some of you, but below it are other goals, more specific ones that mean a lot to me. I'm going to share them here with you too. Successes and failures in all, each week as I journey to live my life with purpose, with joy, while being content. I encourage you to join if you're doing your best in 2015 to be more content and joyful too.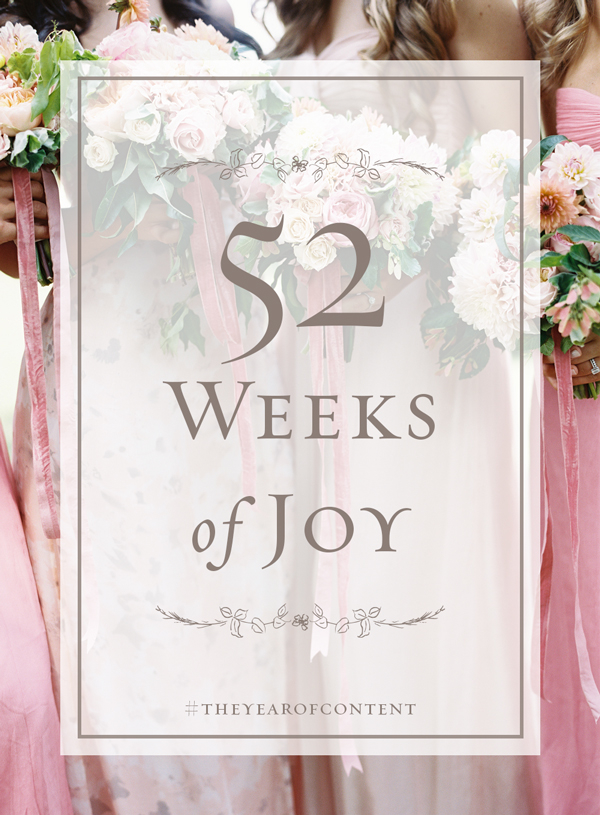 So are you ready? I am :)