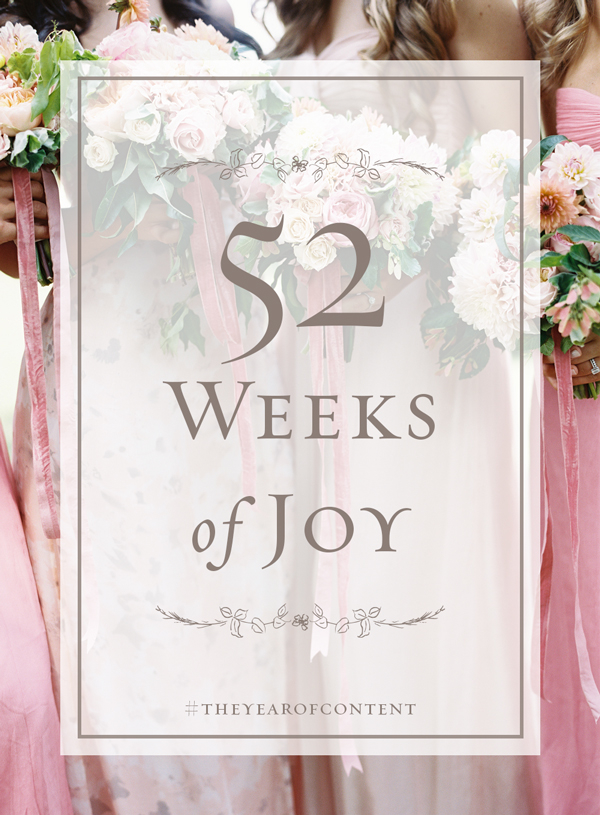 The Year of Content Week 38, 39, 40
Happy weekend, friends! If you're just joining us in this series you can go here first and here second.
I'm writing this from the passenger seat of the car while APB drives us back to Canada for the weekend. My sweet girlfriends from home (the ones I grew up with and couldn't imagine life without) are hosting a girls get together in honor of our babe and I think it's just what my heart needs these days. October is flying by and there's been a healthy and rewarding balance of work and personal time since we returned from Italy last month. Autumn has also definitely made her debut in the Midwest and I'm soaking up each and every last leaf that's turning color in our yard; fall is the season that always seems the most fleeting of them all doesn't it? What a timely thing to experience during this transitional period in our lives.
As for my contentment journey this year, it's been a really incredible one so far. Some of the areas I didn't expect to grow in have been the ones that experienced the most changes. One of those areas is in the spiritual category and maybe it's been the growth in our marriage, my journey into motherhood or the efforts we've been making to be active in our church but it's an area that has changed exponentially for both Andrew and me. So today's post is again all about the spirituality side of things and finding contentment in that realm. Onto my debrief!
Week Thirty Eight, Thirty Nine & Forty
What has not been working: I'm getting ready to head back to Raleigh in a couple weeks for Making Things Happen. One of my most favorite quotes that's shared every time at the intensive is by Jim Rohn. And it is,"You are the average of the 5 people you spend the most time with." While your strongest friendships will withstand life changes and circumstances, the other relationships you keep so often have an effect on your own life, goals, happiness etc. I've realized for me personally the balance in my life and the emotional side of things stays the most under control when I'm surrounded with like minded people. For example; if I were training to run a marathon, it would be in my personal best interest to hang out with other runners versus people who loves to spend their free time watching Netflix and avoiding the running route. And this is very true in the area of spirituality for me. Andy and I haven't been focusing enough on cultivating relationships with people of similar religious beliefs and with all of the changes coming into our world it would be really rewarding to do just that.
What has been working: With that being said, we actually have been making lots of intentional progress on the spiritual front. Our small group for couples recently started back up again and I also decided to join a small group for women at church instead of joining the biweekly mom's group as I mentioned a few blog posts back. The non-church mom's resource center I take yoga and education classes at has really filled my need for time with other expecting mom's and I wanted to be intentional with my church time on more of a studying level. So two small groups it is for me and so far so good! We are also now attending services again on Saturday which is great since Andrew and I love our Sunday morning sleep ins!
Short term goal: Finish The Best Yes (and the accompanying study guide) by Thanksgiving.
Long term goal: To be baptized. And to have #sweetbabybosse baptized next year with me.
Feel free to leave your experiences below and to share them with the hashtag #theyearofcontent
Happy Weekend friends xoxo