10 Essentials for a First Time Mom (Part Two)
Morning, friends!
This is part two of a post I created a couple weeks ago for first time mamas! You can read part one here.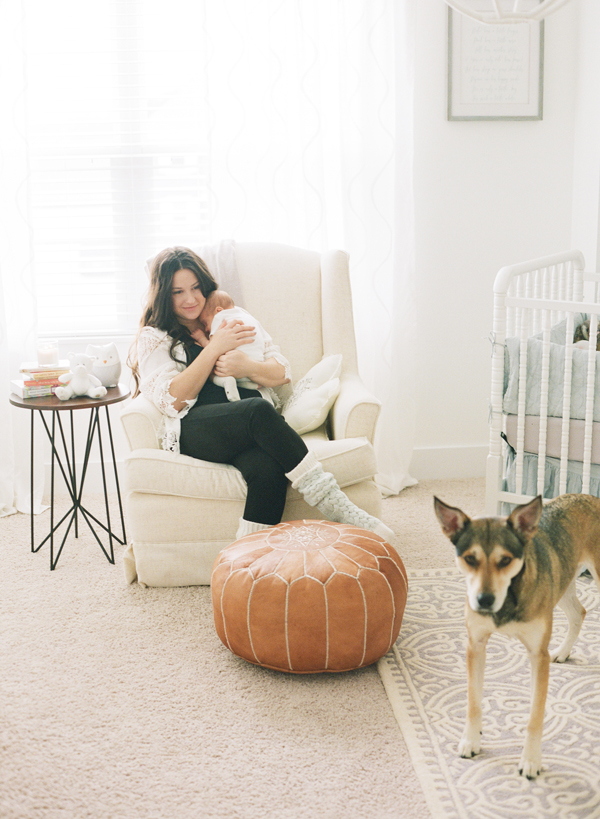 As I previously mentioned, there are so many things we have come to love and depend on as we settle into somewhat of a routine with our little dude. Narrowing in on just ten was hard! Even though Lachlan is only eight weeks old (goodness, where does the time go?) I feel like we've learned a thing or two about being parents and what makes our day to day routine easier. I suspect we'll be learning for many more years to come too!
Below are the remaining five things on my list of essentials for first time moms. Even though my post title lends itself to this being a list just for moms, there are things on here that have proved to be a tremendous help to us both! And as always, if you're a mama I encourage you too to leave a comment here with your essentials.
SIX. Swaddles and soothers. When we were in the hospital and needed a little nursing help, I remember the lactation consultant had stepped out of our room for a moment. Just then Lachlan started to cry really loudly and to the point where he was gasping for air. Andrew and I panicked because we thought our hospital neighbors were going to get upset (ha!) so I grabbed a soother from our baby bag and popped it in Lachlan's mouth. But not before telling Andrew, 'Oh no, we're breaking the rules!' Our breastfeeding class and so many other sources had told us not to introduce soothers until our baby was older and I was terrified I would be ruining my kid for life by giving him a pacifier at two days old. But he loved it. He still does. And he still nurses great and takes a bottle just fine. I'll never forget how awful the consultant made us feel when she came back in to our room, saw the soother in L's mouth, and literally shook her head at us in disappointment. I felt really hopeless in that moment because the crying was LOUD and I could tell our babe loved that Soothie!
So we decided then and there we would do this parenting thing our way. And as such, soothers have been our saving grace when L gets fussy. As have swaddles. When I was pregnant I used to joke that we were going to have a really fidgety baby judging from all of the kicks and pokes I could feel in my tummy. Funny enough we do have a pretty strong and fidgety little guy now, and he loves keeping his arms above his head which isn't great for napping or sleeping. So we use this swaddle and a Soothie (the vanilla ones are awesome) and it's the perfect combination for helping with sleep time. We plan to try this out once L is older and shouldn't be swaddled anymore but for now, soothers and swaddles are our saving grace with nap and bed time.
SEVEN. A system to manage clutter and miscellaneous items in your home. In my opinion, there's a difference between a dirty home and a messy home. A dirty home is one that needs to be cleaned. A messy one is one that needs to organized or, even better, rid of clutter. Keeping a home tidy is easiest when your things have a place to go and well, I could write for hours on this stuff so I won't get off topic, but babies come with a lot of STUFF. Soothers, burp clothes, outfits, diapers, more diapers, pump supplies, water bottles, toys, play mats, and the list goes on. I swear there is a trail of stuff at any given time, leading from the baby swing to his room, from his room to ours, from our room to the kitchen, from the kitchen to the car; phew! It's a lot!
Last year I purchased two wicker baskets and the plan was one would be for me and one for Andrew. The baskets are meant to be a catch all for our 'clutter,' and we both have permission to put items in each other's baskets should said items need to go to their designated home. Mail, paper, socks, sunglasses, odds and ends, receipts, chargers and so forth are what pile up in these baskets. The rule is when your basket is full, it's time to put your stuff away. I can honestly say this basket system helps keep our home not only to appear tidy but BE tidy and this is helpful with the influx of baby stuff in our home and lives. I've also had to let go of my expectations with the cleanliness of our home so this basket system has been a suitable substitute when a full deep clean isn't feasible. I'm hoping to get L a basket when he's a little bit older too.
EIGHT. A diaper bag that's functional and lovely. I received a beautiful diaper bag as a gift at one of my showers and it was actually one that I selected for our registry. But once I went out and put it to use, I found it wasn't very practical for the way I work. I prefer a wider bag where I can look in and see everything organized nicely inside. Deep bags just aren't my jam because I can't find things easily, and when you're digging for wipes or diapers after something like a big blow out, this is no good. I also made the decision to ditch my purse in favor of not carrying two bags around with a baby and instead, combined my purse contents into just a wallet and a small Cuyana case with things like lipgloss, a compact, hair tie etc. This way I have what I need and what Lachlan needs in one easy to grab place.
Enter Lily and Jade. I really wanted to buy a L&J bag during my pregnancy but had a hard time justifying the cost. Yet now that I've taken the plunge and have one in my possession, I will say this bag has been a wonderful investment. It fits everything needed for Lachlan and for me, it fits comfortably over my shoulder, has extra room for things like snacks and a water bottle if I ever need to throw those things in my bag on the go (like in an airport), and it's gender neutral so Andrew feels good carrying it too. I feel like I'm carrying less than I actually am because it's all so streamlined in my bag. Oh! And one day this bag can be a purse or tote for yours truly as the organizational insert part slips out nicely leaving a big open bag for non-baby (or toddler!) things.
NINE. All the little things that people tell you you won't need but may just get you through your first leg of parenthood. There are many things we decided we didn't need when we registered for our showers and prepared for this baby. In talking with lots of other mama friends and deciding if there was something we truly needed we could always get it after Lachlan was born, we took a simplistic approach to the 'stuff' we stocked up on. But! I will say there are a few splurge items we purchased (or rather, things we wanted but didn't need) that have made all the difference. Some of them I mentioned in part one of this list! Then there is this, these, and this. Or this, and this. Other notable mentions from other mamas (but things L doesn't particularly love yet): a Rock and Play and a baby wrap of sorts (we are still getting used to the Baby Bjorn). The bottom line with this specific essential on my list however, is that your essentials are personal to you and your baby! If something didn't work for another mama, don't let it make you feel like your babe won't like it and vice versa. I can't tell you how many times I've tried to get L to like being in a Solly wrap but he just loves being in his stroller instead and that's OK. For me an essential is bring L in his stroller when we need to get errands done.
TEN. Grace. Sweet old grace. Oh mamas! I underestimated this whole motherhood thing. The emotions, the ups, the downs, the way you change mentally, physically, emotionally, and spiritually. It's a lot. I mean I knew it would be a lot but to be in the thick of it; it's A LOT. There have been countless times in only eight weeks where I've reminded myself that, 'This too shall pass,' and it's been in both good moments and in rough ones. In the good times I say that to myself to remember to soak this all up. And in the rough moments I say that to remind myself that I'm doing just fine. Grace is everything as a mother. We need to pour buckets of it over ourselves.
Oh! And TEAMWORK. Teamwork with your partner is hands down one of the best essentials as a new mama.
More on that soon though. Have a wonderful Tuesday!
Xoxo