10 Essentials For a First Time Mom (Part One)
Ever since Lachlan was born, I've been really in tune to the things that have been helpful with the whole adjusting-to-a-new-normal process. I have been keeping a running list of items in my phone (usually updated during a 3:00 am nursing session!) and decided when I hit ten things I would blog about them. My hope is to inspire and help other expecting mamas out there because if there's one thing I've learned in these short/long first seven weeks of our son's life it's that raising a babe and making it through really takes a village. And a little bit of chocolate as you'll see from my list below!
With that being said, here are some of the items that have saved my sanity, helped with the transition of bringing a newborn home, and made life generally easier for us. Many of these things are specific to my role as a mama versus our roles as parents since I'm obviously the one nursing Lachlan and am with him all day but nevertheless these things are still helpful in my books. I have also broken down my list into two parts with the second post scheduled for next week!
ONE. A plan for how you'll manage meal times. Because once the meal train ends, people stop bringing you meals and you've gone through all the frozen food your prepped when you were pregnant, reality sinks in. Shopping for food, prepping food, cooking food, and then doing all those dishes after you've sat down and hopefully had a chance to enjoy it, is admittedly a lot to tackle in between feedings, diapers, laundry, maybe getting in a shower and all the other things you'll try to do around dinner time. This is even harder to manage if your partner works late or you take on the cooking duties yourself.
Enter Plated or a similar type of home meal delivery service. Andrew and I had a gift card to Plated from 2014 that we just never got around to using but we finally decided to make use of it around week three PP. While the meals don't arrive on your doorstep ready to eat, the contents do come fresh, pre-measured and portioned (my fave), and with easy to understand and follow directions. The meals are healthy and delicious, quick to prepare, and unique from week to week. So far we are pretty happy with it and love how it takes some of the guess work out of our nightly dinner plans. While I understand it's not an expense everyone can afford we have found that two meals a week for us is worth it as we shop less at the grocery store and waste less food (no need to buy $6.99 worth of basil for a dish that calls for one leaf right?)
Similar services include Blue Apron and Hello Fresh which we have not tried. Oh and for those other meals or snack times during the day when my hands are full, I can't say enough about grab and go foods like yogurt smoothies, muffins, and ready to eat fruit. Get a Costco membership if you don't have one so you can buy these things in bulk!
TWO. A pumping basket because if you're nursing this will be your new part time job. First things first; if you're planning on nursing in any capacity, not enough people talk about how unnatural the natural process of breastfeeding is. It's painful and awkward for the first 6 weeks or maybe longer, some women don't produce enough milk or some produce way too much, nursing in public is a disaster the first few times (more on that below), positioning your babe is hard especially if you've had a c section (or it's just hard in general), and knowing when to feed and when to pump if you're trying to build your supply is like trying to solve a puzzle with your eyes closed. If I'm honest I'll say nursing for me has been one of the hardest transitions of motherhood even though we are finally getting into a routine of sorts and I'm very thankful to be able to feed my babe the way I always wanted to.
Because I'm lucky in the supply department I both nurse and pump interchangeably and as a result am either doing one or the other at any given time. So I created a little 'pump basket' to stay organized. In it are my pump supplies so the pump itself, the plastic tubes and then two to three Medela bottles with the attachments and shields. Since we rented the hospital grade pump for a week PP we now have more than one set of parts which is nice. I also have this in there (it's the BEST), some face and hand wipes, some of this, some of these and finally, a bag of chocolate. Yup. A big bag of Dove chocolates. I would be lying if I didn't tell you that the sweet taste of milk chocolate melting in my mouth at midnight, 3:00 am and 5:00 am doesn't bring a little joy to my life. The basket sits near an outlet plugged in at all times, near a mirror so I can know when to stop pumping, by the bed so if I have to pump at night I don't have to venture too far. So far I like this system and it works out for the times when I'm not nursing in L's room.
THREE. A Contigo water bottle with a straw. This goes hand in hand with the above but it you're nursing chances are you're thirsty most of the time. And if you're not thirsty you should pretend you are anyway and drink more water than you think. I have three water bottles I am drinking from on a constant basis. I have a screw on top Contingo, a plastic straw type tumbler, and a Contigo Autospout. That last version is by far the best of the three. I can flip it open with one hand, it measures out how much I am drinking, and if it falls off my nightstand or Lachlan's in the middle of the night it doesn't spill everywhere. I'm always filling it up!
Which leads me to this too: get a Brita pitcher if you don't have a quick way to fill up your water bottle(s)! The water system built into our fridge literally takes about 60 seconds to fill up a glass. Which isn't terrible in the big picture but again at 3:00 am when you're thirsty and tired the last thing you want to do is stand at the fridge waiting for water when you can just pour water from your Brita in about 5 seconds.
Also! I know it seems silly to have water be an essential for surviving those first few weeks of having a newborn but I really feel like staying hydrated has helped me in so many ways (less headaches, better success with nursing, more hydrated skin and energy, etc).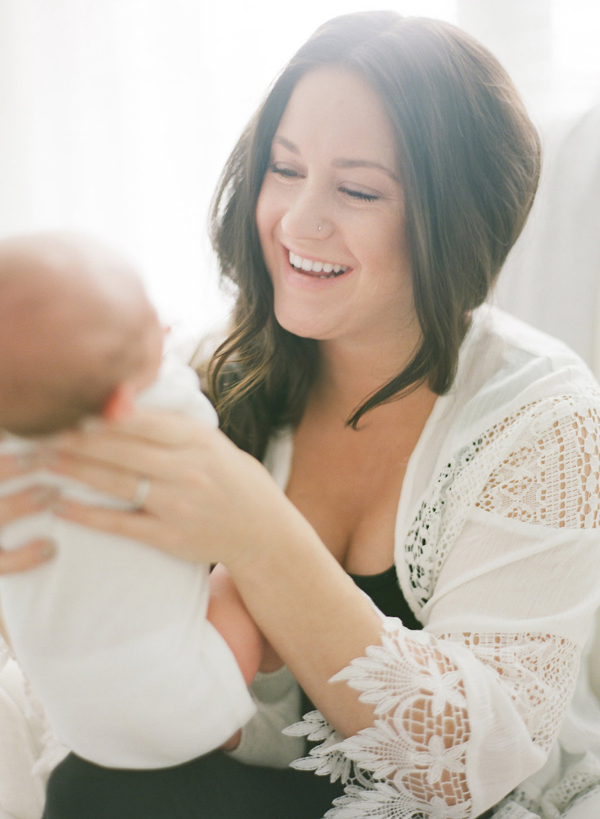 FOUR: Map out places with nursing rooms or places to nurse and change diapers comfortably. Now that I'm a mom I'm so much more sensitive to obstacles I might need to overcome to successfully get out and about with my mini human. My first outing with L was about 11 days PP and it was down the road to a mom's group. Even though it took me three times as long as I thought it would to get out the door, I felt like superwoman by the time I arrived. Then of course, within the 45 minutes I was there I had to nurse L, deal with a dirty diaper and change his onesie after a spit up episode; thank goodness there was physical space to do these things comfortably and without odd stares from my fellow mama friends! But not every single place I'll need or want to go to with L in tow will guarantee to be the same. So my thought has been the more I get out with L while we are still new to this whole mama-babe thing, the more comfortable I will get managing things in public and feeling like I can be independent and run errands, get to the doctors, visit a mama friend, go get groceries etc.
Since I'm nursing every few hours and my errands can take me away from home for long periods of time, I was feeling anxious about leaving home without Andrew's help. Would I come back home in between trips to nurse or stay home altogether from functions? Both options sounded silly to me so I've done my best to try and figure out where I can nurse in public, what places have nursing or mom's rooms, and then I plan my schedule around that. For example Babies R Us stores have a nursing room with a couch and changing tables. You win, Babies R Us! Our church has a family restroom that isn't the coziest but at least it's separate from the main restroom and a big diaper change wouldn't make me feel like I was holding up other people waiting for their turn. Many doctors offices will let you sit in an empty room to nurse in private or to tend to your baby especially if you come in before lunch hour. If I need to run out for something during the day I time out my trip with going to places where I can stop in and nurse comfortably at least until I get the hang of things a bit better. Or worst case scenario, as I have already discovered, I hop in the back seat, keep the car running, lock the doors and nurse there. I've done this a few times already.
FIVE: Nursing clothing that makes you feel good! Again. File this one under things no one talks about pre-baby! If nursing in public wasn't awkward enough already there's the whole process of figuring out what to wear so you can feel prepared to discreetly do just that. A gal can only wear so many scarves and oversized shirts to make this easier on her right? So a few of my go to places for nursing friendly clothes have been H&M and Latched Mama. Old Navy has some great options and there are a couple other (more expensive) sources out there too but so far I have a few really great pieces in my wardrobe that make me feel confident and comfortable to head out and nurse in public. Ask some other mom friends what they swear by and get familiar with how you can quickly do a switcheroo and latch on your babe at home so you feel ready to conquer the public during feeding times outside your home!
Happy weekend, friends! And you can catch part two of my list over here. Xoxo
Photos from our session with L at 3 weeks by Kelly Sweet Photography. I'll share more soon!