Three Weeks with Lachlan Rue
March 28, 2016
The days are long and the years are short.
I'm not sure who came up with these wise words but I find them escaping my lips at least once a day. The photos throughout this post were taken when Lachlan was two days shy of being three weeks old. And today he turns 10 weeks old. It feels like yesterday yet a lifetime ago. While my transition into motherhood has been a beautiful, imperfect, refreshing awakening that I'm not sure I can eloquently explain here I sure will try in an effort to bottle up everything this new season means to me. The Lord is SO good. We are blessed with such abundance.
I am grateful, humbled and most of all, so fulfilled being Lachlan's mama.
Today I head back to the HGE studio on a part time basis. Officially saying farewell to my maternity leave has been admittedly hard but keeping in mind that I have gifts to share with others and the avenue of sharing said gifts is through my business; well, I have a new kind of intention and passion to do what I do well. So this post is to fill my well today. To remind me that I work for a purpose. To be a better wife. And now, to be a better mama.
Kelly Sweet, as always, you are the best. We are grateful for your love and talent. Thank you.
The photo below was one of the photos we used on Lachlan's birth announcement. I love how it feels like Andrew and I are a team in this new chapter. Because if I'm honest I'd tell you I wouldn't be half the parent I am without the help, guidance, and love of Andrew.
I had the pleasure of having my belly photographed many times throughout my pregnancy yet not a lot of the photos included Andrew. For that reason we had Kelly come over while I was 39 weeks pregnant and she photographed us getting some final things in place in the nursery; my request was to have Andrew in a LOT of the photos. This was also my request when Kelly came over for this session with our new bundle. For as long as I could remember, I had dreamed of the day I would get to have my own photos of my own husband with our own baby, longing after Pinterest photos, and imagining what that moment would feel like. To finally have these photos of my two guys together means so much. Andrew, you are the best partner in parenthood. I love you.
This photo below is framed and it sits on my nightstand. Lachlan sure loves his dad.
And of course our first babe, Zoe was in on the photoshoot that day!
To be honest it's been a bit of an adjustment for Zoe to get used to the new baby in the house as she is a little apprehensive around Lachlan. In a few of the early weeks when Lachlan cried, Zoe cried too. And it took her a while to actually come near him without our coaxing and encouragement. Yet slowly but surely we are seeing her comfort levels increase around L and this makes us so happy. We look forward to road trips, walks around the block, summer adventures, and farmer market days this summer with the pup and the babe!


Alyssa from Parris Chic Boutique gifted us with this perfect pillow. What a sweet surprise to receive just a week after coming home from the hospital. Thank you, friend!
And I saved my favorite photo for last.
This one is blown up and framed in our living room because I love it so much. Lachlan, I hope I always remember you being this little even though you already have and will only continue to get much bigger. You'll stay forever in my heart as an innocent, full of wonder, and created perfectly in His image, miracle.
You are my world. Your dad and I so love you.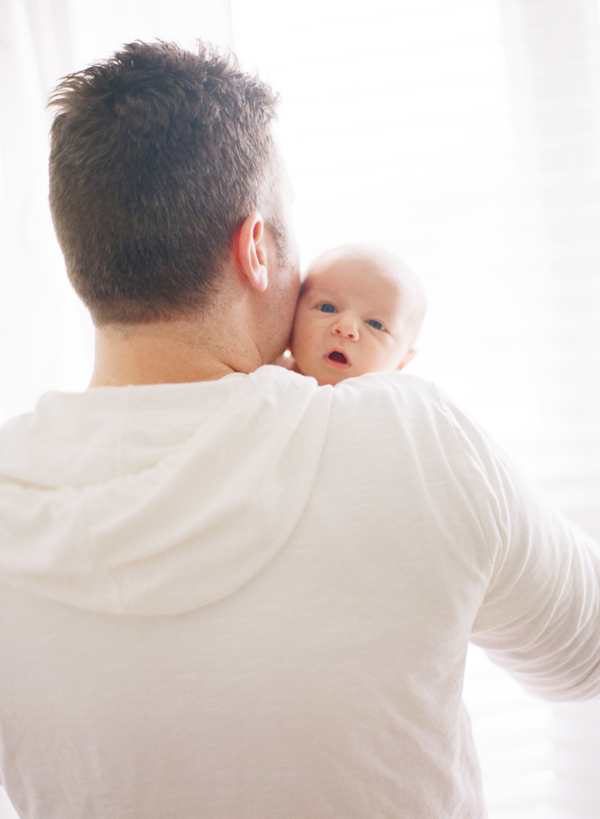 Happy Monday, friends. From this working mama giving herself grace moment by moment today and always.
Xoxo