Small Is The New Big
April 26, 2016
When I first started HGE, I had some pretty big and scary aspirations brewing in my heart. As a young, fresh out of college woman, with her second degree and a zero percent success rate at finding her dream job, I felt beyond vulnerable in starting a business. I felt pretty unequipped actually. And while I knew in the most honest parts of my heart that I was capable of making a business successful, I felt very much like an inexperienced hiker standing at the base of a mountain, staring up into the sky, unsure of where to even start. Because the peak of the mountain was hidden by the glare of the sun. So I did what most people do at the beginning of the hike.
I took that first step. I simply started.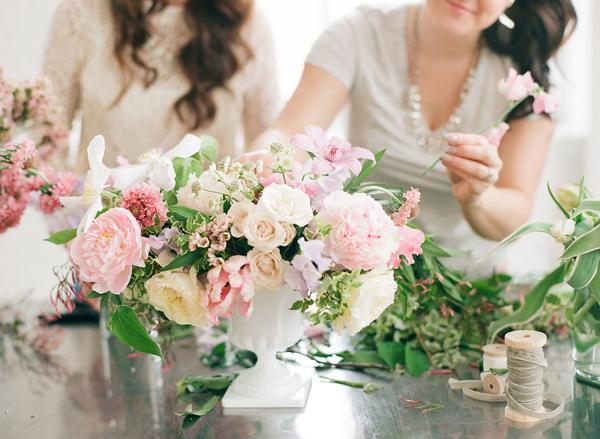 And you know what those big and scary aspirations included?
Well, I can start off by telling you what they did NOT include.
My dreams never included:
. . .  having a massive team of people to hire, train, manage, and monitor.
. . .  working 50 hours a week and spending all my weekends without family.
. . . racked up Air Miles and travelling alone via business class to far away places.
. . . a bank account overflowing with money so I could be free to do whatever I'd like.
. . . packing my calendar with more coffee dates, meetings, clients, and THINGS than I could manage.
. . . a powerful business that would become bigger than me, my family, or my heart.
Instead, I wanted these things:
• A job that didn't feel like one. I wanted a business where at the end of the day, after I had given it my all, I still craved the start of the next because I was serving WELL and doing what I was meant to do. I wanted a job that felt like the perfect medley of what I'm good at and what I love to do. If I was going to spend a good chunk of my life devoting time and energy to said job, I wanted it to be time and energy well spent. I wanted a purpose and I wanted to use my gifts to leave the world a little bit better than I would one day leave it.
I HAVE THAT NOW.
• A job that allowed me to create a small but mighty team. I craved finding, connecting with, and trusting other women. Women that would see the purpose behind what I do and feel a pull in their hearts to help be a part of something great with me. I wanted the chance to build a purposeful team with a strong sense of quality over quantity. I wanted to find a select few individuals to not only work with but to do life with. Women who would love my clients like I did, love me like He does, and one day, even love my children as much as I do.
I HAVE THAT NOW.
• A job that allowed me to create a schedule I love. I wanted to be an entrepreneur. A proud one. I wanted to be able to be a mama. And an intentional one at that. I wanted to go on adventures with my babe(s) and feel the freedom of a schedule that would work around the fleeting milestones of being a parent. I wanted to be able to meet my husband for a coffee date in the middle of the day. I didn't want a job that was easy or one that required little work because this job can be quite hard and time consuming but I wanted flexibility to live my life with purpose outside of the office. I type this with tears in my eyes now as I picture my sweet Lachlan and how much gratefulness I have in my heart for flexibility. And a schedule that lets me feel like I CAN have it all.
I HAVE THAT NOW.
• A job that came with commitments and sacrifices. Because I think the best things in life aren't possible without them. I wanted a job where I would need to work really hard to get ahead. I wanted a challenge. I wanted a job that came with opportunity but the kind of opportunity that doesn't just fall into your lap. I wanted a job that required me to live parts of my life like others weren't willing to do, so that one day I would be able to live in a way that others can't. I wanted to travel but to places and for reasons that I now see glorify Him. I wanted community with the right people. I wanted to see the world but in a way that didn't feel like the nightmare that is running through the airport in heels with a briefcase to get to a place you're dreading to get to.
I HAVE THAT NOW.
• A job that aligned with my specifically set definition of financial success. I didn't want a six figure income but didn't want to settle for less than if that was His plan for HGE. I didn't want to be rich or making enough money that I was tempted to be frivolous with it. I didn't want an income that would drive my passion instead of my passion driving my income. I wanted a job that would enable me to financially contribute to my family and my household. I wanted a job that I could feel financially proud of. I wanted a job that allowed me to give back. I wanted a job that made me enough money where I could pay myself like any other employer would because for nearly two years I was told no after no by every journalism outlet I applied to. And I wanted to make money because I EARNED it. Not a lot of money. Not a little. Just enough.
I HAVE THAT NOW.
And finally, I wanted a job that helped me live my life on purpose. And simply put, I have that now.
This does not mean my business or my life is perfect.
That's so far from the truth actually. Many days, especially now as a mom, I have to work at odd hours to meet deadlines and pull through on my responsibilities, sometimes with a nursing baby balanced on my lap. I use talk to text to draft emails when typing an email one handed doesn't work. I've learned the hard way that you can't trust everyone you come across in life but that doesn't mean good people don't exist. And bad things shouldn't make you cynical. Actually, the best people are sometimes worth going through the ringer to find. I've had to turn down really incredible events, awesome travel opportunities, and fancy speaking engagements because the thought of juggling TOO much or saying yes to everything had me feeling like other more important things (my family or my own sanity) were at a risk of falling apart. I started writing a book. I failed miserably. I've had to meet countless times with a financial advisor, my bookkeeper and my CPA because try as a I may, numbers JUST aren't my thing. I will ALWAYS be a work in progress. Imperfect. Flawed.
But. I know the following to be true:
Bigger isn't always better. And sometimes bigger isn't for everyone. It's not for me at least.
Instead of working harder, why don't we work smarter? I work hard enough as is. Sometimes that's enough.
Instead of busier, why don't we leave more room for whitespace? Take a deep breath. That's whitespace.
Instead of more followers, why don't we strive for following our own hearts? Amen.
Instead of bigger, why don't we embrace small? Because small is the new big.
Xoxo
All photos by Kelly Sweet Photography.