Why I Only Use iPhone Photos on Instagram
April 11, 2016
Happy Monday, blogettes!
Many people have asked me before why there aren't any professional photos used in my instagram feed. While I must add there ARE a few professional images in the over 1300 I've shared as of today, I've always felt strongly about mostly using iPhone photos that I took myself. Below are three reasons I personally use my Instagram account to share iPhone photos exclusively and why I've done this since first creating my account in mid-2011.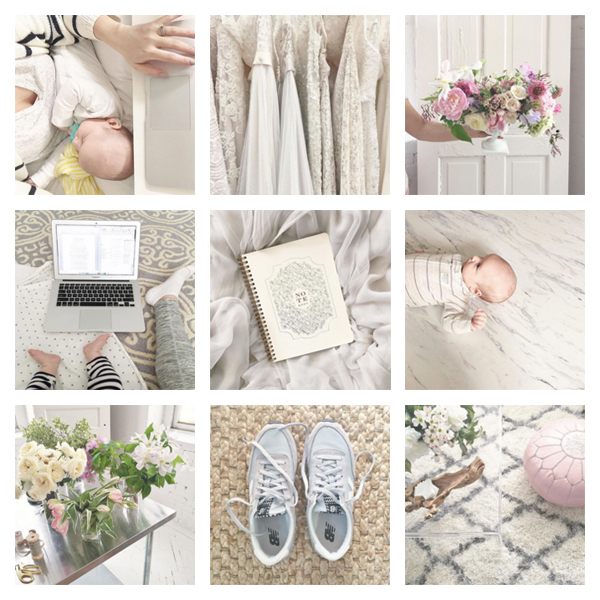 It's a truer representation of my brand. My brand is a medley of many different things. My passion for my clients and loving others well, my love for florals and design, my heart and soul in being a wife and now, being a mama to Lachlan. HGE isn't just a wedding planning company and I've worked hard to have it stand for much more than that. When I started my business in 2009, my goal was to exude love, care, and warmth to my clients. And while those goals still hold true now, an equally important part of my brand is sharing parts of me that are well, just that! More personal. I feel confident that sharing parts of ME and my personal life has helped attract my ideal client, find my authentic self, and do my best work. It also shows that I'm human! I have a home I take a lot of pride in, holiday traditions I love to share, mistakes I make and talk about, bad days where I try to find the silver lining, adventures I go on and love posting about, projects I tackle that are too good not to share, and now, a sweet little boy that fuels a lot of the decisions I make and has me on a mamahood adventure I so cherish.
Because I don't have a professional photographer by my side 24/7 but I do have quick access to my phone at any time, I'm usually capturing LIFE as it happens. Not always to share online but to have memories to look back on. These things are a big part of me, and therefore are a part of my brand so they often get shared online too.
It eliminates the risk of too much overlap with my other social media accounts and online presence. This is one that I personally feel really strongly about because as of late as I feel like we've lost the 'social' part of social media and Instagram has started to become a duplicate of vendor's website portfolios. While this works really well for many and I get that, I feel like this strategy just doesn't fit with my brand values. Here's more on why:
In addition to my instagram account, I also have a twitter account, facebook account (for both personal and business), pinterest page, a blog I use often, website, and numerous places I advertise my business and have other avenues of sharing photos of my work and life. Sharing professional photos of my work (which are obviously the loveliest way to show what I do!) across ALL of these channels, feels like overkill and always makes me think I'm oversharing too much of the same thing with those that love following along with updates.
So I have a system I try to stick with for sharing what where, and it's as follows:
INSTAGRAM: this is where I share iPhone shots of just about everything from moments at home with Lachlan to behind the scenes at events. My goal is to have a feed that is consistent and beautiful but more so, to have individual images that adhere to a social media mission statement I recently created. To inspire, encourage, and share in an authentic (because I believe in authenticity) and beautiful (because I love beauty) way. I also try to use Instagram as a place to encourage conversation and interaction with others.
FACEBOOK: this is where I share professional images of my work and life, with links back to blog posts, features, and other business pages. I like to think that my facebook page is better suited for link backs to posts and sharing information not so much to encourage conversation but to quickly get the facts and news out.
TWITTER: this is another avenue for me to share links to posts or to quick share little bit of encouragement, news, highlights, etc. I admittedly don't use Twitter very often because it's the least visual forms of social media and doesn't resonate well with my brand but I do try my best to use it when I can. I think it's important to show you can use various forms of media as this helps lead to opportunities down the road in your career!
PINTEREST: this is where I can pin inspiration, recipes, home ideas, things for Lachlan, etc. I also try to pin images from my blog posts so that other users can easily find corresponding posts at a later date. While I try not to get too lost in the vortex of Pinterest, I have found it helpful to use my account for gathering mass amounts of visuals in an easy to access point. Pinterest can also be a 'break' for me from other forms of social media.
WEBSITE: this is my handshake. It's professional. It's where the HGE nitty gritty is.
BLOG: this is my hug. I want to show my heart here and in a way that builds off of what my website shows.
It gives me an opportunity to grow as a stylist and creative. And finally, it really comes down to this: coming up with an image to share on Instagram that I may have had to source out, style in some capacity, find the right angle and get the best light for, represents me and my brand, and then edit to look consistent with the rest of my feed is a LOT of work. Some would argue this is a waste of time but I must admit it's challenged me as a stylist and made me better at my craft. I've had to think differently about how I see the things I create (and the world around me at any time!) and also be more thoughtful about what I share. Over the past almost five years, doing this nearly everyday has inevitably helped me grow as a designer and for that I am grateful.
I'd love to hear more on your thoughts regarding how you use your social media account!
Have a wonderful day, everyone!