How To Be Original
June 28, 2016
Next to getting asked what color the outside of our home is (answer: I'm not entirely sure! It's the lightest gray color our home builder had for us to choose from back in 2011 when we built our house!), the one thing I am asked the most is how I stay original in such a creatively diverse and (admittedly) saturated market.
And my answer is with hard work! Staying original may come more naturally to some but to most it's not as effortless as it looks. It requires thinking ahead, staying innovative, keeping your eyes in your own lane when it feels easy to look over into others and tag along, and it requires taking calculated risks because a creative idea is never a guarantee of success. An idea is simply an idea until it's put into action.
But staying original is everything in business. Without being prompted by any one thing or person, I've started to notice a strong trend in our industry where the trends are now beyond just commonplace ideas and themes. Simply put, everything is starting to look the same. Whether it be the words used to describe a wedding, the way a company's website is laid out and stylized, the text used to create an individual's biography on their website, or the catch phrases, hashtags and type of images used in social media posts; I'm seeing a very consistent type of repetitiveness and I want to urge EVERYONE to step back and find a way to be yourself.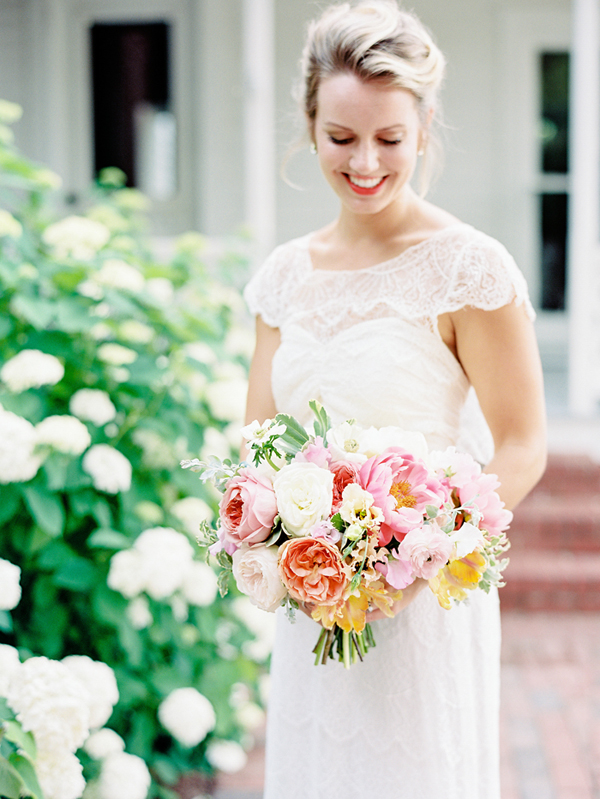 If you're an artist, you create. You love to create and you get paid for your ideas. Sometimes you get paid to execute your ideas too. Your creations are what set you apart from others. If your creations and ideas are spin offs of others then what value do you bring to the industry or your customer if they can get that same thing from someone else? Instead, creating from within, without being influenced by anyone else's doing, will result in more satisfying true-to-you final results.
If you're a small business owner, you have the gift of doing something really well which allows you to pave your own career path. Ultimately you have a bit more freedom and flexibility with the decisions you make. If you're trying to replicate another small business' model or path then what edge do you bring to the market or to your client base if they can get the same thing from someone else? Instead, building a business and a brand you can stand behind without feeling like you need to mimic someone else, will result in a better likelihood of success and profitability.
If you're an emotional person (I'm raising my hand with you!) and you're authentic, intentional, sensitive, and you love with you entire heart on your sleeve; well I salute you! Because I am all of those things and those exact things drove me to start a business when I was 24, fresh out of college with my second degree and tired of getting no after no after no from every job I applied to. But as the creative sphere has evolved I've had to evolve beyond those 'feel-good' attributes and nurture my brand into something a little meatier. If you're trying to build a business from a place of only the above listed attributes then what skills and experience do you bring to the table? What qualifies you as an expert in your craft or your field and what professional skill pairs together with your intentionality and emotional strengths? Instead of putting all your eggs in one basket and trying to build a business with just your heart, think strategically about how you can become smarter and grow in other areas of entrepreneurship.
If you're drawn to beautiful things, you like to surround yourself with whatever holds true to your personal definition of beauty. If you're only creating and sharing the beauty that can be found within a pristine white home, flat lay photos of lattes, imperfectly placed tchotchkes be that your carry on bag contents, a bucket of homegrown flowers or your next delicious dinner and well, I certainly don't want to put my foot in my mouth here because like I said, being original is hard work, what does that say about everything else that may be beautiful but not looked at from the right angle? What potential are we as artists completely overlooking? Instead, thinking about beauty from a different angle and considering the opportunity we have to be pioneers of what's visual in our world, will lead to innovation and a better industry for all.
You owe your clients the service of striving to be unique and in tune to their diverse needs and wants.
You owe your colleagues the promise that their own hard work and ideas will not carelessly be copied, stolen or mimicked.
And FINALLY.
You owe yourself the benefit of being an original in a world of sameness.
I'd love to hear your thoughts on originality in the creative sphere if you're comfortable sharing! And please note, this is a space to share honest thoughts but I reserve the right to monitor or remove comments that are rude or hurtful in any way. The above photographs are from our recent Trouvaille Workshop taken by Nancy Ray of Nancy Ray Photography. Make up by Samantha Ray of Lula Hair and Make Up, bridal gown from Ivory and Beau, and jewelry from Gemma Jewels. The graphic was created by Becky of Salty Anchor Designs.