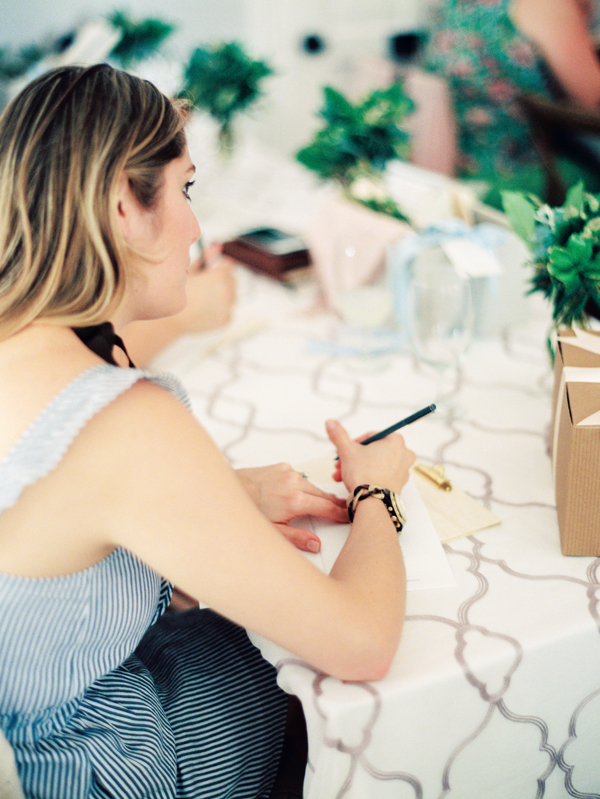 5 Reasons Multifaceted Planners Need to Attend Trouvaille
If you missed the news, we released the 2017 Trouvaille Workshop tickets on Tuesday.
And we're just about half way sold out! You can visit our website here to learn more.
To celebrate our launch and exciting changes coming to our next workshop, I wanted to share five ways this experience is much different from any other workshop. I've worked hard over the last few years to stay ahead of the workshop curve and create an experience that's both inspiring and educational, but also always changing to appeal to repeat attendees. Trouvaille is so very intentional, exciting, and most of all, unique. More below!
Trouvaille is about relationships and people.
To help illustrate this I can share with you our event guestlist size for 2017; 12 attendees and about 8 to 10 support staff and contributors. I've been to large conferences before and while those are wonderful in their own right, I personally crave intimate group settings where I can make meaningful connections with like minded people. I believe intimacy is a cornerstone to successful networking so I strive to give that to our attendees and contributors. I also believe this workshop format has allowed our attendees to make connections with one another at the workshop only to go home and have those same relationships turn into strong and lasting friendships. If you'd like personal testimonies I'd be happy to share.
We are an experience for a very specific type of attendee; and proud of it!
I've been to workshops before where parts of the curriculum or workshop didn't relate to me or my business in any way. That's actually one of the reasons I was compelled to create this experience. There was such a NEED for a workshop where multifaceted wedding planners could come and nourish ALL of the parts of their business not just bits and pieces that sort of made sense. It's a big job running a company that offers multiple services under one roof, and I believe with more resources like Trouvaille, we can collectively make the wedding and event industry a more diverse, educated, and thriving community. Which is why the workshop is created specifically FOR a multifaceted wedding planner and designer.
At Trouvaille, you're never just a number.
My goal with each HGE wedding is to make sure our clients, their families and guests are comfortable and content at all times. In my opinion, catering to each and every person's sense is a key component to successfully planning an event. At Trouvaille I try to have this same approach with the planning process. From the way the schedule is structured, refreshments and food served, gifts given, speakers invited to the workshop and the content they share on, way each person is greeted to the actual workshop, and even the temperature in the room or the amount of shade offered outside on a sunny day; each and every person matters at Trouvaille and it's a big part of our mission to make that as apparent as possible in all we do.
We love the 'fluff'. But we're so much more than that.
As the leader of the Trouvaille team, I can tell you there are many discussions with our team on what we feel are workshop needs and what are wants. Trust me, it can be a tricky process determining what's what though. Are beautiful linens necessary to the experience? What about centerpieces? A beautiful dessert following dinner? Gifts? I say yes, absolutely. Because while these things are fluff to some, they are very much complimentary to the meat of Trouvaille which is curated content, relevant teaching topics, and a schedule that mixes both hands on lessons and discussion style presentation time. We try to truly do it all.
Trouvaille is an investment. And should be treated as such.
Yes, absolutely, attending Trouvaille is an investment in many different capacities. From the cost of a ticket, time each attendee takes time out of their schedule to travel and make it to our workshop location (which always changes), blocked off schedule so you can be present and focused while you're at Trouvaille (and not distracted with work!), plus things like airfare for some, fuel, a rental car, etc. It's an investment, no doubt. But! That's the thing. Trouvaille isn't a quick fix for any business owner nor is it a missing piece to a business plan. It's an investment each attendee makes to better their business. It's a gift they give to themselves to take their company to the next level. It's a leap they take to transform the way they think, serve, work, and think.
If you'd like to join us next spring you can snag a seat here! We'd love to meet you.
All photos by Nancy Ray Photography.