Lachlan Rue at Eight Months
Tomorrow my baby finally turns one. So I thought today would be the the perfect time to finally share some of the photos from our family session we scheduled last October with Kelly Sweet. My plan was to schedule a family session when Lachlan was six months old to get photos of the half way mark leading up to one year. But life got busy and the six month session ended up being a session to celebrate eight months, which actually worked out in our favor because L was a little bit more engaged at that age.
I wanted our session to be really natural and fuss-free. While we're a family that's big on celebrating almost everything, we are also keen on simplicity. I think these photos illustrate how incredible of a little boy we were blessed with, and if it's not clear how mild tempered and sweet his personality is, well I can tell you he's my little dream. While I miss some of the moments that came hand in hand with having a newborn at home, many have said it only gets better and there's a lot of truth in that. I look at the growth and milestones L has hit (and we've hit as a family) even just since this session and it's humbling to know we get to do this life thing alongside him.
These are some of my favorite images from the session. Three of these now hang over our bed in beautiful FrameBridge frames, and one was used on our family holiday card. Tomorrow I'll be back with some thoughts from year one of being a mother but for now enjoy a little slice of my most favorite people ever.
Can I tell you just how much Lachlan loves his dad?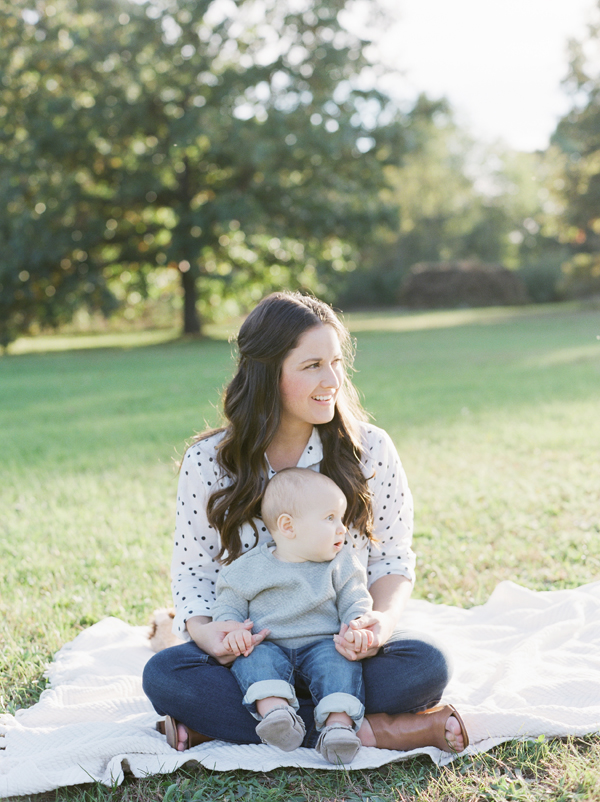 A note on Zoe:
Many people have emailed and asked about how Zoe reacted to us bringing home Lachlan. As per our doula's suggestion, since I was in the hospital for four days post labor, Andrew brought home a baby hat and blanket for her to get used to L's 'scent'. We hadn't really done much more than that other than trying to use specific words around her in direct ways leading up to his birth (like, 'This is the BABY'S room,' or 'Is this where the BABY will go?') We really just hoped for the best. Even though Zoe is a rescue pup, we adopted her when she was seven weeks old and I believe we taught her most of what she knows including her calm and snuggly demeanor.
Zoe was never mean or threatening to Lachlan. However, she wasn't incredibly excited when we came home probably because a lot of puppy snuggles became baby snuggles, and a lot of the everyday focus on her was replaced with time focused on Lachlan. We had to try and find a system for making it clear what toys belonged to Zoe and what toys belonged to Lachlan once he started to be mobile, and that included teaching L to leave Zoe's bones and squeaky toys alone (and out of his mouth!) If we physically brought Lachlan close to Zoe in the first six months, she would calmly get up and relocate to a new spot in the room. It was almost as if she just wasn't comfortable being close to him but if we ever firmly told her to 'Stay,' or 'Zoe, you are OK,' in those moments, she would stay put and endure the baby torture (as I'm sure she would tell you!)
But now!
Now that Lachlan is super mobile, crawling everywhere, standing up against things, and much more aware and in tune to things around him and in our home, these two have a special sort of friendship. When I nurse Lachlan at night, Zoe always finds her way upstairs into the nursery and nestles herself in between our glider and foot pouf. And without fail, Lachlan senses her in the room and always looks for her. Getting her out of his room when it's time to sleep is another new battle now. Usually she has to be lured out with treats. We are also incredibly confident that Lachlan has been trying to say 'Doggie' for a few months. With his mouth shut, he grunts out what sounds like 'Doggie' and this would make sense seeing as we've been calling Zoe his 'doggie' ever since we brought him home from the hospital. 'Lachlan, where's your doggie? Where's Zoe?' ALWAYS ends up in his little 'doggie' grunts and him looking around the room or to the door to see where Zoe is. And without fail, Zoe's presence into any room where Lachlan is results in a big cheesy grin and sometimes a rare giggle.
For many people their pets are considered treasured family members. Zoe actually still sleeps in our bed with us as I was pretty set on crib training L from an early age (sleep is important to us here!). We make sure to love on her and make her feel as special as we did before we became parents even if those first few months were mostly focused on Lachlan's needs. If you're worried about how your pet may transition into having a baby at home my advice would be to have patience, and use your intuition to guide you into making decisions if you feel like something is off (any sort of growling or rough play would have been of concern to us). I had craved a baby-pet relationship like this but the reality is every circumstance is different.
Now if only Zoe would let Lachlan grab her tail and yank on it whenever he pleases!
This was our holiday card choice. That little face!
If you go to the bottom of this post you'll see an identical photo of Andrew and Lachlan that Kelly took when L was three weeks old. I have it blown up and framed in our home so I figured it would be a fun photo to recreate as he gets older. The way he has grown in those first eight months and even from October to now is fascinating.
I could get lost in those big eyes of his!
I hope you enjoyed these photos as much as we treasure them! I did my own hair and make up for the session, and my top is from Old Navy (an oldie but a goodie). My shoes are from Aldo and are one of the few pairs of heels I am comfortable enough to wear and also tote around a busy almost-toddler in. Can I also brag on my handsome husband who seems to just get better with age? I'm so lucky to do life with him.
Xo