How Motherhood Changed Me
April 6, 2017
Becoming a parent is an interesting and exhilarating experience isn't it?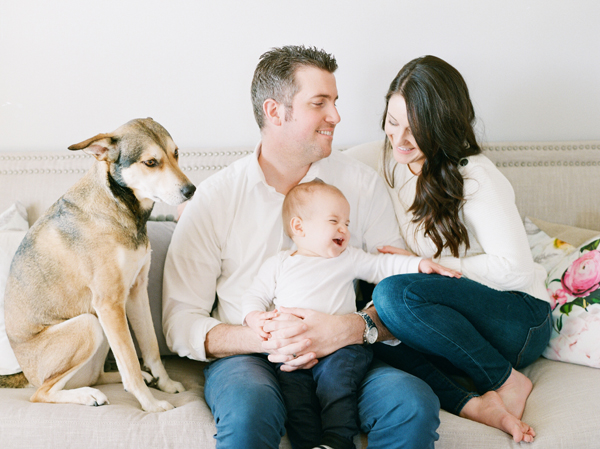 I'm a big believer that sometimes God gives us the things we need even when we don't think we need them. And becoming a mama to my sweet Lachlan was one of those precious wants I firmly believe was a need God felt he had to fulfill in my life. I was intelligent enough to know I'd be eternally grateful for the chance to be a parent but now that we are here and I'm IN it, man am I ever full of the kind of gratitude that brings you to your knees.
They say there are moments in life that really define us, and I remember the moment they placed Lachlan next to my cheek on the operating table, how whole I finally felt. How truly defined I was about to be even in a very messy and heightened state. And how right then it was as if I had hurdled over some imaginary line. On one side of the line was old Rhi. And on the other was new Rhi. There was no going back. And now, 15 months later and out of that emotionally charged and sleep deprived state that comes hand in hand with those first few weeks (or months if you're like me and adjusting took much longer), I see such clarity in how I felt in that moment as I was wheeled away to my new reality. I've never been so sure of anything except that sense of change I entered into that day; even if it wasn't welcomed with open arms as this season unfolded.
Some thoughts on how motherhood has changed me in no particular order:
• Motherhood has turned me into an unapologetic woman and this has been both terrifying and freeing all at once.
• The way time stands still in some moments but flies by in others makes it abundantly clear that our time here on earth is short –if you let it be. So I've fought the good fight and done my best to avoid talking about how big my baby is getting and to avoid the crying eyes emojis because I refuse to give power to the very inevitable reality that yes, time is ticking. As my friend Emily said once (massively paraphrasing here), 'We aren't given the gift of parenthood to keep our babies little forever but we are given the role of being their parent so we can raise them into compassionate, strong, and life-giving members of society'. So I hold my baby close while he will let me and I embrace the little changes that I notice in the every day monotony which may possibly mean those snuggles happen less and less. Motherhood has changed my perception of time so that I hustle a little faster when I need to over there but slow down to a halt when I need to over here.
• My desire and thirst for a more prayerful life and a deeper connection to something bigger than 'this'  has stirred and turned into something that has been playing out in my daily life but in a way I can't and don't quite want to put in words. Leaving a legacy for my family has such weight now that my 'family' has a face. Further, determining what that 'legacy' means for me and us is really thrilling because I'm starting from scratch and will serve as the first generation in my family to pass down as many things, moments, and virtues of value to my child(ren). Thinking intentionally about the decisions I make, the things I share when people are watching, and the things I do when no one is watching, and how they tie into the bigger picture has been such a different process as a mother. This change has helped me fall asleep more satisfied and wake up more content.
• I've always said there is such value in marrying the kind one. When I met my husband at 19 as a sophomore in college I wasn't immediately attracted to him because he was too tall (silly), very American (I'm Canadian and at 19 there were many differences between the Canadian and American boys), and just plain old nice. Turns out within a couple months that niceness would be the very thing I fell in love with and would be the foundation for a relationship that constantly keeps me grounded and grateful. Niceness translates to patience, selflessness, and commitment. And those virtues have poured out by the bucketful from my kind husband into the everyday interactions with our son. In turn I've been inspired and I've learned the value in being an example to my son of what it means to love others well; especially the ones right in front of you.
• This feels so trivial but my long hair used to define me and I'm grateful that's changed. My hair provided security and was my way of internally saying, 'Hey! If all else changes postpartum and goes completely in the opposite direction of my expectations (like my pant size and more wrinkled face), that's cool because this long, youthful hair is exactly as it was before I became a mom and had my life flipped upside down!' For me, my hair symbolically was a way of keeping one foot in the door of my past life and one foot (er, whole body) in the other door of being in a new season full of well, newness. It's comforting for a while but eventually standing with your feet in two different doors is exhausting. So I colored my hair recently, cut off a ton of it (not shown in this post), and I walked out of that salon feeling really beautiful and smiling to myself because I now understand why so many women cut their hair off once they have children.
• I fight for joy because looking back on a lifetime of regret terrifies me. So motherhood turned me into a fighter. I fight for joy when I'm tired, testy about situations and quick to place blame on others, pulled in too many directions, missing my son while I work, missing my work while I'm with my son, wondering how in the world people live life with more children, or wondering when I will ever be OK leaving my son for longer than a few days because mama.needs.a.vacation. I find joy climbing in the crib with my son. I find joy in picking him up from school and literally rolling on the carpet with him while the other babies watch in bewilderment. I find joy in having a messy living room with unfluffed pillows because for 8 months post partum I tried my best to fluff those damn things everyday and lost terribly. I fight for joy because it's everlasting and bigger than me.
• Motherhood has made me softer. When I didn't think (and certainly didn't want to think) I could get any softer. And I mean this figuratively and literally (unfortunately for me and my bathing suits).
• My mothering style, decisions, and me in that specific role, does not need to be approved or praised by others. This is a new way motherhood has changed me but it's lifted the biggest weight off my shoulders and I hope it's the one gift I can give to other mothers. I know without a doubt I'm a wonderful mother and that's the end of that. I think the need to be validated in how GOOD we are at mothering or how selfless we are, leaves us feeling really empty because you'll never please everyone. You will always be criticized, questioned, judged or laughed at by someone if you're constantly in the pursuit of trying to do it right by other's standards. So while my heart has grown softer, I've tried to let my skin get thicker. And I do as I do and let that be that.
. . .
We had our friend Kelly come over when Lachlan had just turned one to take some photos in our home. I'm just so happy we continually chose to document these moments in our life. I washed my hair that day for the photos while Lachlan napped and thought it was such stark comparison to the photo session from almost a year prior when I had cried into my curling iron half hour before Kelly came over. Lachlan was just three weeks old and nothing fit me my changed body, my hair was falling out, and my baby was crying really loudly making the pressure to tidy up and look presentable feel so heavy. But like I said these things break you wide open and build you up again. For that I am grateful and my palms are up ready for what's next.
Welcome to our family. Xoxo