How I Use My Write The Word Journals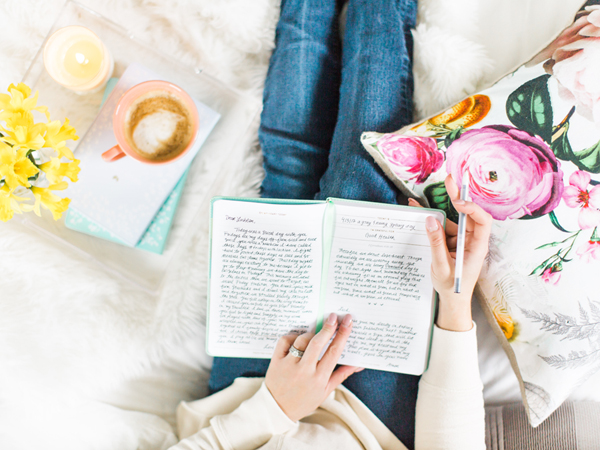 If you missed the news, last week the Cultivate What Matters shop launched their spring faith collection and let me tell you, it's a really beautiful line of intentional journals. If you know me well, you'll know I try my best to be purposeful in all I do. So when I made it a goal to begin journalling this year, I knew the new Write The Word journals would be an incredible way to help make that happen. While these new journals are undeniably gorgeous and well made with beautifully colored covers, the different attributes you're encouraged to cultivate through journalling like faith, renewal, joy, gratitude, and hope, are what make these journals so special.
And I want to share a secret with you before I carry on; I'm not very good at journalling.
I always question if there is a right way to do it and sometimes feel stumped on where to start. What tense do I use? What topics do I share? Do I write lists? Letters? Stories? I've started many journals in my lifetime (after all I was a journalism student for six years!) but I can't ever seem to create a routine or stick with a journal; until now! My hope is this post will outline a few of the ways I've started to use my Write The Word journal because I'm slowly starting to see why so many people find journalling to be so relaxing and fulfilling.
THE INSPIRATION
I recently read about a grandfather who documented his days spent with his young granddaughter. He would write down simple memories they made together, activities they did, and sometimes just simple thoughts about his role in her life as a grandparent. Everything was jotted down in a spiral bound notebook and eventually he filled up three notebooks worth of sentiments and memories. When his granddaughter grew up (old enough to understand the significance of these notes) he gave her the books as a gift. I had goosebumps reading this simple story and was immediately inspired. This was enough to make me pick up my pen!
Ever since becoming a parent I've been very keen on finding ways to capture and preserve the everyday joys, and sometimes even the struggles, in a way that will continue to bring happiness and leave a legacy for our family years from now. But more than memories I want to have tangible things that Lachlan and our other children can reflect on, be inspired by, and hold near and dear to them. I don't have many tangible things from the generations before me in my family and I want to make that change for the future. So what better of a way then to journal these things and have them written down and dated for future reference.
THE PLAN
I have a lot of past journals that have become 'catch-alls' for my thoughts so I didn't want my Write The Word journal to be for that sort of journalling. Instead I wanted my journal to be a place where I write with a plan and purpose even if the things I write or the thoughts I share are far from perfect. One of the details I actually love most about the Write The Word journals is they come with prompts on the pages including, 'Today…,' 'On my heart,' and 'I am grateful for…' Also on each right hand side page is a bible verse which I'll get to in a second.
Using the prompts to my advantage and using the journalling grandfather as my inspiration, I quickly hatched a plan to use my book in a way that would keep me engaged and fulfilled. The spring launch was pure coincidence!
I decided my journal would become my Letters to Lachlan book. It would be a place where I write out daily adventures and thoughts as much as I feel inspired to write about them, but made a loose rule that I can't go longer than a week without at least one entry. The long term goal is to fill the book with my tales of motherhood and the relationship I have with my son, so I can both become a stronger writer but also work on creating something special to share with Lachlan one day. As for selecting what journal I picked, I selected the Cultivate Renewal because in this particular season of my life I'm needing to feel replenished.
My letters to Lachlan go on the left hand side under the 'What's on your heart' prompt. On the right hand side I typically jot down the date, fill in what I am grateful for (anything from good health, sunshine, and slow Fridays) and then I use the listed bible verse as an opportunity to improve my knowledge and understanding of scripture, which ironically helps check off another 2017 goal. I usually look up verses, write them out, and then add in my own notes or commentary as I feel necessary.
THE ACTION
A few tips that help me stay accountable with my journal efforts are as follows:
• I keep my journal and my favorite pen (I love these and used them in Lachlan's baby book) on my bedside table OR in a place where I know I will feel inspired to write. I avoid having the journal on my desk or near my laptop because I know I'll get too distracted around my work and will likely never get around to writing.
• Like I mentioned above, I picked the journal that best resonated with the current season I'm in. After coming out of a 9 week sickness (6 of which were spent battling an awful liver infection), and a really long and dark winter, I'm open to any and all of the renewal I can get! Just seeing the word 'renewal' on my journal makes me feel eager to write as is the act of writing alone will leave me feeling replenished. I highly recommend picking a journal that speaks to you versus picking a journal over say, your color of choice.
• I gifted three of my friends (Betsi and Jess on my team, and Sam who took these photos!) with their own journals. Knowing I can talk with other girlfriends and women with similar interests about their journaling efforts inspires me to keep up my own writing. But beyond those women's efforts, I have to be honest and admit that knowing one day I get to hand this journal to my son is enough to make me pick up my pen and just write.
• I've paid close attention to my daily routine and when I feel the most centered to write without feeling rushed or distracted. For me this is at night, after I have showered, when Lachlan is asleep, and I have no work distractions in front of me. The bonus is I can be comfortable in my pajamas in my bed, and feel like all of my thoughts are out and on paper before I go to sleep. I have to use my phone to look up scripture as needed but if I do that part first and then put my phone away before I journal my next letter, I find the process is fulfilling.
I've also been known to openly express my love for our Nespresso machine so sometimes I like to journal when Lachlan naps so I can use that time to also enjoy a mid day latte. Knowing I get to enjoy a homemade treat and take a quiet moment to reflect during the days Lachlan is home with me is really good for my heart. If you too would like to invest in a Write the Word journal be sure to check out the Cultivate What Matters shop.
Now tell me! Do you have a journal? What sort of routine works for you? Xo
All photos by Samantha James Photography