Our Legacy Wall
Oh, this post brings me such joy!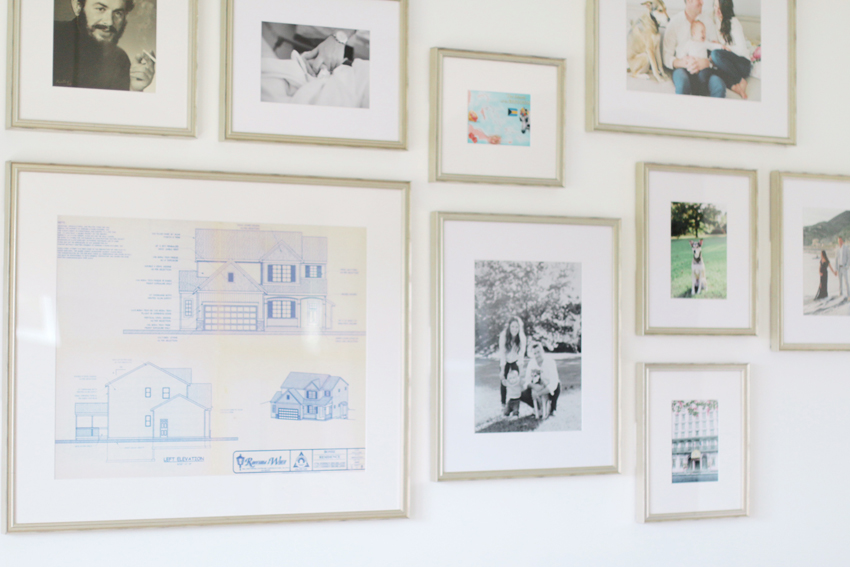 A few years ago I read a friend's post about how she didn't gravitate towards photos of herself (and her significant other, family, etc) on the walls in her home. Immediately I felt a little self conscious about the things we have here hanging in our own home because *spoiler alert* there's a lot of Andrew, Lachlan and me gracing our walls.
But then I thought perhaps said friend is on to something. Maybe there's something to be said about getting intentional with the things we hang on our walls and ultimately walk past day in and day out as we go about our lives. When I think of our walls as the canvas to show what our lives are made of, I picture milestones, adventure, heirlooms, joy and tangible goodness. Yes, that includes photos of my husband and I but it also includes so much more! And I want those framed things, whatever they may be, to be items I can one day hand down to our kids, you know, when Andrew and I are old and gray(er). I want to create legacy and have things that represent what legacy means to us.
So with that, I had a name for our project: Our Legacy Wall.
When I reached out to Framebridge to share my idea and see how I would go about getting many different and tangible things framed they were immediately on board with helping me make this a reality. Framebridge is ALL about legacy and they were eager to help me bring this life. After a phone call with a kind and skilled Framebridge team member, a quick style quiz to figure out what frame styles I might like best (even though I already had my favorite picked out), and many emails back and forth, we were able to nail down my gallery wall design layout, sizes, mats and styles. The attention to detail in the customer service I received let alone the quality of the product is one of a kind. I'll never frame anything without Framebridge again.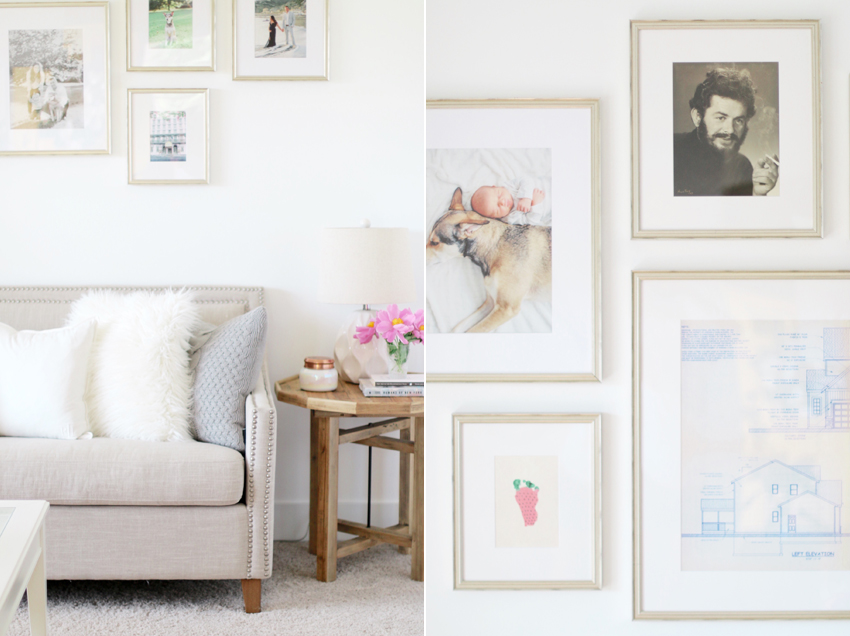 We decided to have our framed pieces go over the couch in our front room. This room is right off of our front door entry and is a wall we've struggled with accenting over the last 6 years. Thankfully Our Legacy Wall was the perfect fit! Not only did we want this wall to be a beautiful statement piece to our lives but we wanted the pieces to individually and collectively inspire conversation with house guests, friends and family, because we believe legacy includes all of the people in our lives and how we love on others. It was also important to leave room on the wall so we can add more treasures as our lives go on. I can't wait to add to this wall in the future!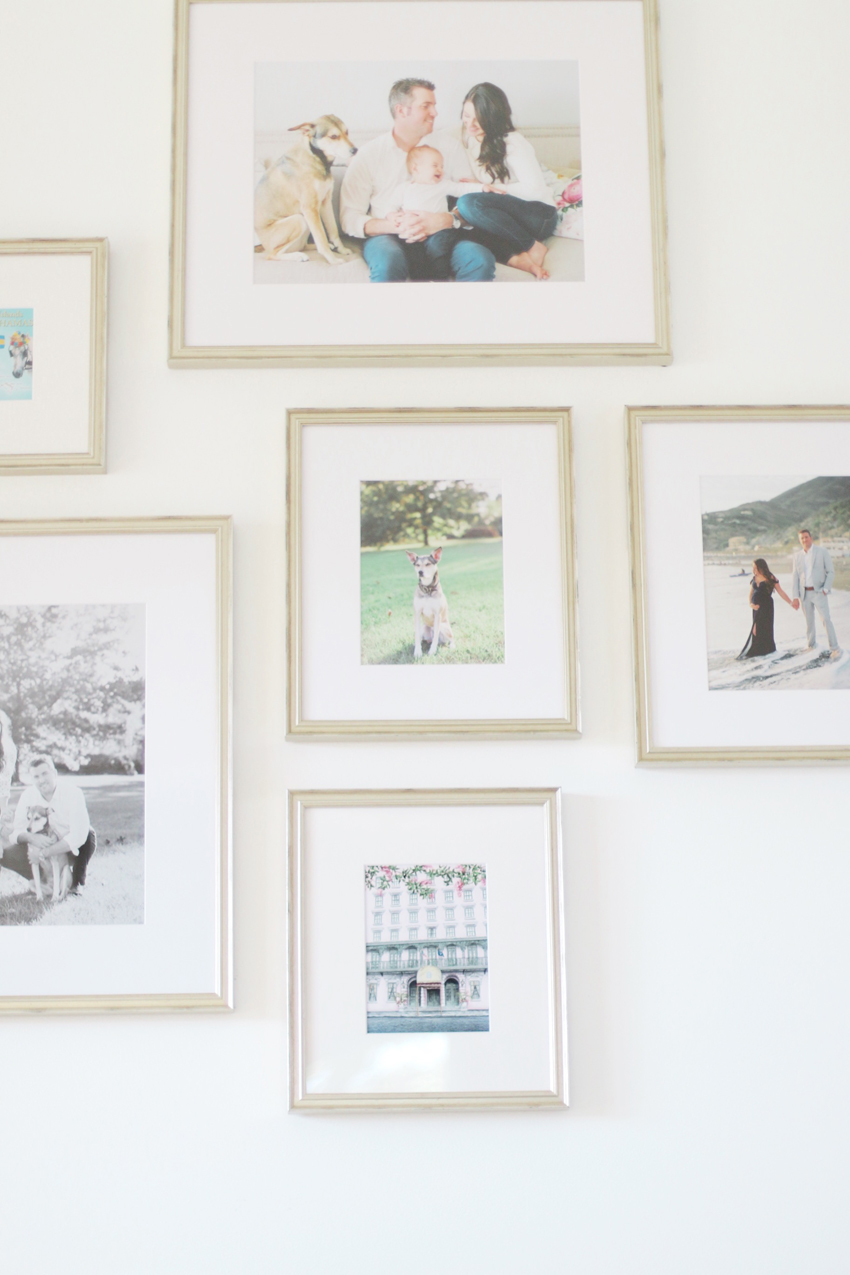 We also recently painted this formerly gray room a nice crisp share of white (right out of the can, no fancy shade of white over here!), and invested in some affordable new end tables from Overstock. This room is everything I've wanted it to be since the day we picked this floorplan! I can't wait to host more family and friends in our home now that we have this welcoming and personal space all finished.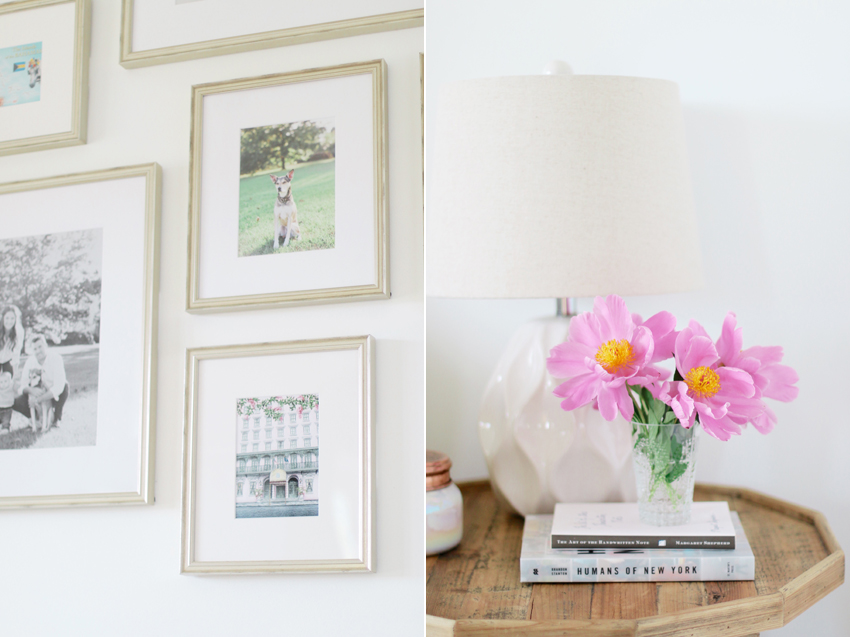 This little boy! He's my favorite ever.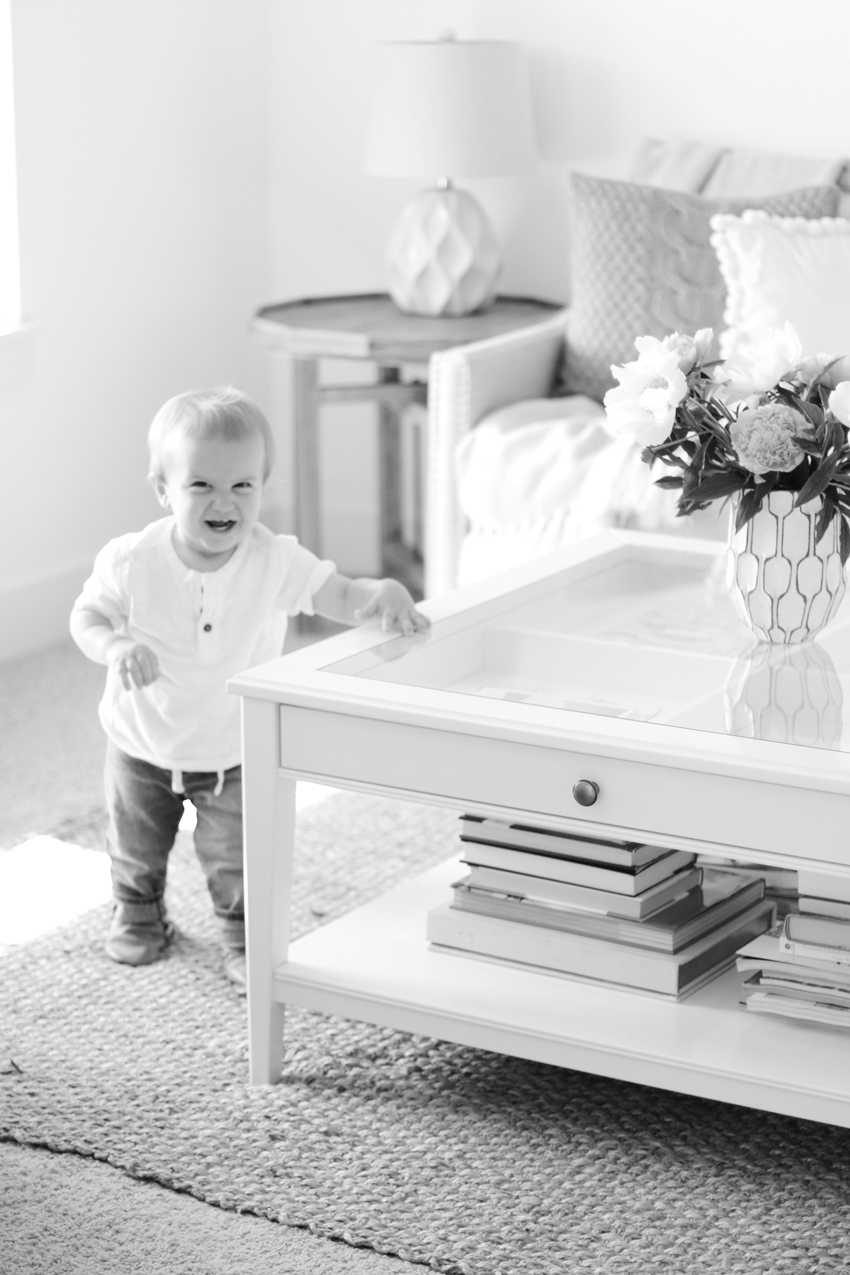 I'd also love to share a little about the items we had framed (from left to right as shown below).
1. A vertical flay lay photo from Lachlan's newborn shoot taken at 5 days old. The photo we selected shows Lachlan sleeping on the ground with Zoe nuzzled up against him. This was the first time these two really came together in the flesh. It was a sweet moment because Zoe was a little (or rather, a lot) apprehensive of this new baby human yet she dutifully laid beside Lachlan and stayed there as if to show us she's in it for the long haul. Also, we have looked at this image so many times already and asked ourselves how our son was ever that tiny?!
2. A 1957 black and white image of my grandfather when he immigrated from what used to be Yugoslavia to Canada. He's smoking a cigarette and he has so.much.hair! If you know my grandpa this photo means that much more. My grandpa had a really hard life and has so many stories to tell about his childhood, living with war in his home country, losing his family right before his eyes, building a new one in Canada with my Grandma, losing her to cancer, and creating a life with not much of anything but hard work and faith. He's lost so much yet he carries on always. And here's the crazy part! I'm not sure how I actually ended up with this photo but I've had it since high school, taking it with me from apartment to apartment, from season to season, always holding it close.
3. A photo of Andrew and I holding hands the day Lachlan was born. This photo was taken of me in recovery after emergency surgery while Lachlan was bathed for the first time by our kind nurse. In it you can see Andrew's wedding ring and the watch I gave him on our wedding day. I'm also holding the little hat Lachlan was given when he was born. There's a lot of goodness in just one image but the hand holding is so symbolic to us as we became new parents the early morning that photo was taken.
4. A pristine post card I saved from our magical 2010 honeymoon in the Bahamas.
5. A photo of the four of us when Lachlan turned a year old. His expression here is so sweet. And we are actually sitting on the same couch that Our Legacy Wall now hangs over. And if you're interested you can see more of Lachlan's first birthday party over here.
6. A photo of us three in Italy back in 2015. We had a wedding there that September and I was about 6 months pregnant. The night we took those photos was really special. You can read more about it here.
7. A portrait of our first baby and sweetest pup companion, Zoe. I don't think I've ever shared this here but Zoe is a rescue dog and was a pet we didn't intend on going home with one warm summer day in 2012. It's a longer story for another day but we love the joy she brings to our family and love seeing how she and Lachlan have been forming a sweet friendship as of late. Pets really are such special family members.
8. A painting of The Mills House in Charleston where we went as a family earlier this year. Andrew and I have always planned to retire in Charleston so we found it fitting to score this sweet little print from a seller at the downtown market.
9. A family photo of us four when Lachlan was 8 months. Another ordinary but joy filled day.
10. The original blueprint of our home. This was the blueprint we went home with from one of the many meetings with our home builder and is something I kept for years and years without ever having a concrete plan of what to do with it. Originally I had considered the idea of having it framed as a stand alone piece in one of the many rooms in our home, but I especially love it now as the biggest piece of Our Legacy Wall. I hope one day Lachlan can tell his grandkids that that's the home his parents brought him home to from the hospital one very frigid and snowy January evening in 2016.
11. The first piece of artwork Lachlan made at school last summer. He was about 7 months old when we went home with that sweet little strawberry foot, and I think I shed a tear with his teacher handed it over to me. If there was ever a first time mama milestone to experience with anticipation it's getting the first piece of artwork made by your baby.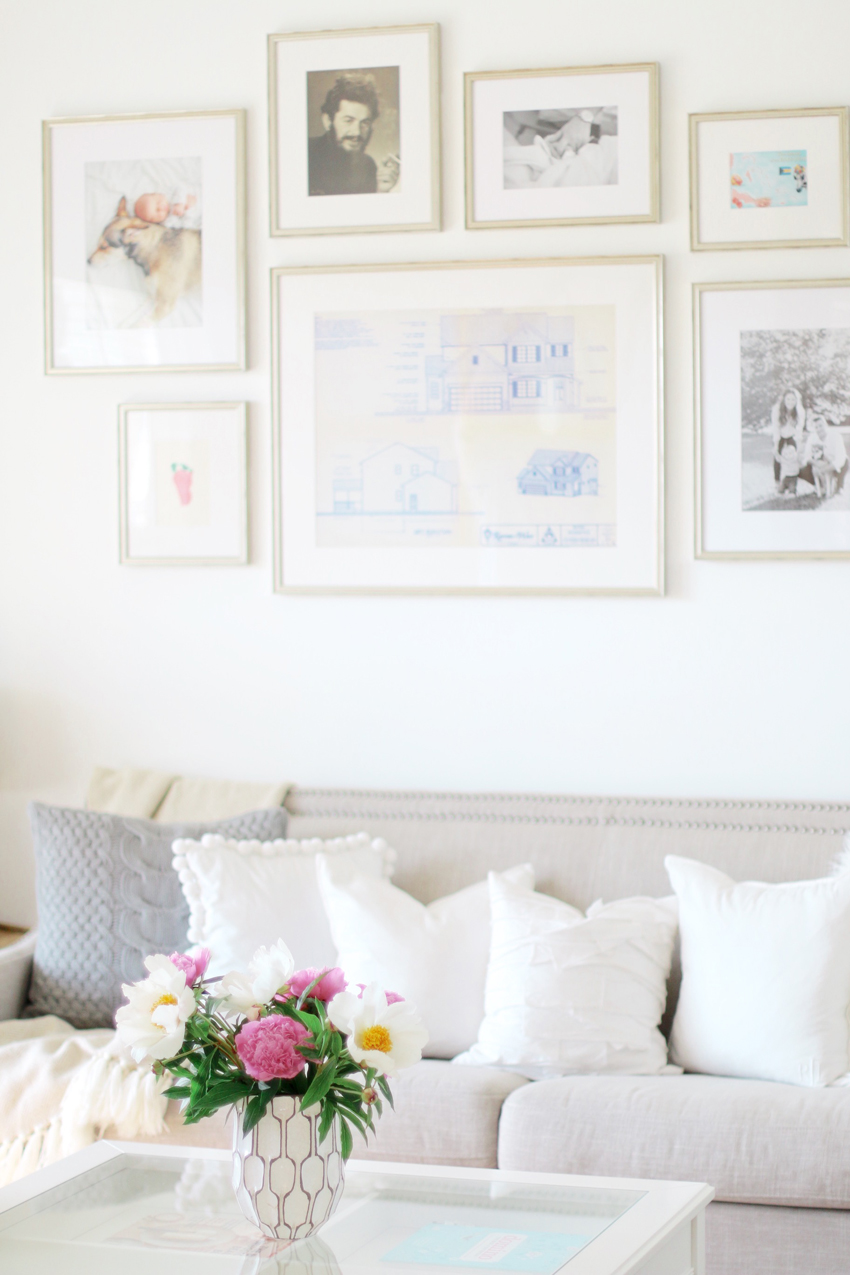 I'd love to hear from you below! Do you have a Legacy Wall in your home or plans to create one like we did? What sorts of items would you include in yours? And the BEST news is if you are planning to create your own, the team at Framebridge is offering a 15% discount to any first time customers good through the next THREE MONTHS! Use the code rhiannonbosse15 at check out to apply your discount. And share some links below if you blog about your next framing adventure!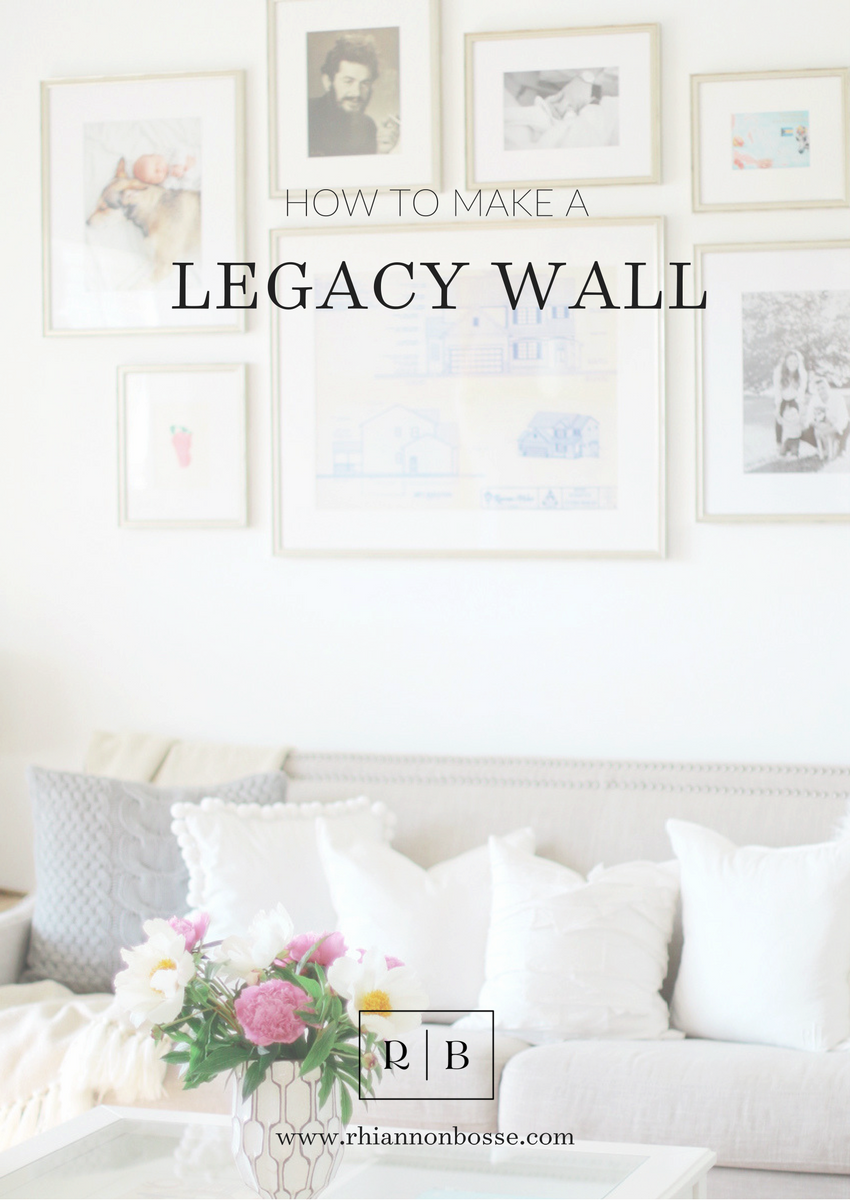 Remember to use the code rhiannonbosse15 for your next Framebridge order! Xo