Rhiboot Rhi and Three Weeks In
August 2, 2017
This story is one of hope and healing. But also one that is being written at the foot of a really tall and looming mountain. So I write this today from a place of restriction and discomfort (and a little frustration) but with tremendous hope too. Because all of the best stories come with buckets full of that.
. . .
I shared a little on instagram a few weeks ago about some recent health concerns I've been having. From January through to June a lot of things felt REALLY really off in my world both physically and emotionally. While I have a low threshold for experiencing feelings (both emotionally and physically), my ability to withstand pain and discomfort is VERY high. Those two characteristics paired together are pretty uncommon but when I think back to my days as a high level gymnast withstanding a lot of intense physical, emotional and mental hurdles, lots of things make sense. And then I think about my birth with Lachlan and some personal situations that have unfolded in my adult life and I see it! It doesn't take much for me to feel something but it takes a lot for me to do something about it (read: I'm stubborn and like to try and often be the hero of my own story).
So earlier this spring after a particularly rough morning and feeling too weak to even pick my sweet son up out of his crib, I knew something had to change. After making an appointment with my family doctor, a round of routine blood work and a urine test to rule out a bunch of things I may be genetically at risk for (or showing symptoms for) I was told some simple rest, more water, and coming back for some further blood work in a few weeks would be my best bet for better health. I went home like a dutiful patient that spring morning feeling like I had maybe turned a corner but knew my story wouldn't end there.
I'm an incredibly intuitive person (who isn't when it comes to their own self?) and knew things would get worse before they would get better. And they did. I quickly realized I was going to need to be a better advocate for my own health because a little 'rest' was not going to fix things. When I think of my life in 1, 5, 20 or even 40 years, I can tell you it involves being healthy, able, and present with my family. So thanks to those wishes and prayers for the future I decided to look into a naturopath to see how things could improve on more of a holistic approach. But more importantly to see WHAT exactly could be causing all of my symptoms and misery.
While I believe every person should consult in their own doctor or naturopath because our bodies and minds are these complex and very unique masterpieces, I will share this: my days earlier this year used to be spent with exhaustion and anxiety. Not the kind that makes you stay in bed all day but quite the opposite. The kind that lurked in the corner of my room taunting me to sleep in a little longer or get a little bit more upset about one more thing unravelling beyond my control so that fear made me ensure I moved a MILE a minute so it wouldn't all fall apart. And then moving a mile a minute left no time for pleasure and no time for self care. I was the queen of working under pressure, handling anxiety with grace, and running myself ragged because I believed I could (and should) do and be it all.
So I did. And this isn't an adult Rhi problem. This is something I believe started before high school when you learn how to fuel your body, cook meals, handle emotions, interact with others, and take care of yourself. It's not important to discuss any of my childhood days that may have involved Froot Loops in homogenized milk, Fruit by the Foot binges, or even worse, boxes and boxes of mac and cheese (you know, the kind with the packs of powdered cheese you mix into the butter and milk?) but I'll tell you this:
Staying up all night and always feeling like I was running on adrenaline, worrying 24-7 about everything and anything, drinking a Starbucks chai tea latte for breakfast (and sometimes for lunch), grabbing a croissant for lunch (and sometimes dinner), only drinking water when I brushed my teeth at night or was tossing back six Advils a day, spending dollar after dollar after dollar on all.of.the.things to cover up all.of.the.things that were wrong with my skin, hair, and body, wondering when my 'baby belly tummy' would stop looking like such a baby belly tummy, getting sick after meals, fearing restaurants and social situations because everything made me sick, being crippled in bed with debilitating migraines, having cystic breakouts on my face to the point where even greeting the Fedex driver caused embarrassment and shame, or quite possibly the worse, feeling so unlike myself I felt like I was letting down my husband and my son.. .
I. Had. Enough. This wasn't the kind of woman God created me to be.
I could talk about this sort of stuff forever because there is a WORLD of goodness, information, truth, resources, and support out there for people who seek (and deserve; we all do) BETTER health. I used to laugh at this stuff! I used to scoff at smoothies and supplements. The health food store reminded me of the one I used to go to with my mom when I was little. I would beg her to let me pull the lever on the very large 'crunchy' machine that made all natural peanut butter. We used to go there to get my sugar free candies because I had braces and Lord help me if eating sugar left spots on my teeth when the metal came off (see, sugar was naughty back then too!) but I've judged many before. I'm so sorry I thought wellness was a joke. I've always felt like a little soda for lunch, and a late night stop at Burger King, and another latte in the airport with whole milk, and a 3:00 am bedtime, and stewing on something someone did for a whole week isn't going to make a difference in my overall health. Because tomorrow is a new day. And I am STRONG, and awesome, and can withstand a LOT on my shoulders.
Until you can't anymore. Until I decided I actually don't want to anymore.
So here we are. I don't have any pretty end result photos or testaments to share because I'm only three weeks in. I'm peeling back layer after layer of my health and what I've done to myself so far. Turns out our bodies really are our temples. I'm learning a lot about temples and what they need to stay holy and whole and functional. I have been meat-free and dairy-free for three weeks as of today and already the improvements in my life have been revolutionary! That alone is motivating me to keep going strong and keep my eyes on my own lane (er, my own plate) because this is for ME and no one else. I feel like there's a bit more of a pep in my step and above all else I am grateful for that.
I am grateful. Grateful for allergy tests that justify my symptoms and make me feel like I'm not imagining reactions to things (allergy tests show moderate allergies to cow's milk, casein, cheese, yogurt, and egg). I'm so thankful for a wonderful neighbor who suggested a naturopath that allows me to feel valued and cared about. I'm grateful for all this to unfold in the summer when I have a lull between events to process everything and a local farmer's market bursting with delicious vegetables (since I start a candida cleanse diet today and all I can think about is Nutella sandwiches and pasta with a side of cream sauce). I'm on my knees grateful that God let my body grow and carry and deliver Lachlan. I cry writing this part now because it's really a miracle I was picked to be his mama and I don't ever take it for granted.
Without our health what do we have? Truly, not much.
Another note.
There's a lot of people who share a lot of things about their lives in the social/business sphere. There's what I think we would consider 'honest and open' brands and people where sharing is caring, and oversharing is encouraged. Then there are many business owners and brands where everything is very professional and content doesn't overlap into the personal sphere. I get, know and respect both. I've admittedly struggled for years figuring out which world my business falls into until I realized just the stress of that alone was making me go crazy so it is what it is. I do a bit of both and that's what makes me ME. Take it or leave it.
The newsflash here is that as adults we can have things happening behind the scenes and still do our jobs very well. That's part of being an adult. We can be emotional (or brave/scared, happy/sad, excited/exhausted, relaxed/overwhelmed) and still show up. I've been doing that for a while now actually. And in all honesty, I have to tell you that not every day has been bad! There have been many good days and on those good days I've been committed to following through on responsibilities, loving on clients, enjoying life, and serving my family. But the fact is I know there's more to life, to my life, so that's where this quest for answers and this commitment to making changes has come from.
Thanks for following along, and if you're still reading this, for being here.
Love, a healthier and happier Rhi who knows the sky's the limit.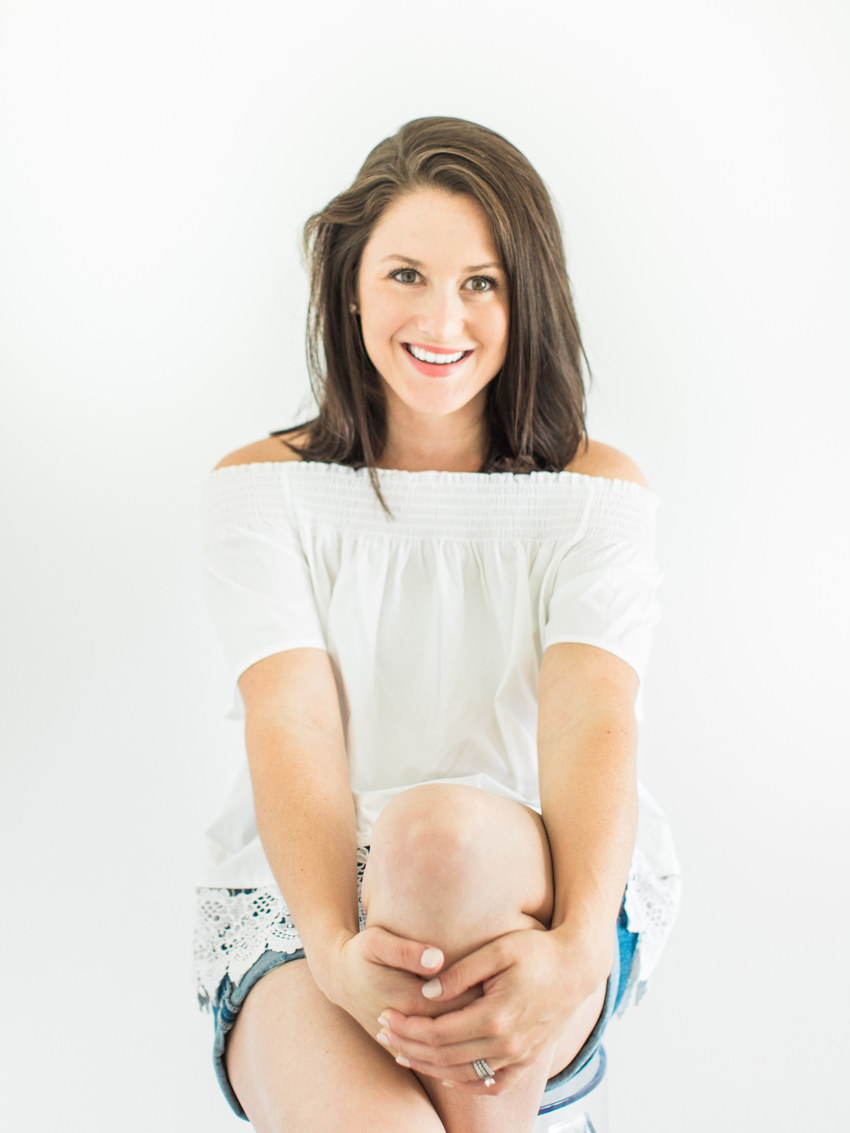 This photo was taken by my friend Samantha on July 31st of 2017. Already I see a new woman with a fresh new outlook on life and that's only 21 days in. Thank you Sam for being the one that cold March morning to push me and put myself first. I'm grateful you answered my very desperate and sad facetime call and more grateful we get to do work, motherhood, and life less than five miles apart. You're a gift.
Xoxo