Hands Free Life, Rhi Reads Review
February 28, 2018
February was a short and very full month so I'm happy to report I picked an enjoyable book to enjoy!
A recap for anyone just joining: #rhireads2018 is my book list for the year, made up of 11 books I've intentionally selected to read over the next 11 months (one month is a 'free' month). The books include various topics from self help and parenting to faith and business. My goal in sharing these books each month along with my thoughts on them is to hopefully inspire others to indulge in good old fashioned paperback more often than they're used to. And also to stay accountable with a hobby I really love but unfortunately gets put on the back burner far too often.
Book 2: Hands Free Life
A Summary
Hands Free Life, by Rachel Macy Stafford is an enjoyable read with a powerful and clear message: it is possible to live a life of significance and especially so when we live our days 'hands free'. Being hands free means a number of things as described in the book via Rachel's many beautiful Daily Declarations and Habit Builders but mostly it's about eliminating distractions, being present, gaining perspective, and leaving a legacy (to name a few). Some notes on the back of the 216 page book, which admittedly inspired me to purchase the book for enjoyment near the end of my pregnancy with Lachlan, are below.
By following each daily Hands Free Declaration, you will be inspired to adopt mindful daily practices and new thought-processes that will help you:
• Make meaningful, lasting connections despite the busyness of everyday life.
• Live in the now despite that inner nudge pushing you out of the moment toward perfection and productivity.
• Protect your most sacred relationships, as well as your values, beliefs, health, and happiness, despite the latent dangers of technology and social media.
• Pursue the passions of your heart without sacrificing your job or your daily responsibilities.
• Evaluate your daily choices to ensure you are investing in a life that matters to you. 
Three Quotables
1. 'It is my hope that you will be inspired to let life happen the way it's meant to happen – even when it feels uncomfortable, inconvenient, scary, or too late to even try. After all, how are we able to witness the beautiful results of allowing something to naturally unfold if we hold it captive to our plan? There is a much bigger plan that we could ever imagine for ourself, our family, and our life's work that can only be seen when we stand back and behold the beautifully lopsided results of life being lived.' (pg. 46)
2. 'Let us all be Noticers today. Let us notice our children's gifts rather than their flaws. Let us notice what our spouse does right, not what he or she did wrong. Let us notice the sacrifices our parents made, rather than all the times they messed up. Let us notice how hard people are working, not how quickly they are providing service. The us notice where our love and kindness is needed, rather than spew criticism and scrutiny where it is not needed. Let us be Noticers. Love others right where they are. Love others just as they are. Someone is just waiting for us to notice what's blooming or wilting inside that could use a little undivided attention.' (pg. 123)
3. 'Give What Matters,' the Sixth Intentional Habit of a Hands Free Life, means offering your most precious commodity, the gift of yourself, even when there are a million distractions and pressures providing you with reasons not to give. Such a way of life allows you to readily notice opportunities to make a lasting impression on others while empowering you to seize these opportunities. Because you are no longer held back by how gifts look, its price, or whether or not it is 'good enough,' suddenly there are countless ways to bring joy to the lives of others as well as your own. When you live life Giving What Matters you free yourself from hidden agendas and unrealistic expectations.' (pg. 130)
Take Aways
Between my dog-eared pages from the first time I read this book and the fresh folded corners indicative of the second time, it seems every other page of my copy is flagged (nearly is!). Reading this book as an expectant first time mama was so different from reading it as a mama of a toddler with hopes and plans to grow her family again soon. There's something very tangible and significant about this book's reminders and daily practices that can be immediately applied to your life with the living breathing things, namely children, in front of you. There were many times in the book where Rachel would tell beautiful anecdotes about her two daughters and how parenting them has inspired her to live hands free. And those stories would very closely echo many of the experiences and sentiments I too have about my experiences with Lachlan (which I think says a lot about how different yet how similar being a mama is for women of every walk of life but that's another story for another day).
If you've been reading my blog or Instagram for any amount of time, you'll know I'm an open book, often share things other people don't or won't (read: I'm frequently pretty honest which means I can be quite vulnerable), and I have a hard time letting go of both perfection and the perceptions others may have of me or the choices I make. I've been working hard over the last year to not only improve the way I process my thoughts and emotions but also how I invest in and perceive my relationships. And while this kind of work is hard and takes discipline, it's also been the best kind of work. A lot of it actually, has been what I would consider to be 'hands free,' so all of that to say this book was a fresh reminder, an eloquent tangible expression of the very work I've been doing in my own heart and life for a while now. For that reason it was validating to reread this and soak up lessons and wisdom I think everyone should read and live by.
Side note: if anyone has read both Hands Free Life AND Hands Free Mama, I'd love to know the difference(s) between the two books. I haven't even peeked at the mama version but can't imagine how much different it is from Hands Free Life. Again, since I read this first when I was pregnant with Lachlan the many, many parenting stories and sweet references to Rachel's daughters didn't faze me or make it feel like the book was too parent-focused but I would be interested to see if 1) anyone else who has read this but does not have kids feels/felt otherwise and b) how different the content is between the two books. I'd love your thoughts below if this is you!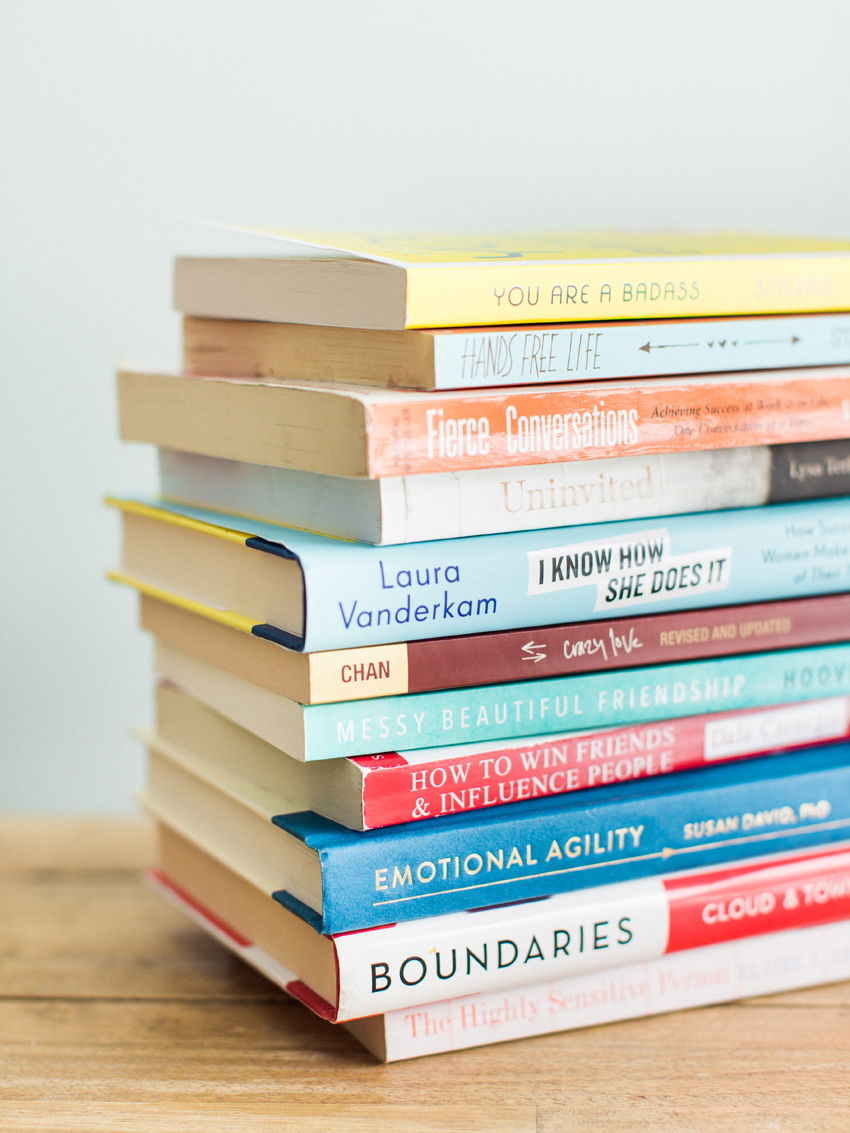 Here's a snapshot of what I've read so far and what's next up! I'm looking forward to Fierce Conversations! Xo
January's book: You Are a Badass
March's book: Fierce Conversations
All book photos by Samantha James Photography.