Fierce Conversations, Rhi Reads Review
March 31, 2018
Guys! My March book was incredible. I can't wait to share more with you below!
A recap for anyone just joining: #rhireads2018 is my book list for the year, made up of 11 books I've intentionally selected to read over the next 11 months (one month is a 'free' month). The books include various topics from self help and parenting to faith and business. My goal in sharing these books each month along with my thoughts on them is to hopefully inspire others to indulge in good old fashioned paperback more often than they're used to. And also to stay accountable with a hobby I really love but unfortunately gets put on the back burner far too often.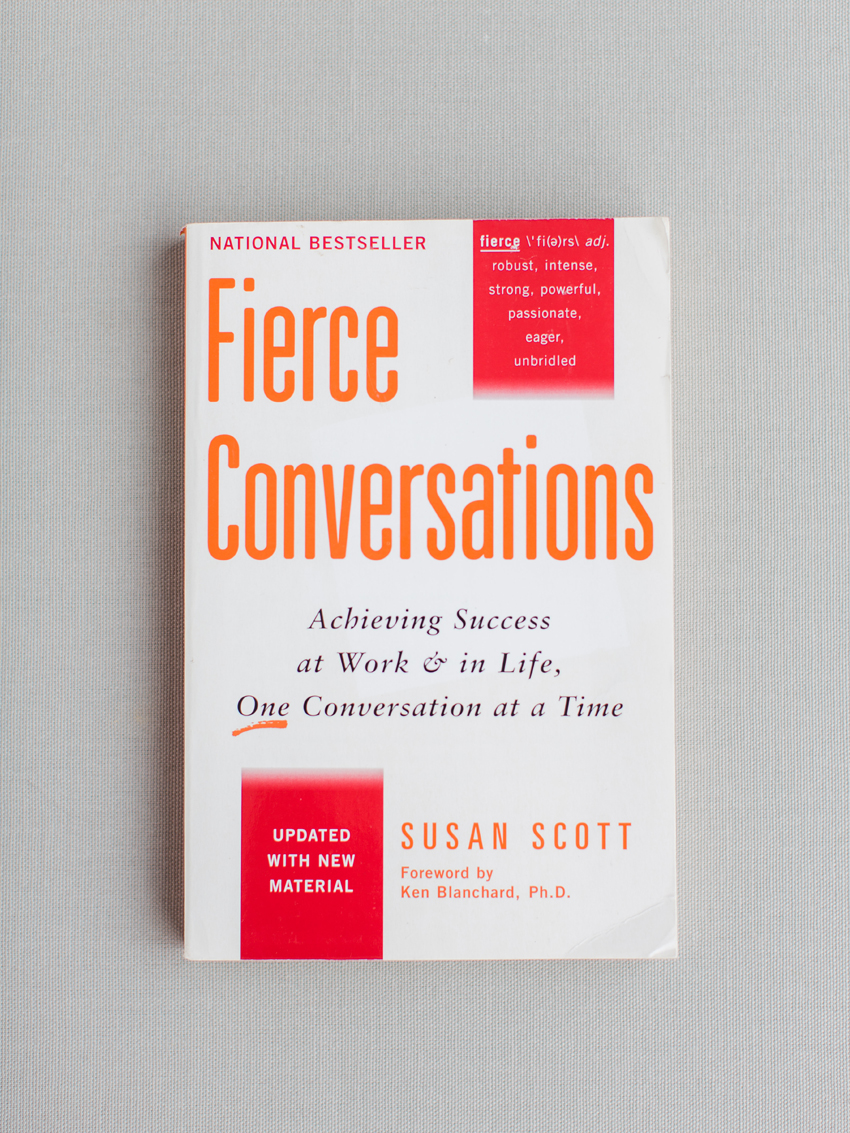 Book 3: Fierce Conversations
A Summary
Fierce Conversations by Susan Scott is a must read! I didn't think it was possible to take something as seemingly simple as conversation and break it down into 266 pages of really insightful education but this book does it. It's certainly a business or self-help read so if that's not your thing the book can feel a little tedious and scholastic but I soaked up every page, and particularly loved the many examples throughout the book that talk about how transformational fierce conversations can really be. And the underlying message, which I believe the author would agree with me on, is that fierce conversations aren't saved only for the workplace or board room. They serve value in our homes and social circles making this a book that anyone can walk away from with insight.
The back of the book promises: Susan Scott wants you to succeed. To do that, she explains, you must transform everyday conversations with effective ways to get your messages across – and get what you want. In this guide, which includes a work book and The Seven Principles of Fierce Conversations, Scott teach you how to:
• Overcome barriers to meaningful conversations
• Expand and enrich conversations with colleagues, friends, and family
• Increase clarity and improve understanding
• Handle strong emotions – on both sides of the table
Let's dive into this further because I promise this stuff is intriguing and revolutionary!
Three Quotables
1. 'But a "fierce" conversation? Doesn't "fierce" suggest menacing, cruel, barbarous, threatening? Sounds like raised voice, frowns, blood on the floor, no fun at all. In Roger's Thesaurus, however, the word fierce has the following synonyms: robust, intense, strong, powerful, passionate, eager, unbridled, uncurbed, untamed. In its simplest form, a fierce conversation is one in which we come out from behind ourselves into the conversation and make it real. While many are afraid of 'real,' it is the unreal conversation that should scare us to death. Whoever said talk is cheap was mistaken. Unreal conversations are incredibly expensive for organizations and for individuals.' (pg. 7)
2. 'Years ago I lived neared Tokyo and studied karate. During the last half hour of each session, everyone formed a circle around one individual and could attack the person in the center of the circle from any direction at any time, without warning. When I was the vulnerable individual in the center, I initially strained to see everyone, my eyes darting from person to person, whirling and turning so that I wouldn't miss anything. I often ended up felled, not by someone behind me but by someone right in front of me. It seemed that the harder I tried to see, the more I missed.
The sensei taught us that if instead of trying to focus on any one thing we softened our eyes and allowed the world to come to us, we would see a great deal more. We would catch subtle motion. Our peripheral vision would become acute. This was true. Over time, we developed the proverbial eyes in the backs of our heads. And it was effortless.
The same thing happens with our listening. We may succeed in hearing every word yet miss the message altogether. Soft eyes and soft ears allow a partner to come to you, to communicate to you. It's not about being clever or having degrees in a particular field. It's about being genuinely interested, really asking, and paying fierce attention to the response. To the whole person responding.' (pg. 101 – 102)
3. 'Conversation and confrontation both begin with the idea of with. The 'fierce' version of confrontation is not firing at someone from across the room, but rather standing side by side, looking at the issue together. All confrontation is a search for the truth. Who owns the truth? Each of us owns a piece of it, and nobody owns all of it. Let's keep in mind that a confrontation is a conversation.' (pg. 138)
Take Aways
In full disclosure, I didn't find or purchase this book myself. A dear former client of mine told me about it over the phone in one of our post wedding calls. Said client works for kate spade and mentioned having read the book as part of her position with her team. I found it fascinating not only that a place like kate spade would have a book like this as part of their business model on a corporate level, but moreover that a book like this actually makes sense given how respected and powerful the kate spade brand is. That, paired together with Christine mailing me the book as a gift, made it an easy pick for my reading list this year.
One of the traps I can fall into when reading business focused books is feeling like my business is too small to apply big principles to. But a few pages in to the book I realized how obvious of a lie this is. That any business, big or small, can benefit from the principles of fierce conversations. My own company included. I was especially inspired by the takeaways I can apply to how I treat and work together with my team, which was especially refreshing considering wedding season is right around the corner. I'm eager to apply many simple lessons to our dynamics as a small but mighty team heading into our sixth wedding season together.
I also learned quickly that listening well and striving to have fierce conversations with everyone I come into contact with on a daily basis, is in fact a skill set that's applicable to every part of my life. Not just the business parts. This means having fierce conversations with my husband, our son, extended family members, friends, even people who I come across while I'm out and about where conversations may be small and short. Our days are littered with opportunities to engage better with others and I love how much potential that carries!
And finally, because I loved this book so much I'll share The Seven Principles of Fierce Conversations:
1. Master the courage to interrogate reality.
2. Come out from behind yourself into the conversation and make it real.
3. Be here, prepared to be nowhere else.
4. Tackle your toughest challenge today.
5. Obey your instincts.
6. Take responsibility for your emotional wake.
7. Let silence do the heavy lifting.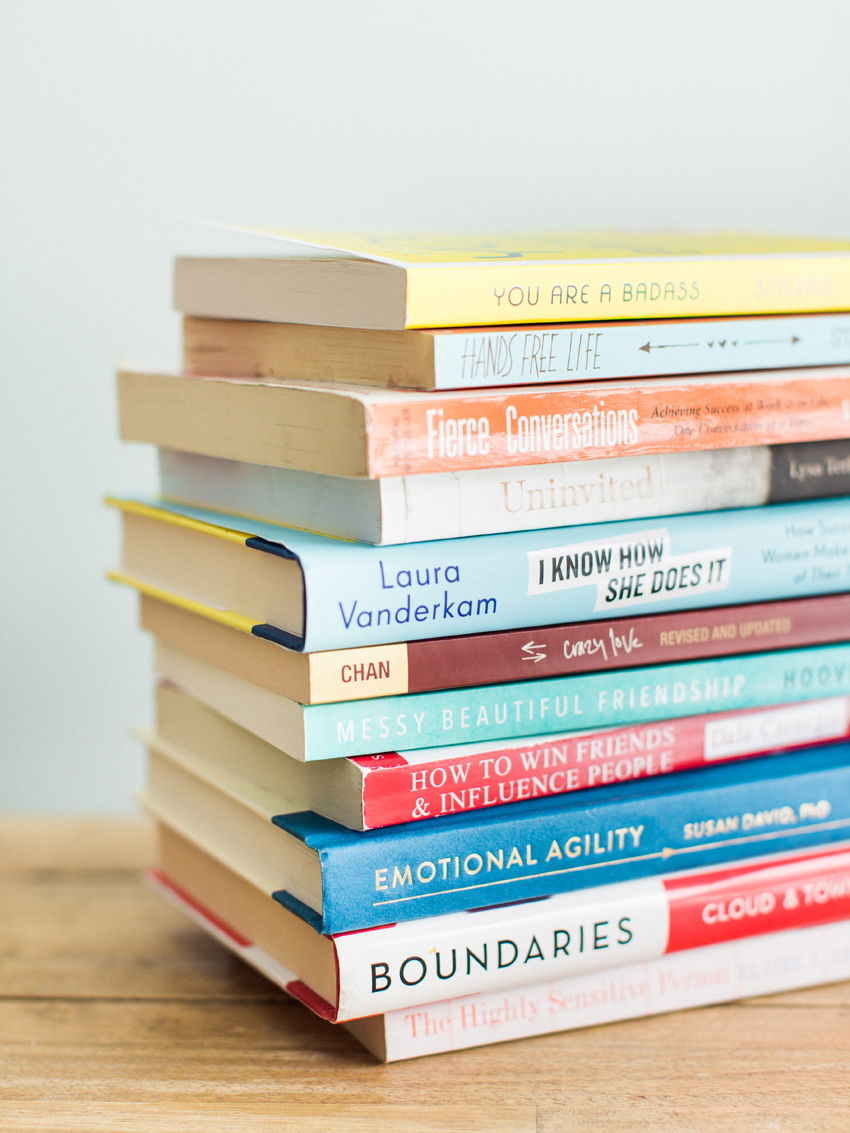 Here's a snapshot of what I've read so far this year and what's next up. I'm looking forward to reading my next book, Uninvited, on the beach in Seaside, Florida where we get to finally take a family getaway. I'll be back at the end of April with another recap. Xo
January's book: You Are a Badass
February's Book: Hands Free Life
March's book: Fierce Conversations
April's Book: Uninvited
All book photos by Samantha James Photography.