How I Simplify Laundry
May 9, 2018
Remember when I shared my big goal for 2018?
Turns out that goal has been easy to manifest in a lot of small but powerful ways. One of the home tasks I think gets completely blown out of proportion is laundry. I hear so many woman complain about the 'mountains' and 'piles' of laundry taking over their lives and I always half heartedly agree in conversations because I get it, laundry isn't the most exhilarating of tasks. But I have never truly felt burdened by laundry even with three people to collect, sort, wash, and fold for (maybe ask me how I feel come fall when we add a fourth member to our family!)
What sealed the deal for me, the learning-to-love-laundry deal, was creating a space where my duties as laundry chief could be done with great joy. Again, laundry is a tiny bit boring but I believe I can certainly find ways to make it easier, more enjoyable, and less of a burden. Turns out my efforts have helped turn laundry into a time where I can count my blessings, give thanks for the home we've worked hard for, and most importantly, give gratitude for the family I get to do life with; soiled clothes and all (boys go through so.many.clothes, I will say that).
Welcome to my laundry room! Below you'll find commentary and tips and how I make this space shine.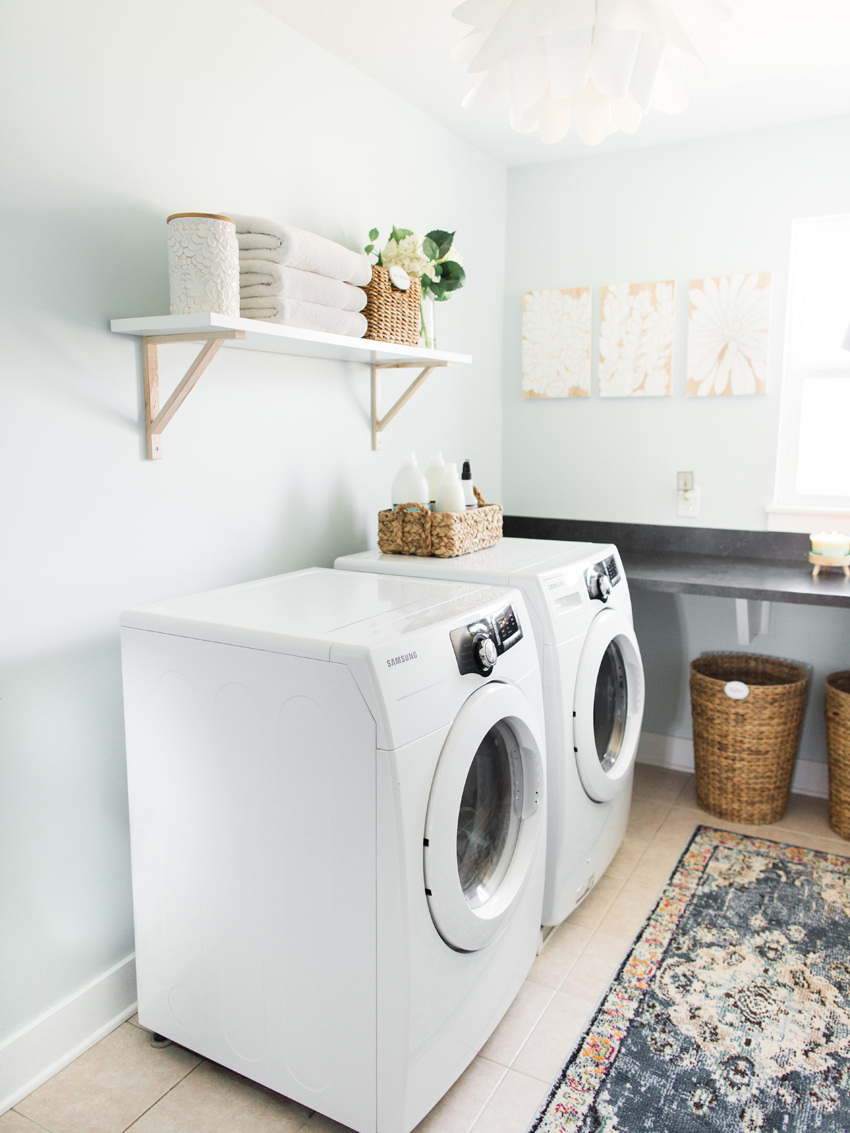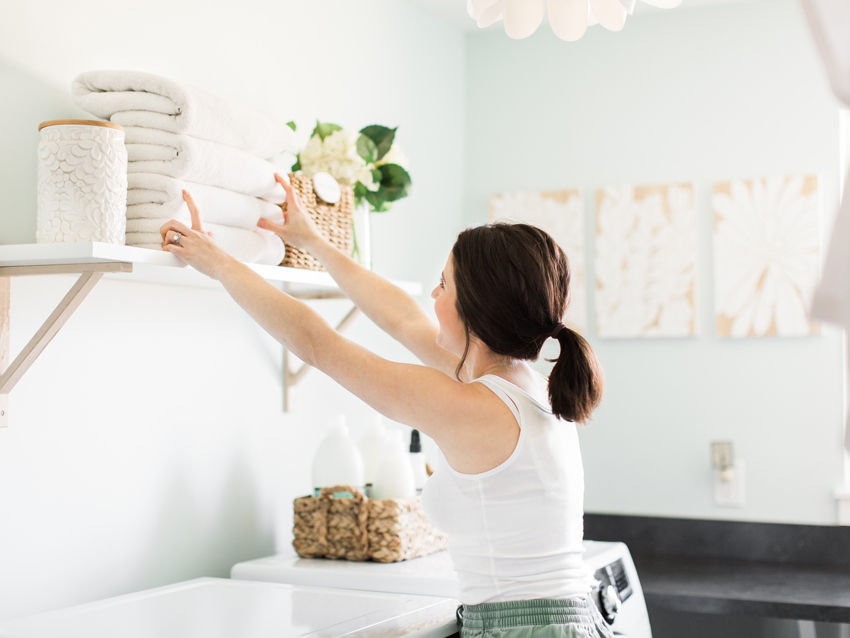 When we built our home, the laundry room was supposed to be a bathroom and our guest bath the laundry room. The thought of a laundry room without a window (where I'd spend most of my time) versus a guest bath with a window (which guests would use only a fraction of the time) made laundry seem a little more depressing than normal so we switched the upstairs floorplan a little. As such our laundry room is at the top of the stairs so one motivating factor to keep things tidy and neat is that the room is always on display and always so nicely lit. Anything in the laundry room gets put on a pedestal daily so I try to keep things as clean as possible.
There's gotta be truth in the illusion of tidy, right?
And while I know not everyone has the option or luxury to place their laundry room in or near a large window, if there's a way to infuse more brightness into your space (paint, opening a door, rearranging) and to scale back on the items in it, these are two easy ways to make your space feel more enticing.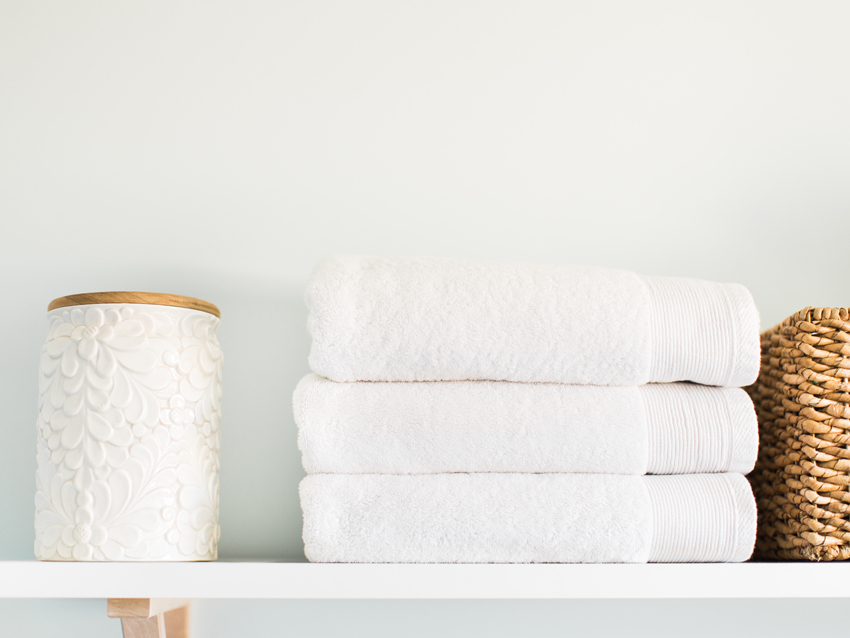 I posted a photo of my laundry room to instagram once and someone asked where I keep 'all my things'.
I laughed because I kept thinking, 'what things'?! Everything I need with the exception of bleach is IN the laundry room. If we don't use or need it, we don't have it and I think that's KEY to having a space that's so simplified. The IKEA shelf over the washer and dryer hold dryer sheets in an old Anthropologie cookie jar (which in full transparency I rarely use), guest room towels folded and ready (which we will pull from if I get behind on laundry), a basket to hold loose socks, laundry tub cleaner, and wrinkle spray. We don't use stain remover! And if something really needs laundry help or dry cleaning than I take those down the street next time I leave the house. We try to keep things in our house that require as little maintenance as possible. If something is stained beyond repair it gets tossed or saved for gardening, spaghetti, or crafting days.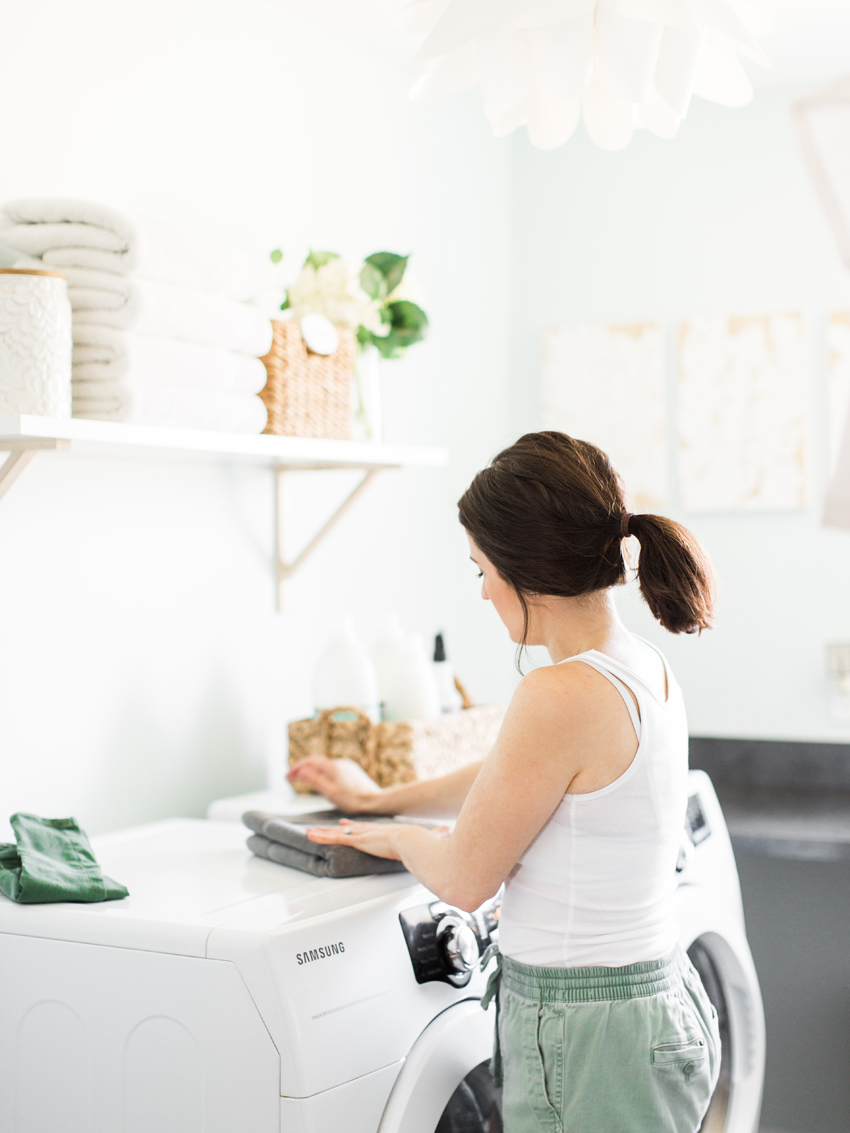 Our iron and ironing board hang on the wall right inside the room. Andrew irons his own shirts 99% of the time so he's usually the only one who uses the iron. Beside the iron is a small trash bin for dryer lint and other small trash items. We used to have a huge trash can that collected everything from diapers, food, bathroom items, you name it but it took weeks to fill and ended up getting smelly really quick. The smaller one forces us to clean it out more often and be aware of what we're putting in there. Also, the wall is ready for a sink should we ever get around to putting one in there but at this point we haven't needed one!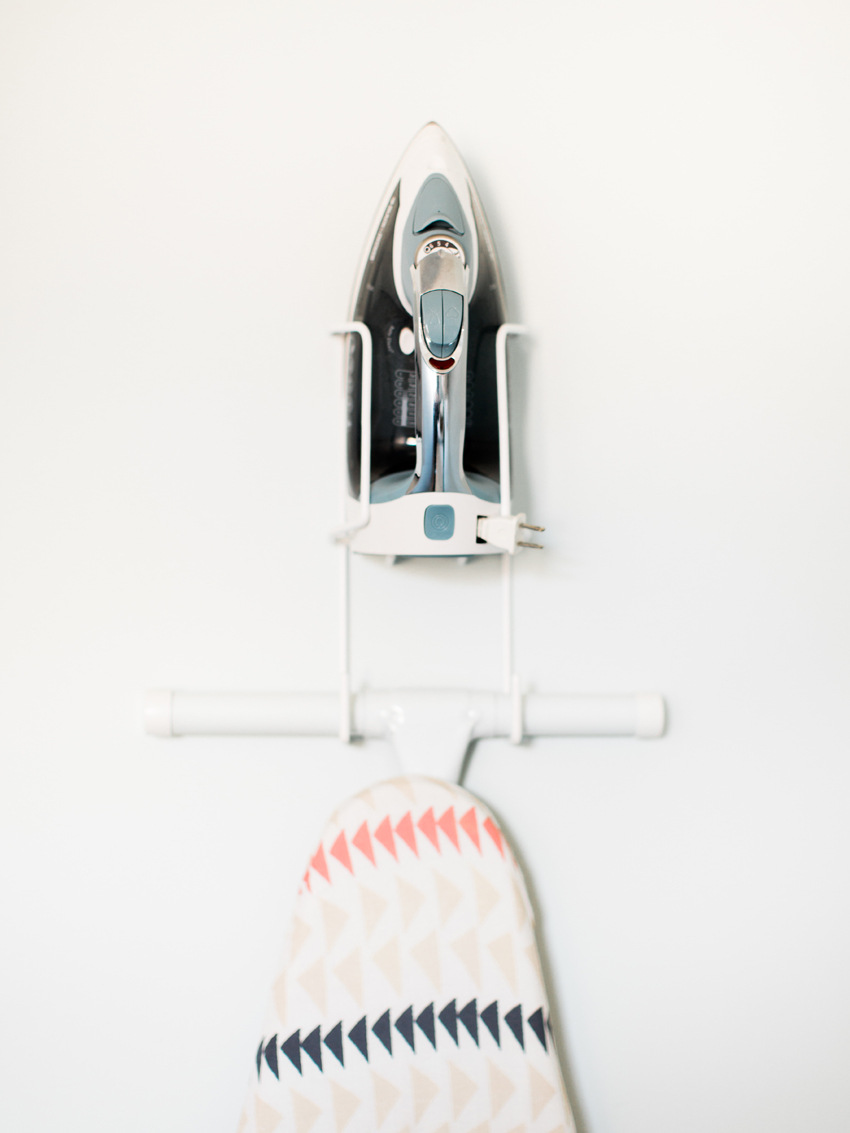 I adore the Mrs. Meyer's products and use almost everything from their line throughout our home. In the small basket on top of the washer I keep two detergents scents, one fabric softener (again, I rarely use this; the one pictured here has never been opened), and one spray cleaner and dry cloth for wiping down the folding counter and tops of the machines. Again, if I need bleach it's in a towel closet outside the laundry room where little hands cannot get it, but the majority of the time this set up is more than enough.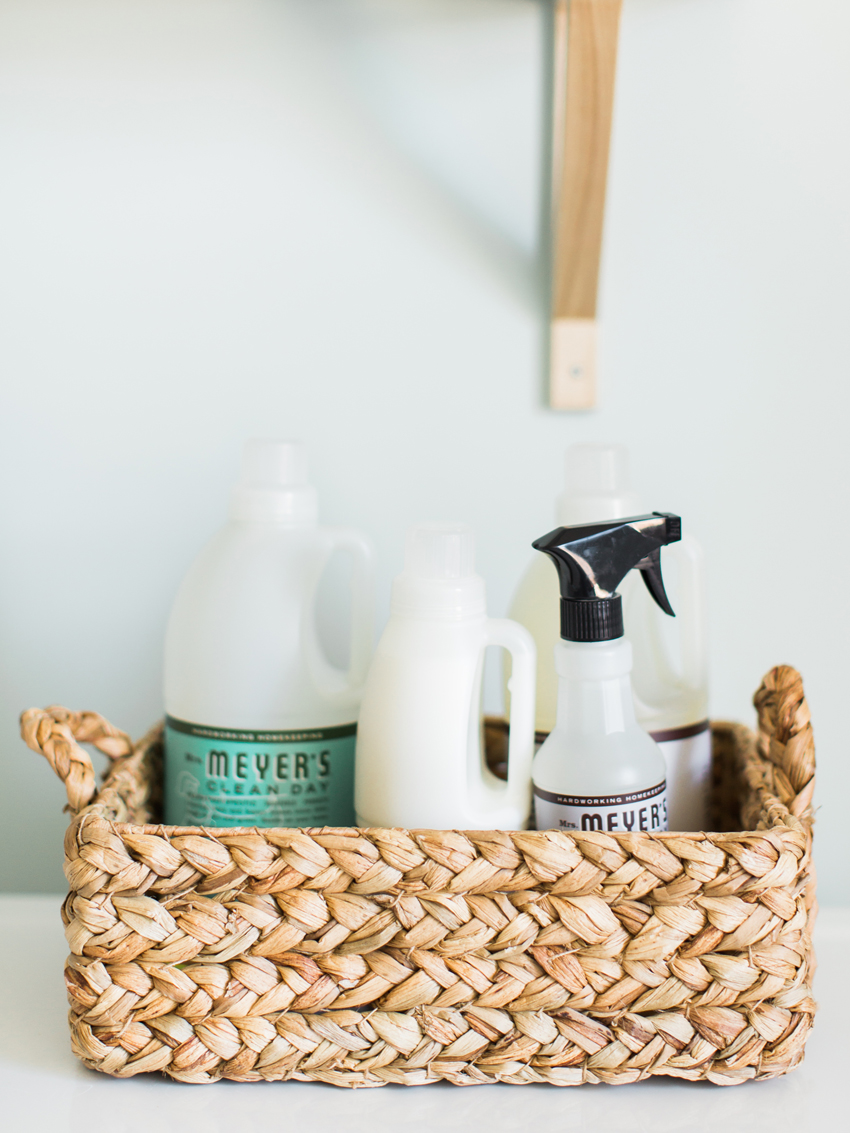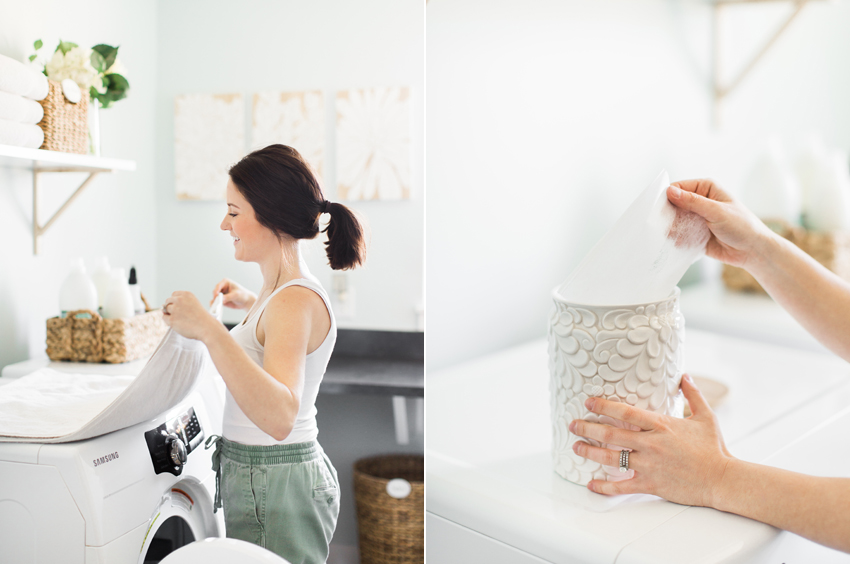 Ok let's talk hampers! We used to have these hampers in our room where Andrew thinks it was easier to put his dirty clothes. Take off your clothes, throw them in the hamper, and carry on, right? When you don't do the laundry in your home such would be the case but I found for me things were piling up way quicker that way because I wasn't walking by the laundry the way I do now. So we moved the hampers back into the nicely lit laundry room always on display at the top of the stairs, and magically things started getting done quicker!
Lights have their own basket and darks have their own. We're pretty laid back about what goes where. Usually lights is for towels, sheets, anything white, cream, ivory, and so forth but some patterned and striped things have been known to get in there. And then the darks basket is for just about everything else. The only time the baskets are truly full is when the machines are BOTH in use and I have no where to put dirty clothes OR when Lachlan or Andrew are putting things in them. Otherwise I have been known to take my clothes, sheets, or towels directly off my body, bed, or the bathroom hook and toss them directly into the washer where they wait to be washed. Not throwing them in the hamper saves me a step and time.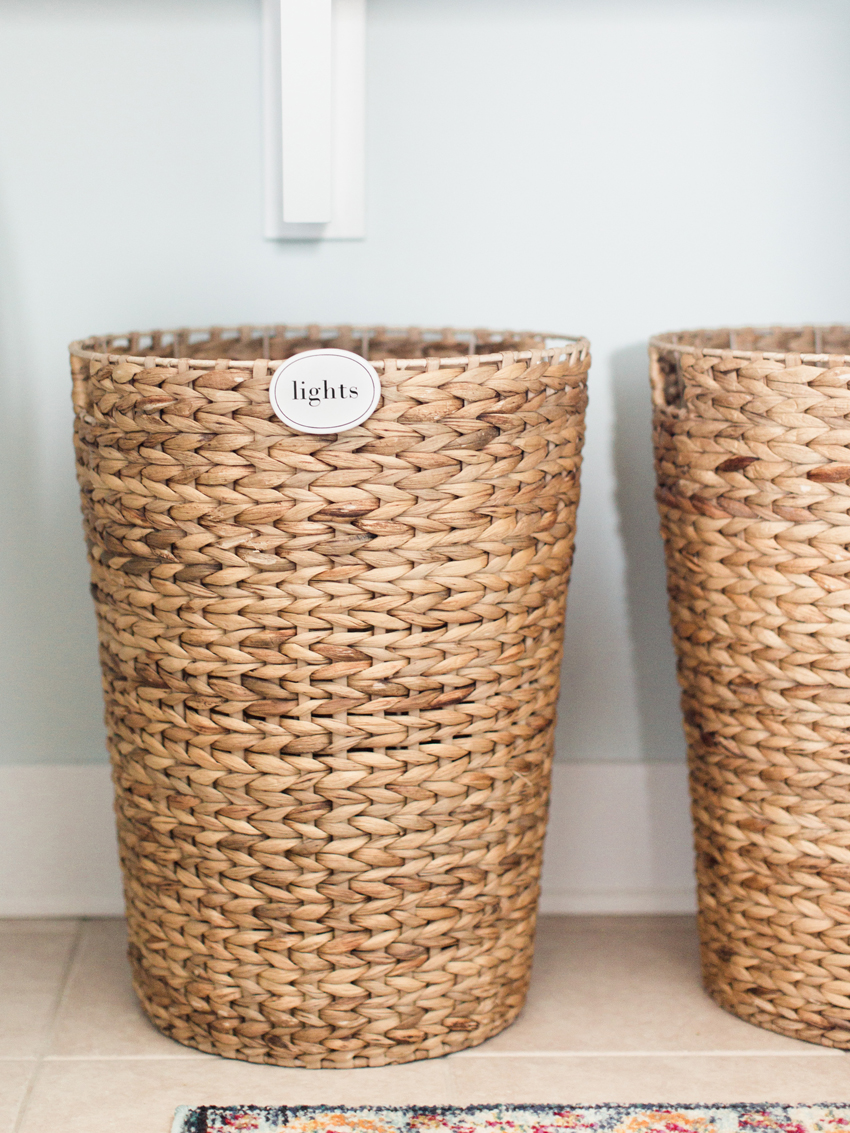 Which I also have to add! Three tips that tremendously help with the dreaded pile up:
1. I wear many of my outfits two to three days in a row. When I am at home working or not going anywhere I have no shame wearing something that's still clean especially if it looks and smells like it. I like to think this is me being savvy and saving not only on water and resources but also the integrity of my clothing. My husband is firm on the notion that things cannot be worn two days in a row and Lachlan's clothing is well, usually dirty after one day of wear so this approach isn't applicable to my boys but it works for me.
2. I make a habit of emptying the washer with damp clothes and throwing them in the dryer but then ensuring I fill the soap drawer back up with detergent for the next load. Again it's a small step that saves maybe ten seconds next time I go to do a load but it's a habit now that I feel makes a difference! And the timer feature on our washer is really amazing. We've been known to use that often on Sundays when we're washing sheets but don't think we'll be home in time from church and Sunday activities to get them into the dryer before they start to smell.
3. I typically do one load of laundry every day. Most of the time this means I use the quick wash setting which uses less water and takes less time than a full cycle. If in the morning on my way downstairs I notice there's enough laundry to do a small load, then I do it. And I always consider what the rest of my day looks like. If I work from home I know I'll be around to dry everything and fold it. I've been known to replay the tumble cycle on the dryer 5 or 6 times because I just keep being pulled away from folding and I hate when fresh clean clothes sit in the dryer and get wrinkly! So being smart about my time and how laundry fits into it is smart. I think laundry is the biggest pain and inconvenience for many when it's held off on until Sunday. Who wants to do 8 loads of laundry on a Sunday?! Not me!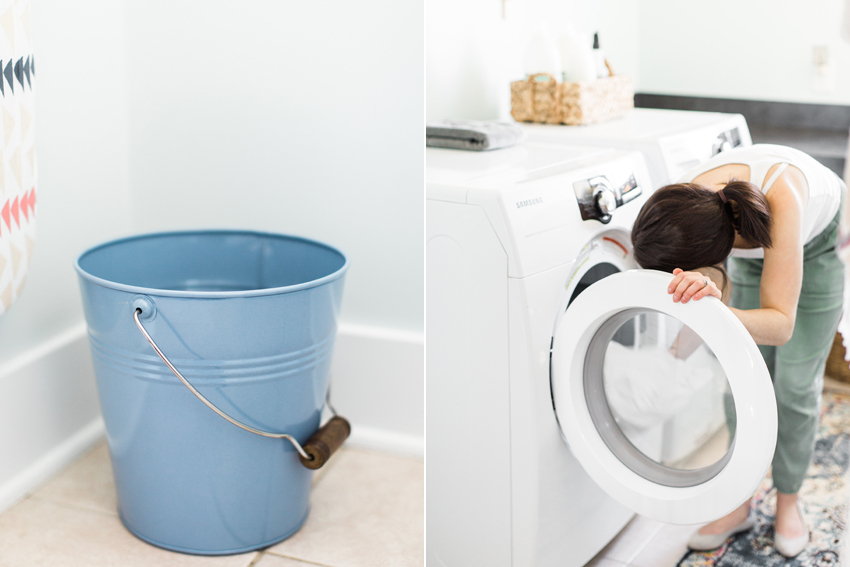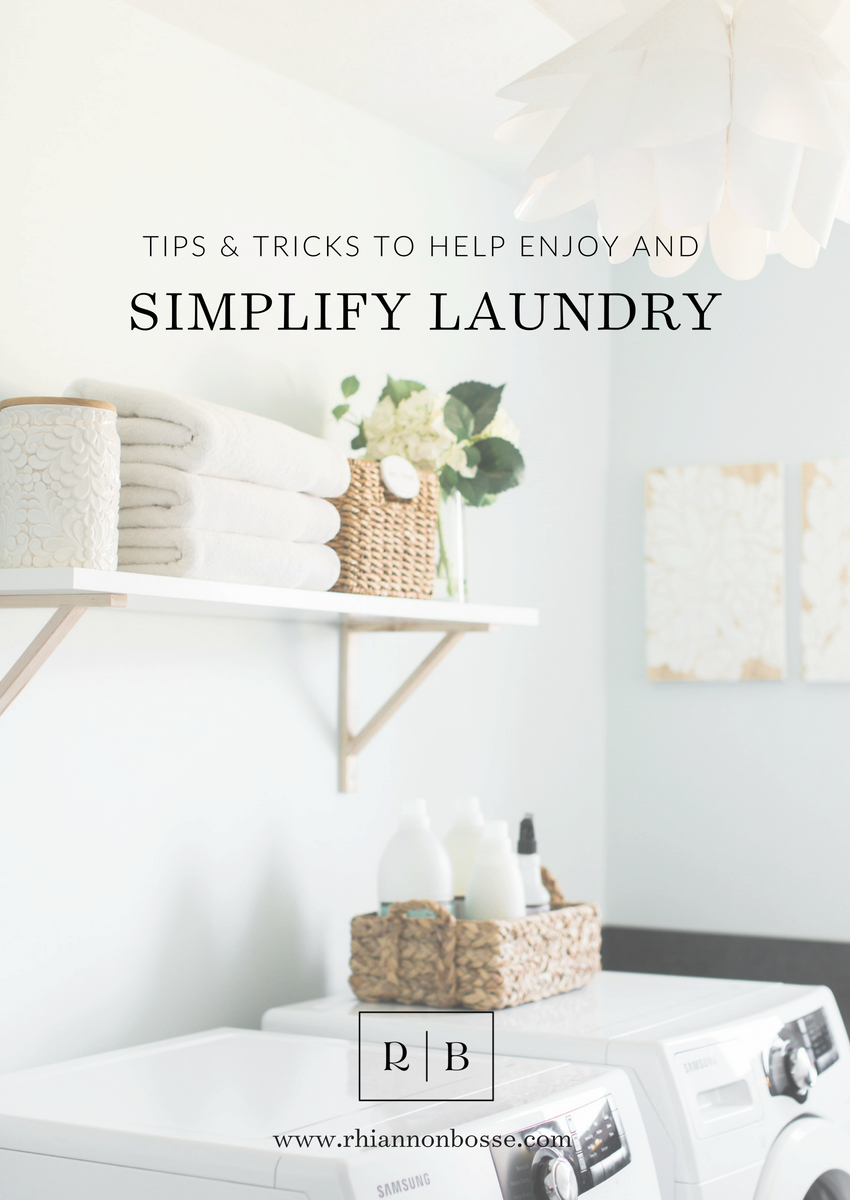 And that's our laundry room and system for staying on top of things! What helps you save time and energy on laundry? I'd love to know below! Xo
. . . . .
Styling: Rhiannon Bosse / Photography: Samantha James Photography / Wall decor, faux flowers, baskets and hampers: Home Goods / Light and shelf: IKEA / Runner rug: Overstock / Washer and dryer: Samsung / Ironing board cover and stand: Target