The Tech-Wise Family, Rhi Reads Review
June 1, 2018
If you've been following along with my reading list for the year you'll know May's book was Laura Vanderkam's I Know How She Does It. And I have to preface what I'm about to say and tell you I LOVE Laura's books and think she's brilliant. I've read 168 Hours (twice) and What The Most Successful People Do Before Breakfast and both were tremendously insightful and enjoyable. But I Know How She Does It is very heavy on stats and numbers and it took me until nearly the end of the month to admit to myself I felt like I was reading a school textbook.
So being that this book club thing is pretty casual and my rules are meant to be flexible, I decided to switch up my May book and dive into something a bit different – a book that didn't make the list but nevertheless has been on my must-read list aside from my 11 selected reads. In a little under a week and a half I started and finished The Tech-Wise Family by Andy Crouch. It may have been just what I needed in this busy month of May! More below.
A recap for anyone just joining: #rhireads2018 is my book list for the year, made up of 11 books I've intentionally selected to read over the next 11 months (one month is a 'free' month). The books include various topics from self help and parenting to faith and business. My goal in sharing these books each month along with my thoughts on them is to hopefully inspire others to indulge in good old fashioned paperback more often than they're used to. And also to stay accountable with a hobby I really love but unfortunately gets put on the back burner far too often.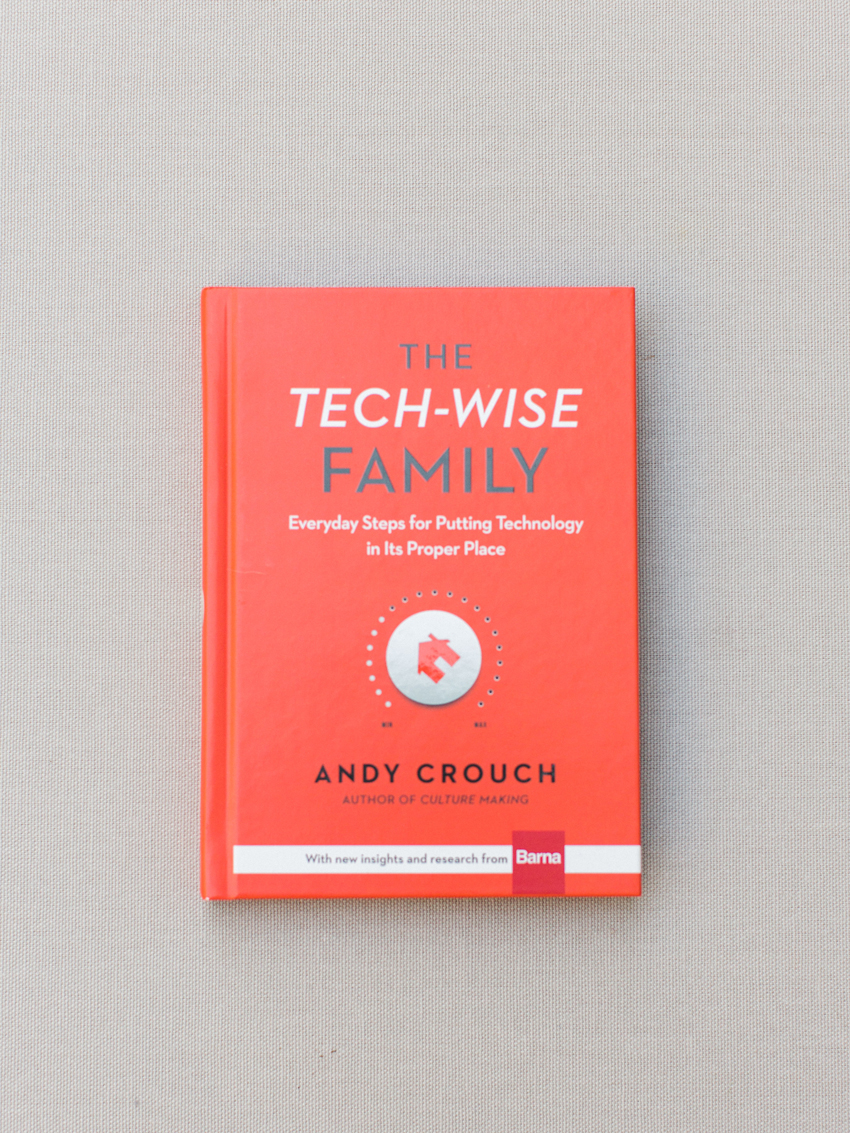 Book 5: The Tech-Wise Family
A Summary
I learned about The Tech-Wise Family from a few friends who excitedly shared their thoughts on the book via social media. Intrigued by their candid and positive reviews but also sure that this book has a message I needed to hear, I was excited to dive in and purchased it off Amazon that same day I decided I need to change up May's book. The book is a quick read broken down into Ten Tech-Wise Commitments for helping to use technology in a fruitful and intentional way within your home, relationships and family. Easy read with a powerful message!
The back of the book says: Making good choices about technology in our families is more than juts using internet filters and determining screen-time limits for our children. It's about building character, wisdom, and courage rather than accepting technology's promises of ease and gratification. It's about developing our heart, mind, soul, and strength when we're tempted to settle for entertainment and consumer satisfaction. And it's definitely not just about the kids.
Alongside in-depth original research from Barna Group that shows how families are wrestling with technologies new realities, Andy Crouch takes parents beyond the typical questions of what, where, and when to show us that in a world full of devices, there's a way to choose a better life than we've imagined.
Three Quotables 
1. 'This better way involves radically recommitting ourselves to what family is about – what real life is about. Our homes aren't meant to be just refuelling stations, places where we and our devices rest briefly, top up our charge, and then go back to frantic activity. They are meant to be places where the very best of life happens. No matter what advertising says (even those beautiful, tear-jerking Apple ads), the very best of life has nothing to do with the devices we buy. It has to do with the choices we make, choices that our devices often make more difficult.' (pg. 29)
2. 'We should be weary of legalism in the way we implement our hour, day, or week of (relative) technology freedom. But for most of us, the risk of legalism is far, far less of an issue than our nearly insatiable appetite for the easy-everywhere that technology offers. When it comes to technology, most of us are more like alcoholics than we are like sourpussed teetotalers – and most of us desperately need an infusion of intentionality about technology in our lives more than we need release from overly, limited, legalistic restrictions.' (pg. 103)
3. 'We are meant to build this kind of life together: the kind of life that, at the end, is completely dependant upon one another; the kind of life that ultimately transcends and does not need, the easy solutions of technology because it is caught up in something more true and more lasting than any alchemy our technological world can invent. We are meant to be family – not just marriages bound by vows and the children that come from them, but a wider family that invites others into our lives and even to the threshold of our very last breath, to experience vulnerability and grace, sorrow and hope, singing our way homeward.' (pg. 204)
Take Aways
This is the kind of book that is helpful to have others in your family and home read (especially so if you have children). Andrew is planning on reading this now that I'm done and I'm eager to be on the same page about a lot of decisions I've felt anxious about since Lachlan hit the toddler stage (namely, the issue of giving kids their own iPads which I currently greatly disagree with but that's a story for another day!). I hope we can work together to instill a few of the commitments from The Tech-Wise Family into our home and give consideration to some seemingly trickier ones like no screens until double digits (that seems like an awfully hard task in today's world!)
One part of the book I loved was the commitment about going to bed and getting up each morning separate from technology. This is a habit I've worked hard to cultivate in our home and it comes with great pay off. Some of the rewards that have come from putting my phone in the basket downstairs before I head up to bed include: longer, more restful nights of sleep, better connection with my husband, less anxiety about my schedule for the next day or what's waiting for me online, and more time to indulge in reading (which I love but sometimes put on the back burner in favor of my phone which requires less focus). Keeping my phone downstairs until we come down as a family has resulted in: more joyful mornings that start with a clear head and heart, hugs and kisses as morning greetings instead of distracted or even worse, ignored interactions, worship music as our alarm clock which prompts singing and dancing, and time and space to get dressed, make the bed, tidy up, and head down for the next part of our day. I'm here to tell you this commitment is a game charger!
Another part I greatly enjoyed is the part about structuring time, specifically the differences between leisure and rest, toil and work. I've never given thought to how leisure is different from rest, and how leisure almost always means someone else is working for the purpose of our being entertained. This has given me a unique perspective on how I spend my free time and what I consider rest and leisure (I feel a shift in hobbies coming on!). I also greatly enjoyed hearing Andy's perspective on the Sabbath and how for some people this may not fall on Sunday as outlined biblically. I have a lot of thoughts on this (which I briefly touched on here) and I hope to explore this more in the summer so I can report back to all of you.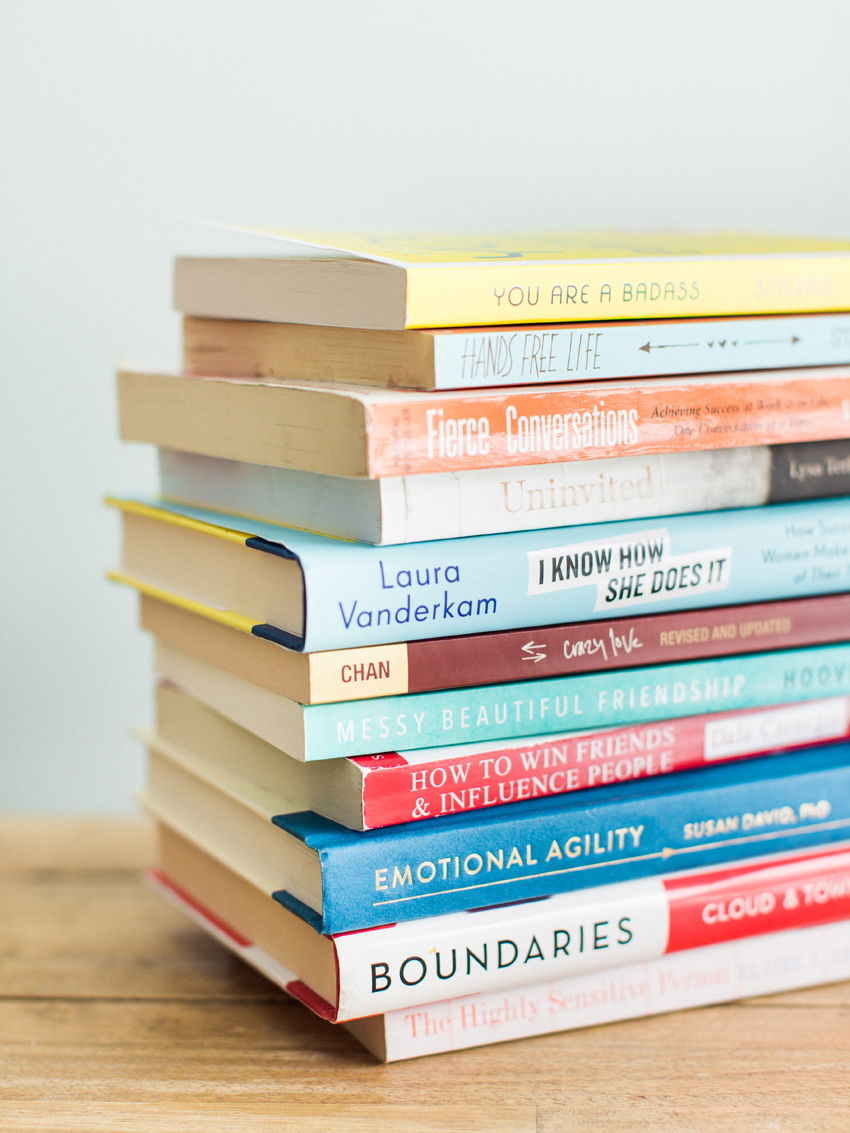 Have you read The Tech-Wise Family and if so, what did you think? I'd love to know! Xo
January's book: You Are a Badass
February's Book: Hands Free Life
March's book: Fierce Conversations
April's book: Uninvited
May's book: The Tech-Wise Family
June's book: Crazy Love
All book photos by Samantha James Photography.