Belly Birth Hospital Bag Essentials / PART ONE
September 12, 2018
I've never shared Lachlan's birth story and for a variety of reasons.
Mostly, it was a traumatic experience that ended in an emergency surgery delivery and for a first time mom who had high (very high) expectations of how her first birth would go, it was an emotional burden to process (not to mention a hard physical and mental one to carry, too). I carried a lot of grief and shame because of how my experience unfolded, and believe a lot of those negative feelings are rooted in how we as women and society talk about, portray, and view these kinds of births in comparison to 'natural', home, or vaginal births.
It's been almost three years and I've thankfully been able to process a lot of my story and Lachlan's welcome to the world in a redemptive and joyful way. The best part of my experience is that we went home with a healthy and ALIVE baby. There was a time during a long night of labor where that wasn't certain to be the final outcome. And I owe a lot to medicine, doctors, hospitals, surgery, and yes, a c section delivery, for that very gift. It's not lost on me that there are countless other mothers who have different and more heartbreaking realities.
So with that I share proudly and confidently that our next baby is scheduled to arrive via a planned c section, which I've lovingly started to call a belly birth after reading articles like this one. What a beautiful way to use the power of words! This decision was one made intentionally with my husband, our doctors, and specialists (I have a mild but high-risk blood condition that's made for an interesting and highly monitored pregnancy).
For our family, for me, and for our second son, this is what's best and I hope owning my story and choices, empowers other women to do the same with theirs. It's a lonely world out there when every single choice and truth you face as a mama is challenged by its opposite.
But I'm here to tell you, as always, everyone else's right way is usually not your best.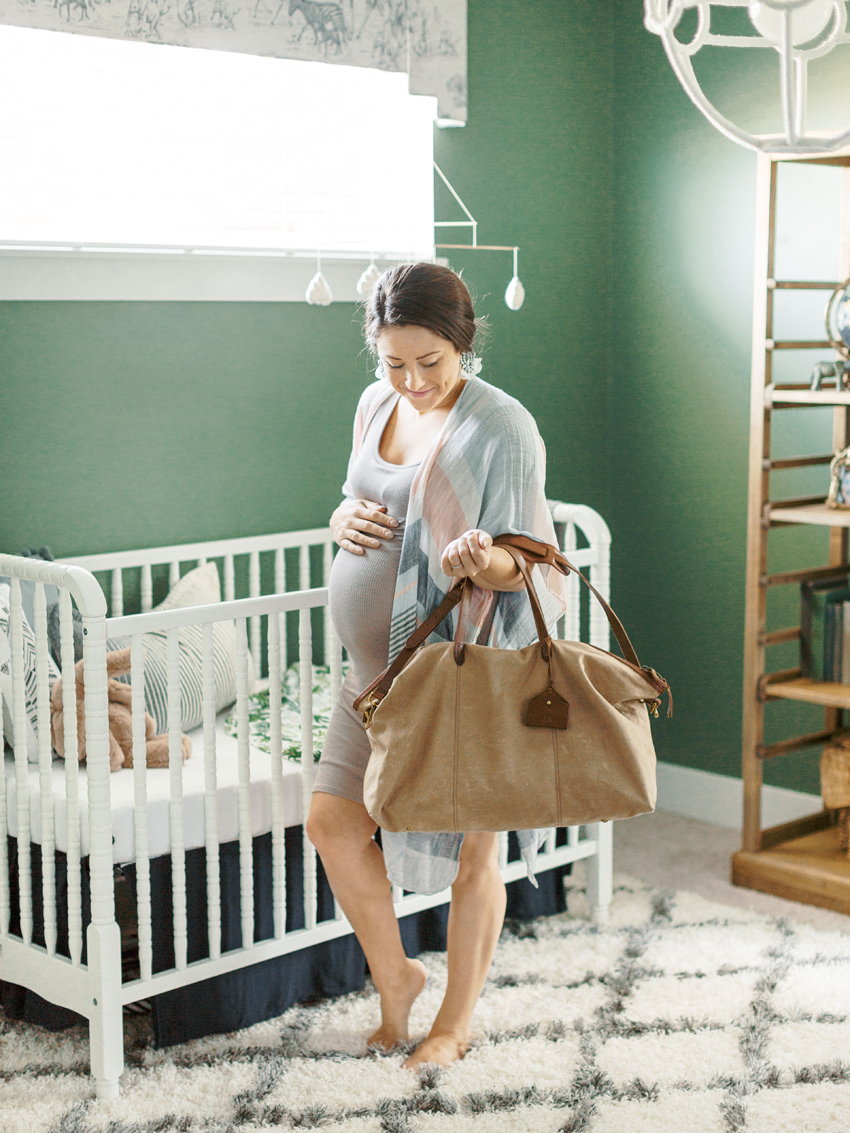 On a less serious note, and one many of you will surely laugh at because I'm laughing at myself now, when I was pregnant with Lachlan I had my hospital bag packed by 25 weeks. I had gifts for the nurses wrapped with notes of gratitude and perfectly tied bows. All of the things Pinterest told me I would need were locked and loaded. My bag was bursting with more just-in-case items than necessities. I had a better to be safe than sorry mentality, and in hindsight, perhaps that was what I needed heading into something I had never experienced before.
However, with this pregnancy, and knowing much more about how a naturally progressing labor differs from a scheduled surgical delivery, I was able to pack and prepare a little more intentionally, and certainly with a more minimal focus.
To help support other belly birth mothers who read this space, I'd love to share what's ready to go in my bag, what I'm leaving behind, what I don't think I will need. The bottom line is you really need VERY little when you deliver your baby, regardless of how that delivery goes. So if you walk away from this post overwhelmed, please know my intention was to do the opposite. And simply take whatever pieces you can to apply to your own needs.
How I Packed for My Scheduled C-Section
As a preface: to help save space in my bag and avoid lugging around things I just won't touch or use, I made sure to remember what my experience was like with Lachlan. Even though I went into labor naturally and labored at the hospital for a really long time before ending up in surgery, I clearly remember the things I loved in recovery and the things that didn't even come out of my bag. With this second delivery I'll be walking into an appointment with the plan, expectation and goal to have a baby in my arms within hours so my needs are a bit different than those of a mama who comes into the hospital already in active labor.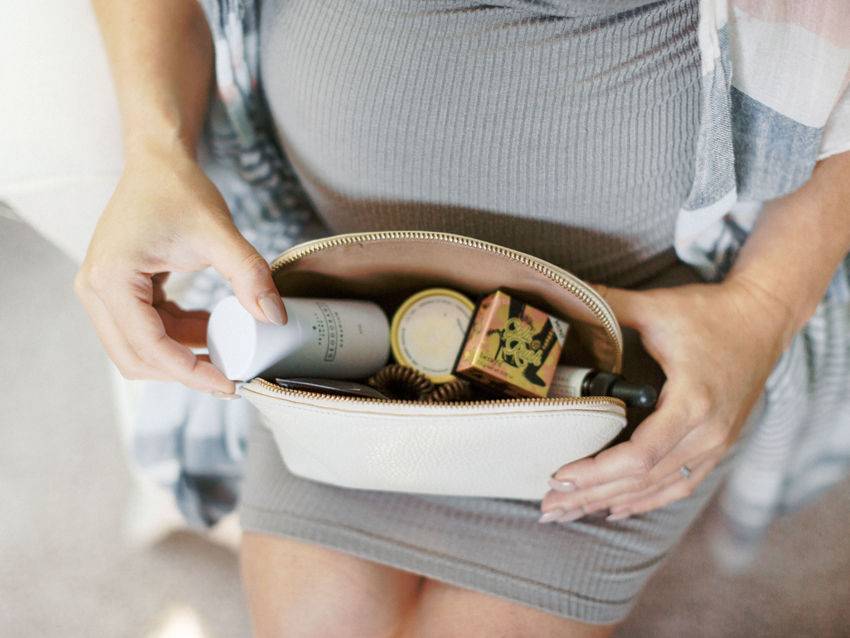 Items I am Keeping At Home
• Hair products like shampoo and conditioner, hair spray, a hair dryer, curling iron, or straightening iron. I will be bringing some dry shampoo for day three or four of recovery when I'll likely need it but plan to wash my hair the evening before we head to the hospital so it's at its freshest the morning we head in for surgery (to be tucked under a hospital cap of course). Once baby is here I know my hair will be worn up in a ponytail most of the time.
• Multiple outfits and undergarments for myself. While recovering after Lachlan's birth, I mostly stayed in my hospital gown or nursing tank, an outfit made complete with the hospital's fashionable mesh underwear. Recovery after a c section is a bit different physically with much more time spent confined to the bed so I know multiple pairs of pants, tops, bras, sweaters, etc won't be used. Also, with so many nurse visits, incision checks, an IV, and of course baby to tend to, it doesn't make sense to make a fuss with various different clothing choices.
• Comfort items that the hospital will provide for me (even if they might be less fancy than the versions I have). This includes things like socks, slippers, underwear, and blankets. The hospital socks will do just fine on my feet and there's no need for slippers overtop of them. The hospital's underwear, again those magical mesh creations, are designed for function over form, and I'd be lying if I didn't say I was excited about them. And with the exception of bringing my own pillow in a non-white pillow case to give me a little more comfort while I rest, the hospital blankets will be enough. Also, I'm not a sandals-in-showers kind of gal so that solves the dilemma of packing something extra to wear on my feet when I may get the chance to hop in the shower!
• Toiletries that I don't use on a day to day basis or items that feel too fussy for hospital recovery. Things like a razor, Clarisonic, pads or ice packs (the hospital has these), fancy scented lotions, large sized versions of things like hair spray or mouthwash, and the list goes on. The exception I've made here is to pack a few staple make up items that I plan to use for family photos scheduled for the afternoon after baby's arrival. I'd really love to feel beautiful during that time and know a fresh swipe of my favorite make up items will go a long way so that is my personal exception. Thankfully the timing to replace my make up coincided perfectly with our delivery date so I bought a few new things and look forward to have a bag of fresh new items with me at the hospital.
• A breast pump, camera, oil diffuser, snacks, water bottle, nipple cream, running shoes, gifts for the nurses, baby book, reading material, laptop, purse, accessories, or jewelry. Again, most of these personal items I will not need or use, or they are going to substituted with hospital grade versions and those will do for me. I do have some exceptions to the above mentioned items however, so I wanted to touch on those below.
ITEMS I AM BRINGING (A SELECT FEW):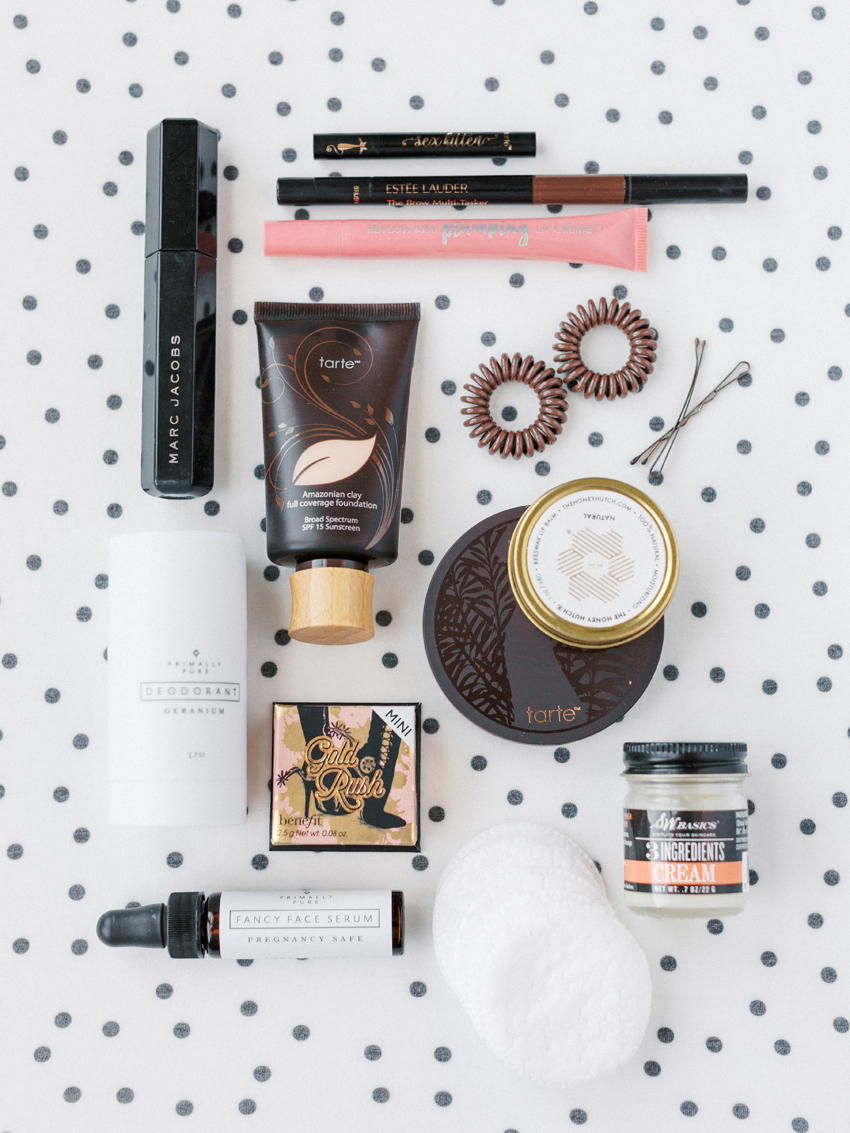 As I mentioned above, I will be bringing a few personal toiletry items to manage my basic hygiene needs. Some of the items are pictured above but here below is the full run down of what's coming with me and amazingly, all of it fits in my small Cuyana zip case (I am bringing the smaller of the two cases which come in a set; I was given these as a gift years ago and they are such a beautiful way to stash your personal products when travelling):
Pictured Above
1. My favorite Primally Pure deodorant, the geranium scent
2. Cotton pads and travel size oil (to remove Friday's make up)
3. Primally Pure face serum for after I wash my face
4. Invisibobble Traceless Hair Rings and bobby pins
5. Make up essentials to use if I please: foundation, powder, blush, lipgloss, eyebrow pen and mascara. The eye pencil was a free sample I received at Ulta so I threw it in the photo for good measure even though I rarely wear eye liner!
Not Pictured
1. A toothbrush and tube of toothpaste
2. Small bottle of Dove dry shampoo
3. Travel size spritzer of Phlur perfume
4. Hair brush (doubt I'll use it though!)
• A personalized delivery gown (which I may have to save for general recovery; similar version here) and a beautiful recovery robe to wear in our family photos. The delivery/recovery gown is something I had purchased for Lachlan's birth but since I didn't get to change into it in the hustle of triage and intense labor, it went unused (and in hindsight it's a purchase I have to laugh at! When you're in active labor the last thing you're thinking about it how beautiful your clothing is, especially if you're even wearing any). I am looking forward to indulging in how frivolous it seems to bring your own hospital gown to the hospital; monogrammed chest and all. Ha!
• A fresh shirt and nursing bra to go home in. I'll wear maternity leggings, these slide sandals, my 'Raising Boys' sweater, and a white t-shirt to the hospital for our 5:30 am check in. All of those items with the exception of the shirt and bra can simply be worn again when we make the 20 minute drive back home after discharge.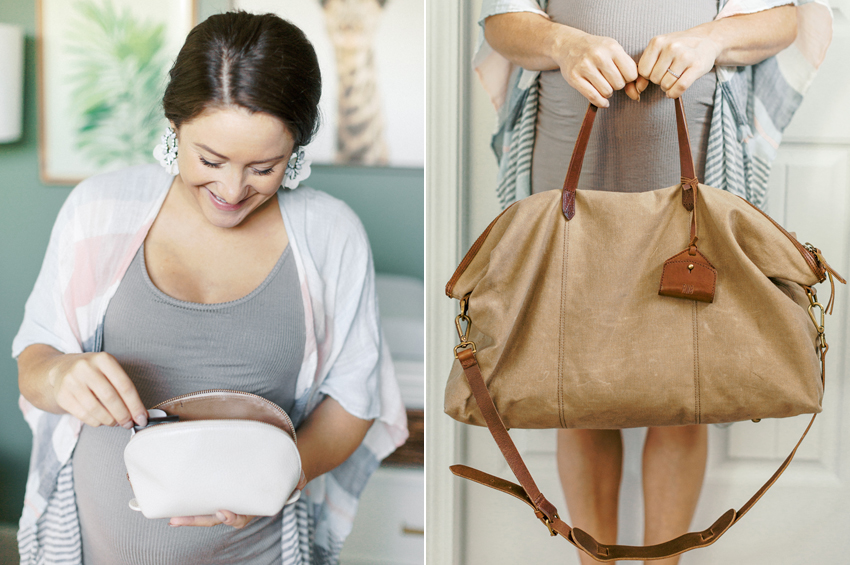 Finally, here's a miscellaneous list of packed item, all that are important to me for select reasons:
1. A hands-free pumping bra in case my milk supply comes in five days delayed like last time and I need to use the hospital grade one or this next baby has an awful latch that was hard to figure out like it was with Lachlan. My hands-free pumping bra was one of my top five favorite products in Lachlan's first year of life and I suspect it will be this time around too. I recently purchased this version since the old one I have has a defunct zipper from 13 months of use. Also in the category of nursing, I will be bringing my Boppy! I don't really love how cumbersome and large it is but it sure is nice to help with those first few days of nursing a new baby!
2. My own towel in a darker color (something inexpensive I won't mind getting dirty), and pillow in a pillow case that's different from the hospital's sterile white ones. These were two items I had with me in recovery last time and they were nice comfortable upgrades from the small scratchy towels and flat pillows the hospital provides. Bonus! The darker colors hide stains and allow your things to not get mixed up with the hospital's.
3. A phone charger, my wallet which only holds the necessities like my ID and cash, a bag of Dove chocolates (my one snack exception), and a pen with two pages of my Emily Ley baby book; one page for baby's footprints to go directly on and another for hospital visitors to sign so we can remember who we had the pleasure of welcoming and hosting in our room during this special time. I'll probably bring these safely in a manilla envelope so they are protected both before we arrive and after we are discharged.
4. A journal or notebook to write down all of the sweet new moments with our new baby, and especially so, a detailed account of his birth story. I'm not a big journal kind of gal despite efforts to become one, but I do like to try my best to document special milestones, this experience certainly being one of them.
Everything but the boppy fits comfortably in my weekender bag with room to spare!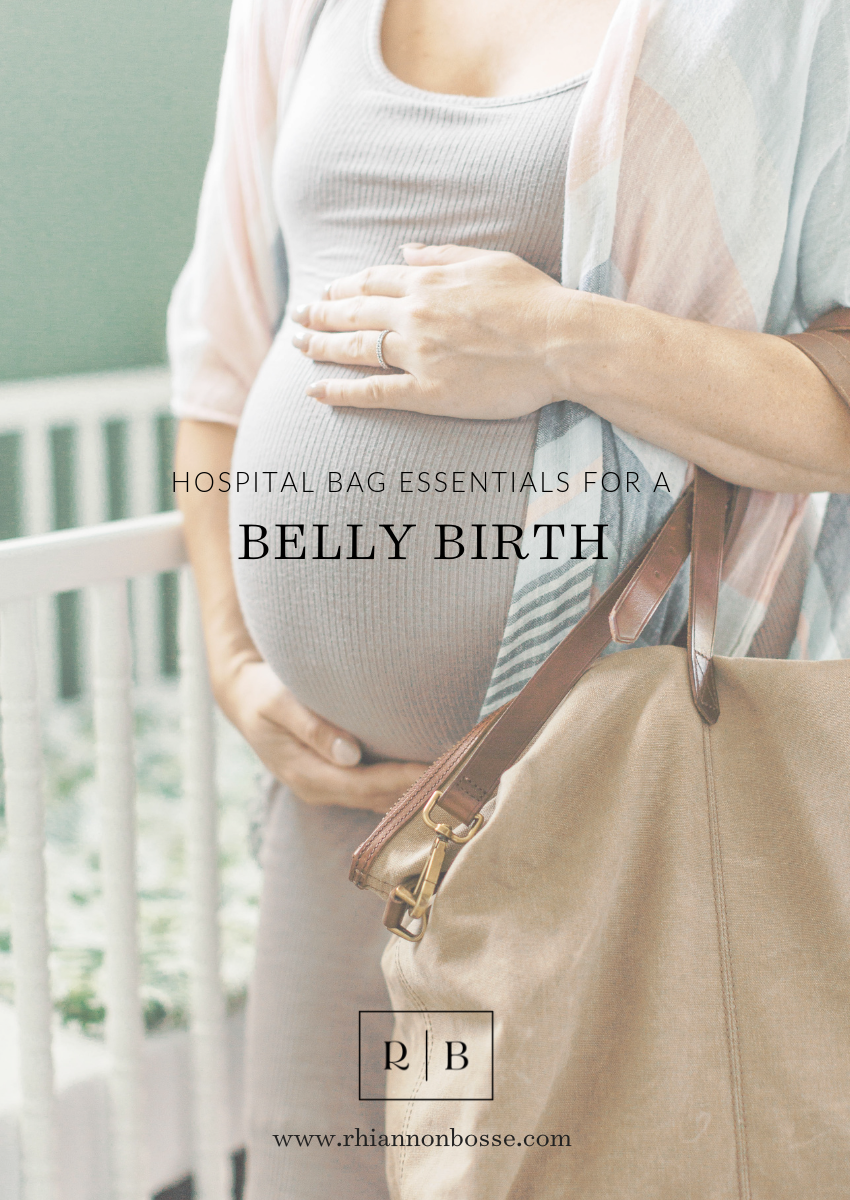 Next week I will follow up this post with part two, another full post focusing on the handful of items I've packed for baby. In the meantime, if you were or are a belly birth mama I'd love to hear from you below. What essentials did you love and depend on or which items do you wish you had with you during your hospital stay? Xo
Photos by Samantha James Photography