Belly Birth Hospital Bag Essentials / PART TWO
September 17, 2018
The feedback on last week's belly birth hospital bag essentials post was encouraging and heartwarming. It seems to me there are a lot of mamas out there dealing with grief and guilt over their unplanned or emergency c section deliveries. So I consider it both a joy and honor to help give even the tiniest bit of power and comfort to those very mothers who read this blog. Also, I feel it strongly on my heart to also share the following:
While belly births are beautiful, and I feel passionate about sharing this perspective because it's unique to my own, I also want to make it clear I believe all births are beautiful and I stand by all women and the various ways to conceive, carry, and birth their children. Whether that be naturally, through scientific and medical means, or even through the gift of adoption or blended families, it's a big job to be a good mother and parent, and that job starts from day one.
As promised, today is my follow up post and I wanted to touch on a few of the items I'm bringing with me for baby boy Bosse. Surely he is the star of this show, right? I am keeping things VERY simple and so much so, that I think the items we've packed for him make up 1/4 of the total stuff in my bag! As I learned through my first birth experience, there's not a lot of things you need in recovery that you cannot be without or have provided to you by the hospital so that was my main consideration when deciding what to leave at home and what to bring for him.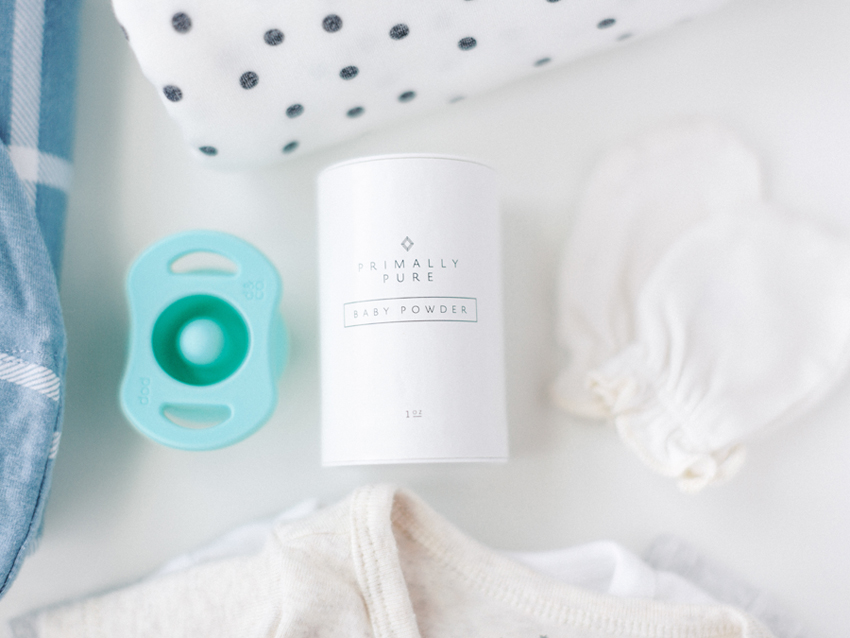 Keeping in line with the structure I had in last week's post, here are the things I am leaving at home:
• A diaper bag. My plan to manage two boys under the age of three is to keep the diaper bag I have now for Lachlan (a now discontinued knock-off Fawn bag from Amazon since the Fawn bags are way out of our budget) and simply add in what I need for the baby (again, very little). Since Lachlan will be with relatives while we are at the hospital I wanted to make sure the diaper bag stayed behind with him/them. But moreover, I feel there's really no reason to have a diaper bag at the hospital for a very very new baby.
• Diapers, wipes, and formula. The hospital provided us with all three of these items when Lachlan was born so I feel it's not necessary to bring this with us our second time around. A quick note on the formula; with belly birth deliveries there can be a big delay in a mother's milk supply coming in (which isn't often talked about) so I was very frustrated and felt like a terrible mother when this happened to me after Lachlan's birth. My milk didn't come in until a day after we were discharged from the hospital six days post partum so those five days we were in the hospital were spent feeding little Lachlan formula from a small plastic syringe. While I still used the hospital grade pump to keep things in motion, the little tubes of newborn formula are what kept our little guy happy and fed! I will have no shame taking this route again should we face the same milk delay issue.
• Any baby toys, rattles, stuffed animals or trinkets. Again, with Lachlan I felt like we had to have alllll of the novelty items to keep him happy and feel like we were prepared parents. When in reality baby only truly sleeps, cries, eats, and needs their diaper changed when you're in recovery. So we'll be leaving toys (things that dangle from the car seat handle included, if my car seat technician sister in law is reading this!) at home.
• An overload of clothes, blankets, or swaddles. Again, baby doesn't need much aside from our love and care, so those five onesies, four pairs of booties, eight bows, ten swaddles, and three pairs of socks just aren't necessary! I remember most of Lachlan's time in the hospital was spent being swaddled in the hospital blanket or staying in one of the few plain white newborn onesies we had packed. We did bring one slightly 'fancier outfit' for his grand debut photo and a pair of pants because it was the middle of January and it's usually in the negative temperature range here, but Lachlan truly needed less than I did. I suspect this next baby will require exactly the same!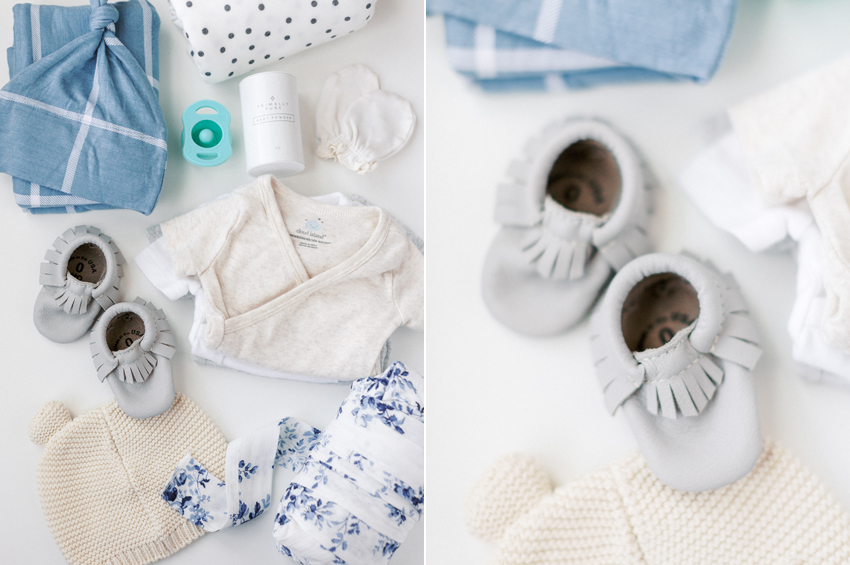 So here is what I DID pack for baby.
Pictured Above
1. Two of these four neutral colored short-sleeved onesies and one zip up, long pant style romper
2. A beautiful Milkmaid Goods matching hat and swaddle set for baby to wear in our family photos
3. The same Baby GAP hat Lachlan wore at the hospital because it's just too sweet not to include
4. One pair of no-scratch mittens (which were a lifesaver with Lachlan) and they take up little space
5. A hand me down pair of Freshly Picked moccasins which were a gift when I was pregnant with L
6. One sole Doodle & Co pacifier should we need it (I'd love to hear feedback if you have one of these)
7. A second swaddle should the first swaddle get dirty and either way, it will also be a carseat blanket
8. Primally pure Baby Powder. I am a huge fan of PP so I was happy to throw this in for baby boy
Not Pictured
1. Our carseat and newborn headrest for baby to go home in
Wrapping up the packing side of our preparations, here are a few items we are bringing (and one big exciting-to-me one we're doing) that don't necessary fall into categories involving baby or me, but are things we will have on hand specifically for Andrew and general peace of mind in this next chapter for our family:
1. Andrew's overnight bag with his personal essentials for three to four days (which he's picked obviously!). Included in his bag are a lot of his favorite snacks so he isn't having to leave our hospital room frequently to find them. He'll probably head home at some point to see Lachlan and Zoe, and maybe take a hot shower but for the most part he's planning to be with me and baby our entire stay so he's packed as needed.
2. Spare change in the form of small to medium bills and quarters. This is incredibly helpful for things like hospital parking valet at 5:25 am, vending machines in the middle of the night, and other miscellaneous purchases that come up where a card isn't necessary. I also know there are cafeteria options not available for food room service so this extra money will come in handy here when Andrew might want to grab something different for himself/us.
3. While we aren't bringing any toys or baby trinkets to the hospital we did make one exception (and this is a big one!) of a mini John Deer tractor and trailer replica for baby Bosse to 'gift' to his older brother when they first meet! Lachlan has had the summer of his life driving his treasured tractor around our yard and neighborhood so when we saw this mini replica of it we knew it would be the perfect big brother gift. Not to mention a nice safety net in case there's any initial brother jealousy or big emotions at that first meeting.
4. Lots of grace, patience, and a commitment to staying in the present. I know this isn't really a tangible item and nothing is ever guaranteed but we want to be certain we do everything we can to experience this second belly birth as a united front and with a flexible approach. I hear a lot of v bac mamas say their second births were redemptive because they finally did it the way we consider birth to be the most noble and natural; which in theory can make a second c section mama feel like a failure times two. But like I mentioned in my last post, I am choosing to embrace what's best for us and take the experience for OUR redemption story, however it unfolds.
And on a final note!
One thing we decided to arrange and splurge on was having our home deep cleaned while we are the hospital. We plan to have someone here to do that on Sunday, the day before we are discharged, so when we come back home to settle in as a family of four, we're not overloaded with a messy or dirty home. I know coming back home to a space that feels welcoming , one I don't feel inclined to clean and tidy up, will be such a sweet gift. If you're a mama looking for a unique baby gift, consider asking friends and family for the gift of a clean home! Or better yet, if you're reading this and searching for that perfect gift for an expecting mother, consider giving the gift of a one time home clean.
I cannot wait to introduce you to our new son in a few weeks! Xoxo