Starting a Fitness Journey
June 10, 2020
Despite my nearly two decades deep in the world of competitive gymnastics, I've never considered myself to be a fit, or even a healthy, person. Strong, yes, and able to make sacrifices and work hard, yes! But go to the gym, eat to fuel my body, build muscle (by choice), and stay in balance when it comes to diet and lifestyle? Not so much, unfortunately. It's actually one of my own peeves about myself! I'm a really determined and focused hard worker (I'll work at something endlessly until I succeed) but a balanced diet and fitness regimen have always been on the back burner of my life priorities.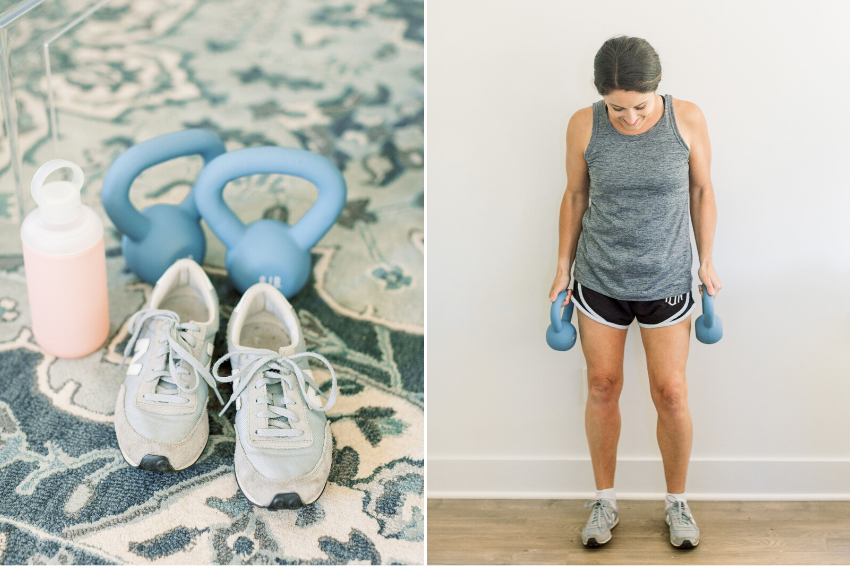 So let me share this!
I have a weight and a physical state that I know I feel my best at. And I haven't been that weight or state since the fall of 2017 when I did a candida cleanse and overhauled my lifestyle and diet massively; so massively that when I got pregnant with Ev (one of the goals of the cleanse so yay!) everything crumbled around me. My terrible morning sickness with my second pregnancy meant a nearly full time diet of bland carbs or whatever else I could stand to keep down. And I felt tired and awful all the time. Then that pregnancy, eight months of nursing and a very colicky baby, and life with two kiddos under four led me to a place where I just felt blah about myself. HAPPY and content but like there might be some better choices to make when it comes to my physical health and wellness.
In the past I tried Kayla Itsine's SWEAT program but lost interest only a week in. I don't think I was ready to commit to both a change in my diet AND a commitment to moving my body every day. But now! I feel a little (a lot) more motivated to put in the work to feel my best. I reactivated my SWEAT app six weeks ago and have greatly enjoyed the challenge to view fitness and wellness in a new way!
If you're like me and just getting started is the hard part, may I share some things that helped me?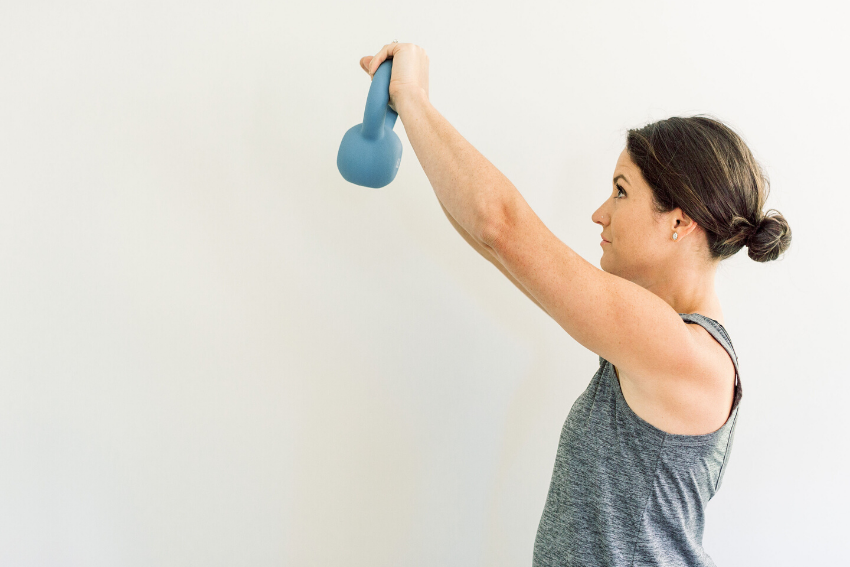 • Take a few days or weeks to find a program or app that fits what you're after. Whether it's weight loss / gain plans, toning up, training for a 5k, pregnancy-friendly workouts, eating plans for cross fit training, fun dance classes to get those endorphins pumping, indoor cycling classes a la Pelaton or something else on the list of endless motivators, dig in and explore your options! Now is an especially great time to find something you can do in your home or in the great outdoors given pandemic restrictions and summer weather.

• Snap a few before photos! I find that when I eat differently I inevitably start to feel better and that's great. Improved sleep, energy, and mental clarity are incredible perks to eating right. BUT! Let me be honest, seeing how your body changes as you become stronger / more fit / whatever your goals are is especially motivating. I have my before photo and a 10-days-in photo so far and even the difference between those two has been very helpful for me! When I think about making a box of mac and cheese as an afternoon pick me up (truth) I think of those photos and how perhaps a protein shake might be better in the long haul.

• One thing that made my candida cleanse especially difficult was being the only one in our household who had such dietary restrictions. I remember very vividly one dinner where we all sat down to eat and I can't recall what my meal was specifically BUT I remember both Andrew and Lachlan diving into big bowls of creamy macaroni and cheese. I died a slow death that dinner, ha! It's a lot easier to stick to something new when those you're around most often are able to hold you accountable either by joining your efforts or supporting them. MY decision to start SWEAT again actually inspired Andrew to reconsider a lot of his dietary decisions which in turn has led to small changes in his health already too. A win win!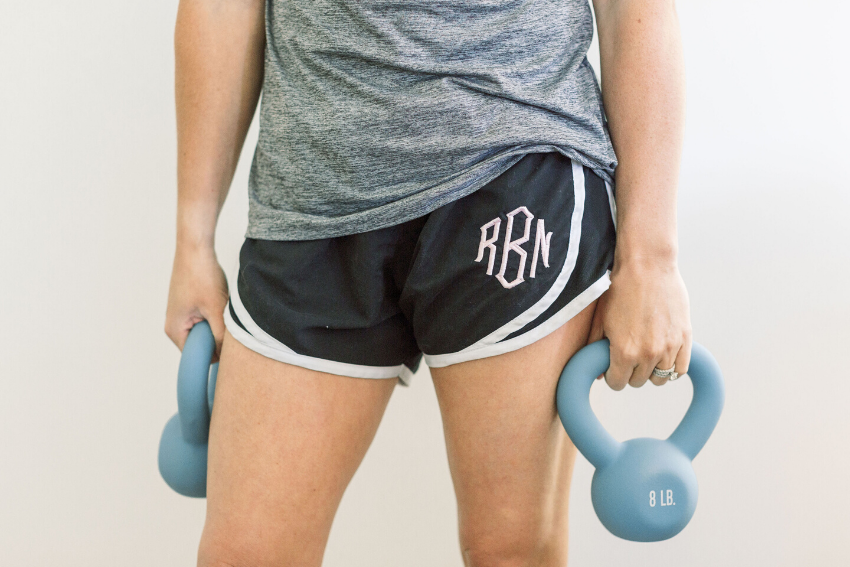 • When I was a gymnast, 'working out' was really intense. Cardio was never just cardio; it was timed wind sprints and miles and miles of group runs. Strength training was never a quick 20 minute circuit with a few dumbbells. It was an hour in the weight room following a very challenging circuit of specialized exercises. And practice! That was four.hours.long. Because of this, when I think of what I need to do to make a workout worth my time and effort I immediately check out because there's no way I can do it the way I used to. But! I'm also not an NCAA athlete anymore; I'm a mama to two, a business owner, a wife, a homemaker and friend. I can walk two miles a day with one of my children in the jogger. I can do squats at the stove cooking dinner. I can do an ab circuit while the kids watch Peppa. I can walk around the block with my neighbor. Little by little literally adds up in big enough ways!
• Know there will be what I call a 'fresh start hump', something I think we all experience regardless of anything new we try in our lives. This means finding time in my day to get out for a two mile walk will require thinking about going for the walk. It means I will discover that ten minutes into my walk I will feel significantly warmer that I did when I left the house so to leave my coat at home. It means if I walk to the stop sign and back it's a 35 minute journey but if I do the secluded lake hill my adventure lasts 55 minutes at a brisk pace. It means making the suggested snack on my meal plan instead of reaching for the bag of chocolate chips. Acclimating to a new lifestyle has a bit of a hump and that's ok! Ride the hump out and know once a routine is established you'll find your groove.
• Another exceptionally hard part of the candida cleanse I did was how I gave myself zero room to 'cheat' or to frame it more positively, treat myself. I think in the 12 weeks I was on the cleanse I treated myself to sugar one time only and it was in the form of two vegan chocolate truffles on Hallowe'en (divine, might I add). Now, I shoot for a little more balance and a lot more grace which means delicacies like s'mores dates with my husband on the porch and ice cream with my kids on the weekend; without the guilt. Adapting to a fitness routine isn't about depriving yourself but being healthy in body AND mind. Am I right?!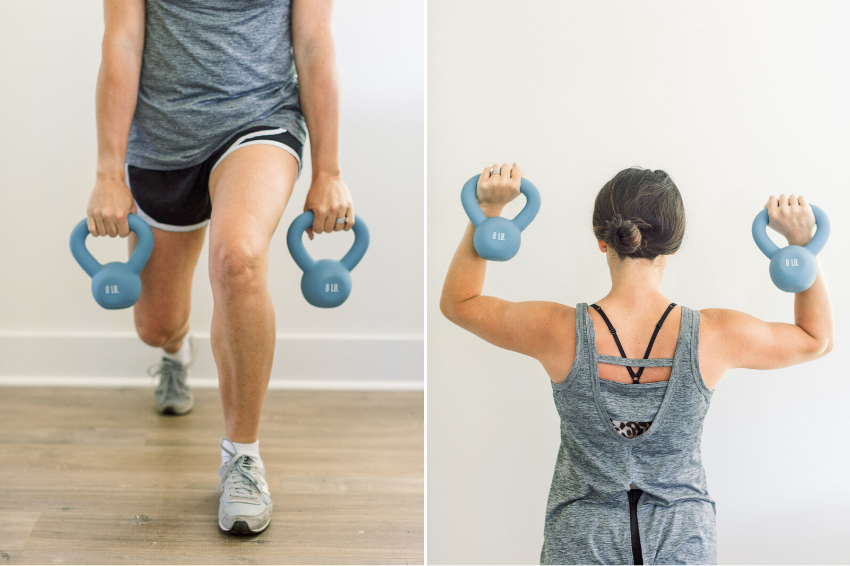 What are your fitness tips and tricks, or ways you have committed to a healthier body and mind? I'd love to hear more below or even hear more about fitness related ideas for future posts here! As always thank you for joining in the conversation with me, friends! Xo
. . . . . . . . . .
Photography: Samantha James Photography / Pink water bottle: Contigo / Blue weights: Tone It Up via Target / Sneakers: New Balance for J. Crew (similar) / Gray top: Champion (older style) / Blue patterned rug: Boutique Rugs / Monogrammed shorts: Boxercraft (these were a gift so I'm not sure who did the monogramming!)