Candy-Free Valentines
February 4, 2021
I'm not sure if I love Valentine's Day because it's the first novelty holiday to unfold after the Christmas magic has worn off, or if it's really just a sweet holiday built on the concept of love. Maybe it's both. But either way, I greatly enjoy finding simple celebratory ways to indulge in the Valentine's spirit, both for my kids and husband. I've also been known to delight in a red and pink color palette as evidenced here and here, to make Valentine's Day-themed meals, and to create festive Valentine's Day gifts (fun fact! I found out I was pregnant with Everett ON Valentine's Day in 2018, making this day even more special in a personalized way for us Bosses).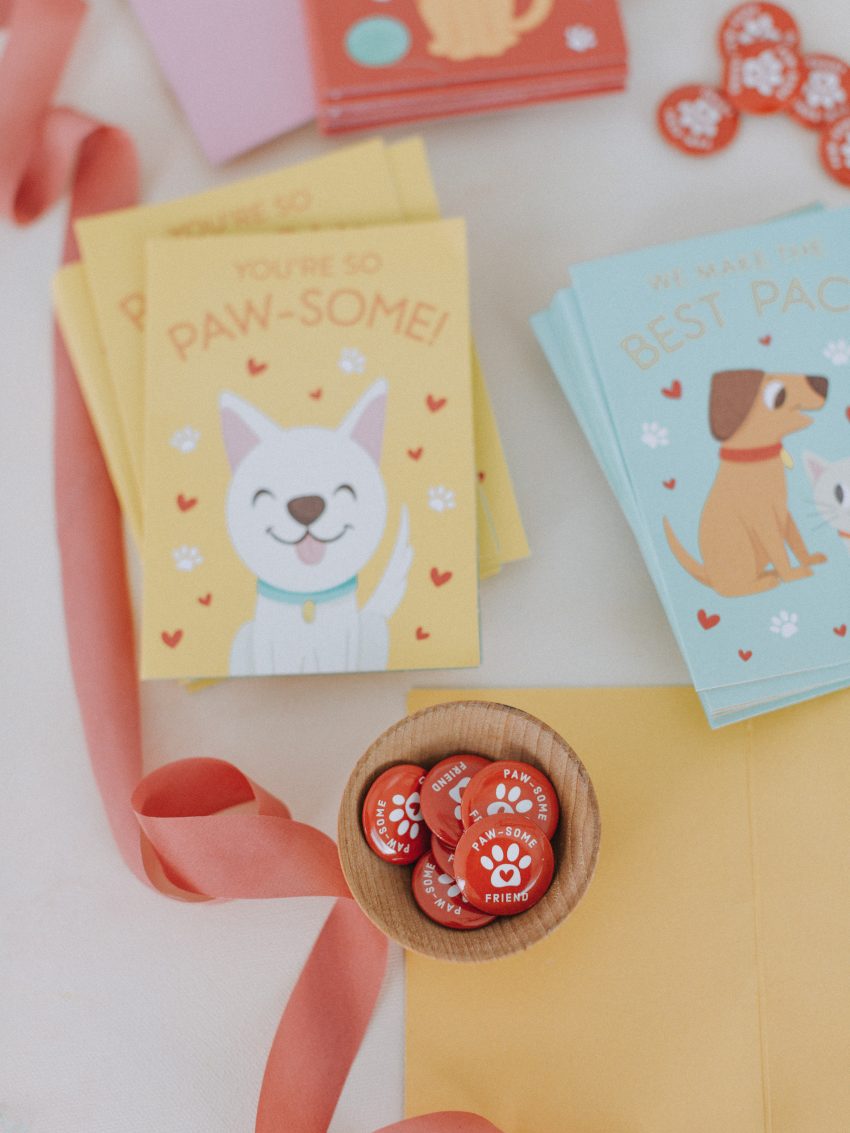 Yet so many Valentine's Day mementos are food-centric, aren't they? Candy, chocolate, truffles, desserts, conversation hearts, cinnamon hearts, chocolate-shaped hearts, any edible and heart-shaped; really, there a lot of sugary things associated with February 14th. And while I have a penchant for anything sugary and sweet I also know too much of a good thing can be too much.

Our boys' school has a policy that any treats brought to school for Valentine's Day must be food-free. This is in part to food allergies and sensitivities among the children but I also think part of this is to encouraging us parents to think outside the candy box and help steer the kids away from a mass amount of sugar offered up on one day of the year. I see you, teachers! Thank you.

As such, we will be sending L and Ev to school with the adorable Elum Designs Valentine's cards shown here in this post (here's another design online), each set coming with a respective mini eraser or pin. I snagged these while waiting in line at Home Goods last month and for $12.00 was able to have both of my kids' class counts covered. And if you, too, are looking for fun and clever ideas for your own kids' classrooms, play groups, or neighborhood pods, then below is a list I've prepared just for you!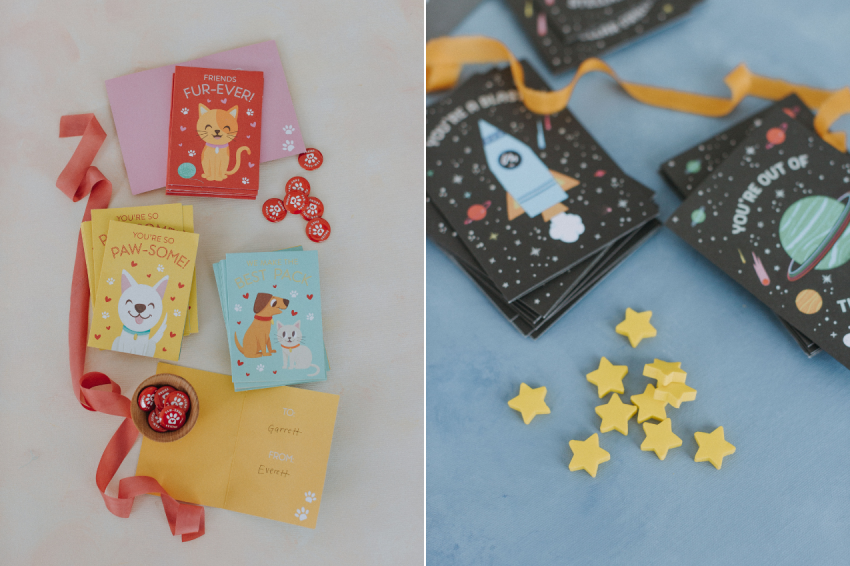 • Lip-Shaped Whistles these bright red lip-shaped whistles would be a huge hit in our home since our kids love anything that makes really loud noises (ha). But I especially loved seeing this mama put her own creative (and very clever) spin on including them into her kiddo's Valentine's. A handmade card gives extra context to a trinket like this so at-home-printing parents, prepare for your glory.

• Valentine's Friendship Set For the older female kids or perhaps your daughter's dance, swim, or gymnastics team, these are an adorable galantine's card option, each card paired together with a dainty friendship bracelet. I'm a big fan of Meri Meri's charming whimsical aesthetic and these cards are so darling (if we had a daughter I know I'd scoop these up for her!).

• Pink & Red Paddle Balls Not only do these paddle balls help with dexterity but they are colorful, interactive, and totally the kind of thing I'd stash in my bag to keep my kids busy in the car, or while we're waiting in line somewhere. Attach with a construction paper note to personalize the paddles. Oh, and be sure a trinket like this is reserved for older kids given the choking hazard with the ball!

• Valentine's Day Slap Bracelets Lachlan adores slap bracelets, mostly because the slap function keeps him guessing every time, and I know that's the point of them. But then I saw this mother put her punny spin on slap bracelet Valentine's and thought it was brilliant! She was also generous enough to include the printable tag download so hop over there for more details and the download.

• Patterned Click It Pens Do you remember these click it pens from the 90's and how hard you'd try (unsuccessfully) to push down all of the colors at once? Maybe that was just me? Either way, for my oldest son these pens have the same entertainment value as a slap bracelet and the cute patterns make them festive Valentine's Day treats. Adhere a handwritten card to each one and you're set!

• Sloth Card & Pencil Set These may be my favorite on the list! The sloths on the front of these cute Valentines are cleverly hanging from actual pencils tucked into the card. I love this design for its cute factor but also enjoy the utilitarianism of the 'thing' paired with it. These would be wonderful for kids who are learning to write and would be thrilled to have a new pencil to put to use.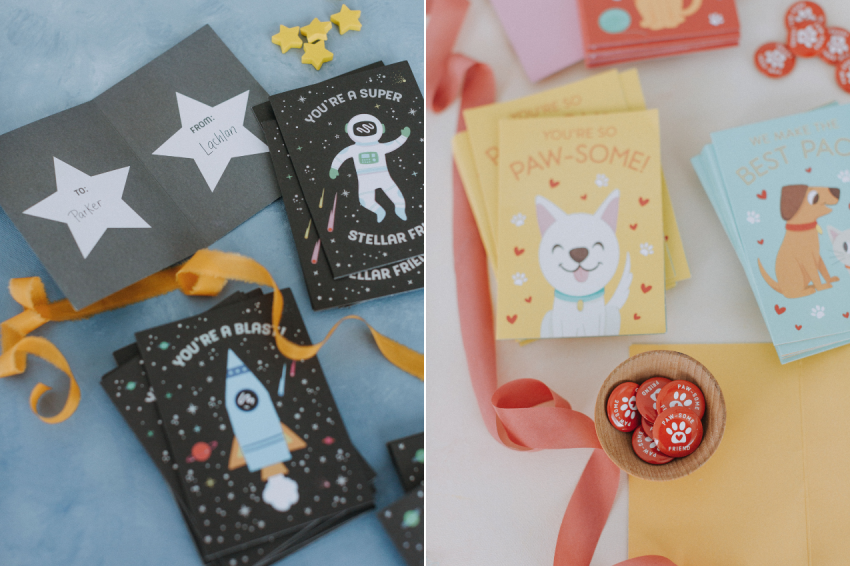 Notable Mentions

Capsule Pill Messages in a Bottle I stumbled upon this while looking for Elum products on Amazon and adore this concept. It's fun, unexpected, and gives space for personalization. While it might not be an appropriate gift for kiddos and certainly isn't something to dole out by the masses, I felt like I should share it here should you have a hard-to-shop for Valentine in your life.

Personalized Heart-Patterned Zipper Pouch Man, Minted always knocks it out of the park. These limited edition zippered pouches are so beautiful. And while again, not appropriate to buy enmasse, one for each kid in your family would be so generous; and maybe an awesome way to store those fun Valentine's Day cards and trinkets from friends? The uses for a zippered pouch are endless.

Inchworm Pencil Valentines Another clever example of form and function coming together beautifully, these Hungry Caterpillar pencil and card duos are too cute and inspiring. For kiddos with an affinity for Eric Carle's The Very Hungry Caterpillar these hit the mark in a big way, otherwise, these card and sticker packs are equally as wonderful and less involved.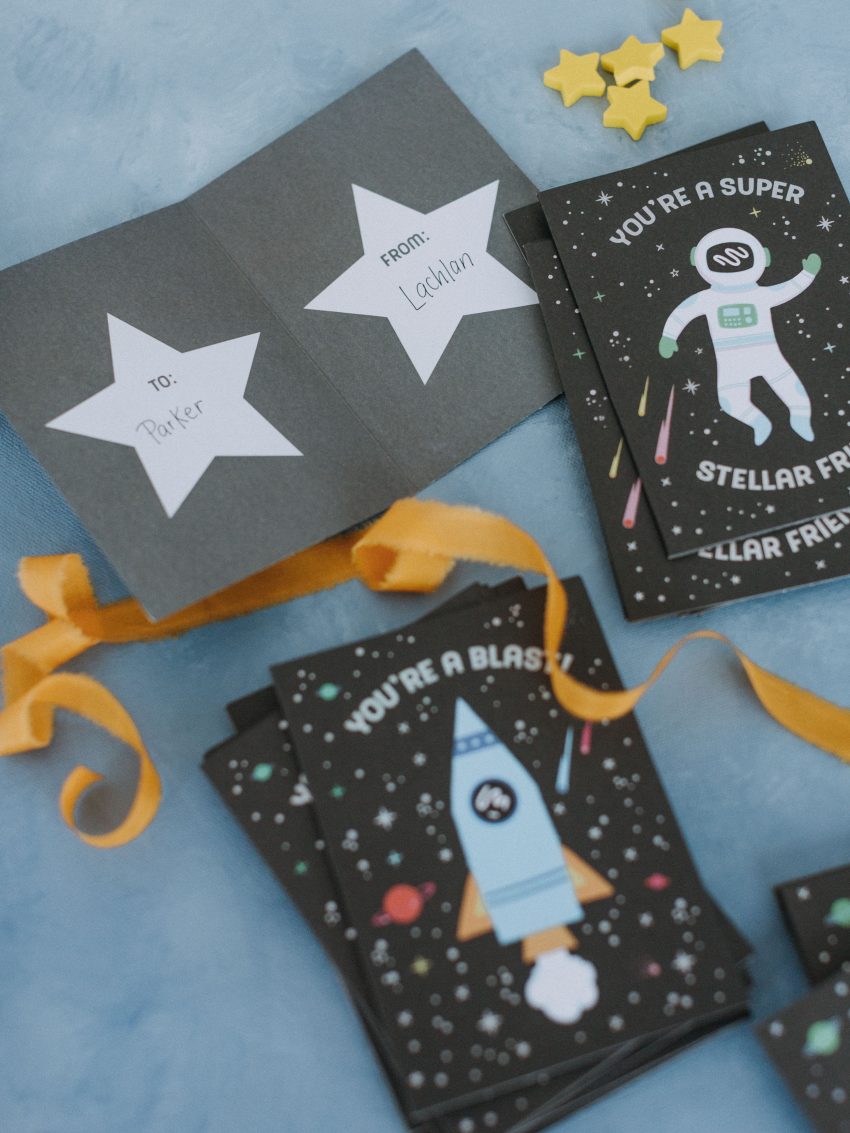 For my mama readers, how do you and your kids celebrate February 14th? I'd love to know below!

Affiliate links are used in this post.