First Quarter Progress, 2021 Goals
April 12, 2021
Now that second quarter is underway, I'm eager to review first quarter. First quarter always seems to last a little longer than year's others and perhaps that's a good thing; our / my first quarter was packed full of many, many good things! I'm excited to dive in.

And to catch you up to speed if you're new here or simply need a refresher on how I approach goal setting, in lieu of tracking my goals monthly, I am reviewing progress on a quarterly basis. I've also set four overarching yearly goals with a set of subgoals under each, and one word to guide my 12 months, more of which you can read about over here. This is a goal setting and tracking strategy that works for me and my hope is it simply inspires you to find a way that work for you, too!

But first, here is my vision board for 2021! Just looking at it inspires me.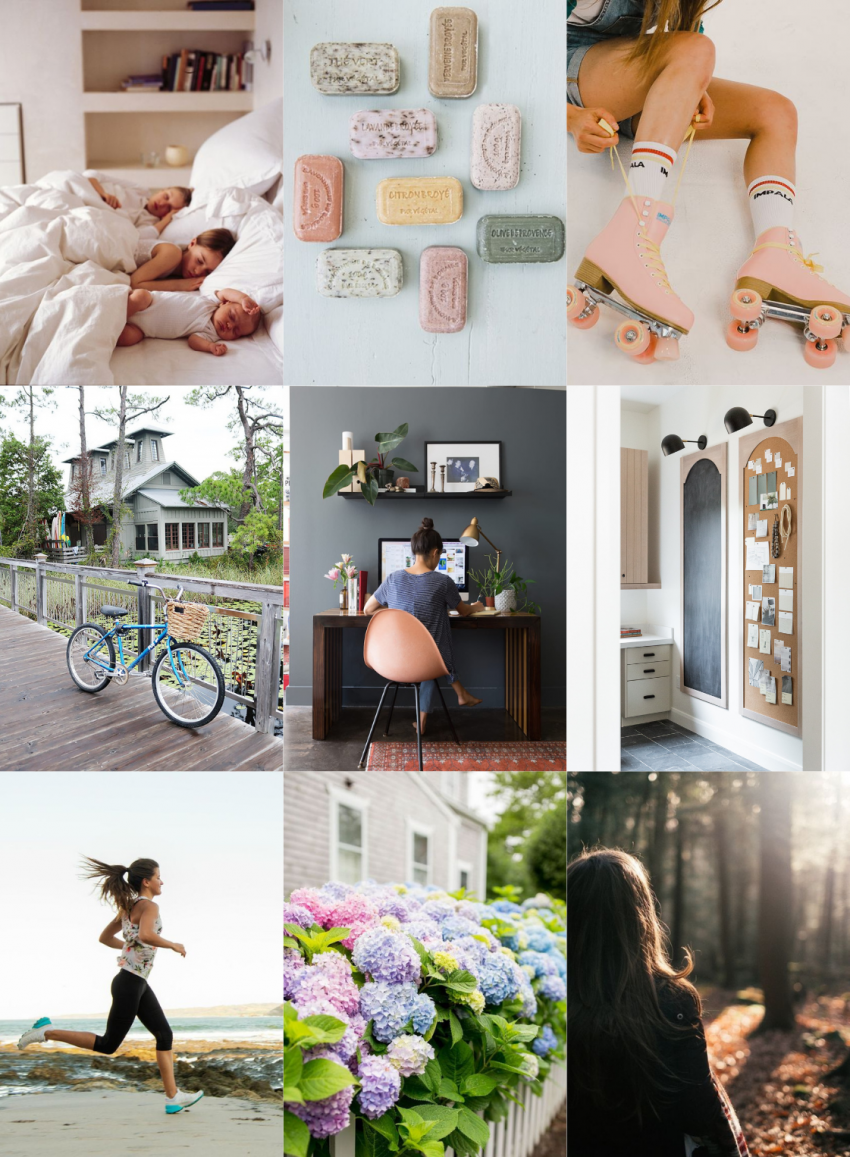 I plan to share second quarter mini goals soon. But for now, let's dive into my first quarter progress and wins.

Goal #1: Refine My Schedule

This goal is an interesting one because at face value it seems really simple but it's in fact one of my most complicated 2021 ambitions. On one hand I feel like I've been managing all that is on my plate rather well, but on the other hand, there have been more days than I'd like that feel borderline too busy and jam-packed. I think the line between happily busy and frazzled busy is VERY thin and so if anything first quarter taught me more about my threshold, limits, and where I truly want to find my groove with work and personal life. Some areas I've made progress in:

1. It took me all of first quarter and working far too many fringe hours and evenings to realize I cannot fit everything I need to into the three days I have care for both boys. This realization, or rather the admission that I'm not superwoman after all, was a win and of itself. As a result, starting this week actually, both kiddos will be going to school four days a week until they are out for the summer and we start a WHOLE new routine at the end of August with a kindergartener and almost three-year-old! We're at peace with this choice.

2. I've been really committed to keeping my phone on the charger and out of reach when I turn in for the night. I hate that this even needs to be something I'm thoughtful about but I'm continuing to be strict about it! I've found the nights I keep my phone away and out of my reach while I'm horizontal are the nights I get longer stretches of sleep. As a result, I'm also able to get up earlier and start my morning well, another win from first quarter that I hope will roll over into second and third quarter.

3. I'm still undecided on whether Trello or Monday will work for streamlining my systems and tasks (I'm leaning towards Trello) but I have developed a new admiration for Google documents. I've been creating list after list, brain-dump after brain-dump, and shared document after shared document there. While I don't think this overdue discovery has specifically refined my schedule it HAS allowed me to feel less scattered and that's worth a lot when it comes to my time.

4. It was never a question of IF we would celebrate sweet Lachlan's 5th birthday with a special themed party, but nevertheless it was in my 2021 goal post. His LEGO-themed birthday party was a special one and of course I shared a peek into the celebration here!

Goal #2 PART 1: How I'll Make Money

'How I'll Make Money' sounds uncomplicated and may even make me seem aloof but after last year's pandemic experiences on the tail of closing up one of my business facets AND then adding on an entirely new product-based (soapmaking) business, I knew I would need to create a new approach to meeting my sales goals. And I'd need to be crystal clear about those goals. As far as it goes for meeting my first quarter mini goals:
1. I met all of my soap production goals for first quarter with a sold out March launch, successful Floret collaboration, and a timely start on summer launch preparations. I also had a few custom soap orders come through in first quarter, which was a nice peek into what this offering could do for RB Soap Co. moving ahead. I did however, fall short of my first quarter sales goal which means my second quarter goals look a little different than I had previously planned for.
2. When I was planning weddings I was very firm on taking no more than 4 to 5 contracts per year. However, now with floral and design services as our only offerings we are able, and I'm very eager, to take on more events and clients. As such, we have an exciting roster of events for this summer and fall, and I'm looking forward to what this means for personal and design time together with Betsi, income for the business, creative growth, and serving others.
Goal #2 PART 2: How I'll Save Money

I've been reading a book by Rachel Cruze called, 'Know Yourself Know Your Money,' and it's really good. It's about the connection between our upbringing and emotions to how we spend and manage our money. I'm learning a lot about my personal connection to money and am eager to apply Cruze's lessons to my own life, especially after what felt like a first quarter full of expenses. However, this post is about what unfolded this last quarter!
1. The only two savings goals I accomplished in first quarter included scheduling monthly transfers to our emergency fund and continuing deposits into my Ameriprise retirement fund. Because these two transfers are automatic ones I can rest assure these will be handled through to the end of 2021 and ideally into next year, too. These transfers will check off big financial goals by 2022.

2. We never received the quote for laundry room cabinets but decided that's probably for the best budget-wise and moved ahead with new paint and tile as those two upgrades WERE in the budget. The painting is finished and the tile is on it's way after a frustrating experience where our whole tile order was destroyed in a palette forklift accident, with no opportunity to replace it because the tile is discontinued, only for the tile come back in stock on a whim. I think this home update will be our last for the foreseeable future.
Goal #3: Lean Into My Overall Holistic Health & Wellness

I surprised myself in first quarter by really knocking this overarching goal, and all associated mini goals, out of the park! Here's what I accomplished:
1. I ran almost every day in first quarter, mostly on our treadmill in the basement and then for a few glorious days along the charming streets of Seaside, but I'm so SO proud of this goal. I have a lot of negative associations with running from my NCAA experience and never thought I'd be in a place where my mind and body craves and enjoys running. I feel really strong physically and mentally, a blessing I am grateful for. While I have not done any strength training circuits like I had hoped for, I've been making up for it with on the spot exercises when I run intervals like holding a plank or lunges in between minute-long interval runs.
2. The approaches I took with food in first quarter felt like a rollercoaster ride. From attempting a Whole-30 to no coffee for 9 weeks, to Arbonne shakes and fizzy sticks on the daily to a vacation where 'no food rules apply', I decided a trip back to a naturopath would be helpful for me. I struggle with food and how to me, food is categorized as either good or bad. I also have very real sensitivities to certain foods, most of which are ones I really enjoy so the frustration feels warranted. SO first quarter was all about learning that maybe I should just get in the passenger seat for a bit and let someone else gently guide me along on this food journey.

3. A recent doctor's visit led to testing my thyroid and iron levels (both clear!), and – this crosses off a goal in a different category! – getting a physical scheduled since I'm about two years overdue. I also have a dental cleaning scheduled for the end of April, something I've been avoiding for well over a year. While the least flashy of first quarter wins, they're probably some of the most important.
Goal #4: Focus on My 3 B's
This goal is heavily loaded because it covers three mostly unrelated categories of my life but in each area I made good progress, and this progress is going to lead into second quarter so beautifully. I'm happy to share more below and excited about these goals.

1. At the beginning of the year Sam and I scheduled all of our monthly content shoot dates and this has already been a much needed change of pace from our usual off the cuff scheduled photo shoots. I'm feeling confident about my 50 blog posts in 2021 and have enjoyed getting a diverse amount of content published here on the blog. I've also had fun dipping my toes into the affiliate marketing pool thanks to a little guidance and getting started help from my friend, Em! I wrote more about my monthly content shoots here.

2. I'm working on updating my website(s) and the way the three facets of my business exist on their own but also as a unit. It's been a big undertaking so far but I've been chipping away at the project little by little. I'm looking forward to delivering my website 'wish list' to Payge in second quarter so we can figure out what's doable and what's not. I hope to relaunch everything in January of 2022.
3. Finally, as per my first quarter mini goals, I tested out Clubhouse over the last few months. I have mixed reviews on the new app and think like any social media platform there's a time and place to use it. Because it's a real time app that encourages candid conversation and transparency amongst it's users, unless there's a strict moderator in each room, the rooms tend to stay open for longer than expected times making it hard to leave as either a contributor or listener. I'm glad I gave it a run, happy to keep my account for when it's needed, but plan to use it less in second quarter to best manage my time and streamline my efforts with other platforms.

A few other fun things from first quarter?

I read Hidden Valley Road, Homegoing, Such a Fun Age, Olive Kitteridge and as mentioned above, am reading Know Yourself Know Your Money. Homegoing was easily my favorite of the bunch for both the interesting story structure and Yaa Gyasi's eloquent writing.

I discovered Sweet Laurel's dessert cookbook and WOW. Everything I've made so far has been a tasty success.

After my cancelled croissant making adventure in 2020, I learned to make sour dough bread. This might just be a favorite of first quarter because bread-making has always felt like such a mystery and now I can whip out incredible bread in a jiffy (well, not exactly a jiffy but you get what I mean!). If you're curious about sour dough making then this book is a beautiful place to start!

As part of a Christmas gift to Andrew, I surprised him with a weekend away here. Of course the boys came with us and it was a relaxing and sweet 48 hours cozied up inside the cottage by the fire. We loved the Aqua Dock so much that we are going back again this summer for a week and with the cousins in tow! I can't think of a better way to lean into 'adventure'!

Finally, we celebrated our fifth family trip to Seaside in first quarter! This trip was a whirlwind and probably the chilliest experience we've ever had on 30A but it was a trip for the memory book, as they always are. For more about 30A, check out this post.

Phew! Happy second quarter, friends! Xo